The hard work done by sgtmyers88 and the C&C Tiberian Dawn Redux Development Team pays off with the addition of new terrain, waterfalls, and Pixel Shader 2.0 for Zero Hour and the Mod!
Feast your eyes upon the new world, and please remember to use your safety goggles while viewing as we do not want to see any eye injuries Commander...
NEW TERRAIN AND SHADER 2.0 IN WORLDBUILDER:
ACTUAL IN-GAME SCREENSHOTS:
COMPARISION:
NEW WATERFALL FEATURES: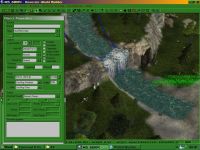 A PREVIEW OF THE CLASSIC C&C MISSIONS IN THE NEW TERRAIN:
VISIT OUR WEBSITE AND JOIN THE DISCUSSION THROUGH THE FORUMS:
While kongshanfuqin has been absent for a while, please check out and support her Mod which is also converting Vanilla Generals and Zero Hour with these new graphics as well...
Thank you for your support and I thank her for her continued inspiration and support!
The future is upon us brothers! Peace through Power! -Kane
-sgtmyers88 & the C&C Tiberian Dawn Redux Development Team