Artillery was the main cause of battlefield injuries and deaths during The First World War. In fact over half of the battlefield injuries on the frontlines happened because of shellfire, whether it was a stray round or a massive barrage before a large attack. Both the Germans and the British were known for using artillery to weaken up defenses in the enemy lines before a large-scale attack occurred; sometimes several million rounds of artillery-fire were fired in hope of softening up the enemy, with mixed results. Artillery was truly the weapon that the soldiers in the trenches feared the most, seeing as it could hit you at any given time without any warning.
As the war went on, scientists and arms-manufacturers looked at other ways in order to make artillery even more deadly. Experiences from the front in 1915 had shown that gas attacks were largely effective against massed enemy troops, but there were issues when it came to actually deploying the gas. Wind-direction would often cause the gas to drift in the wrong directions, and gas could very often be seen by the enemy before it hit them, making it easier for them to prepare for what was about to come. The solution to this "problem" was to pack gas inside artillery-shells. Gas could now hit the enemy right in their trenches without any warning, and the weapon got a whole lot deadlier.
Seeing as both artillery and artillery gas-attacks were very dangerous, feared and powerful weapons in the First World War, we want to portray them that way in WW1: Source too. This is how we have changed the actual artillery-mechanic from 1.13b.
Previously the officer had the opportunity to send 3 artillery strikes in a life, and whether he chose normal artillery or gas was his own choice. This mechanic made the artillery more of an annoyance than a fearful weapon seeing as it struck so often. To change this up in 2.0 we have reworked the system. The officer is still the one in charge of sending artillery-strikes with his trusty binoculars
or telescope, depending on what team you're on.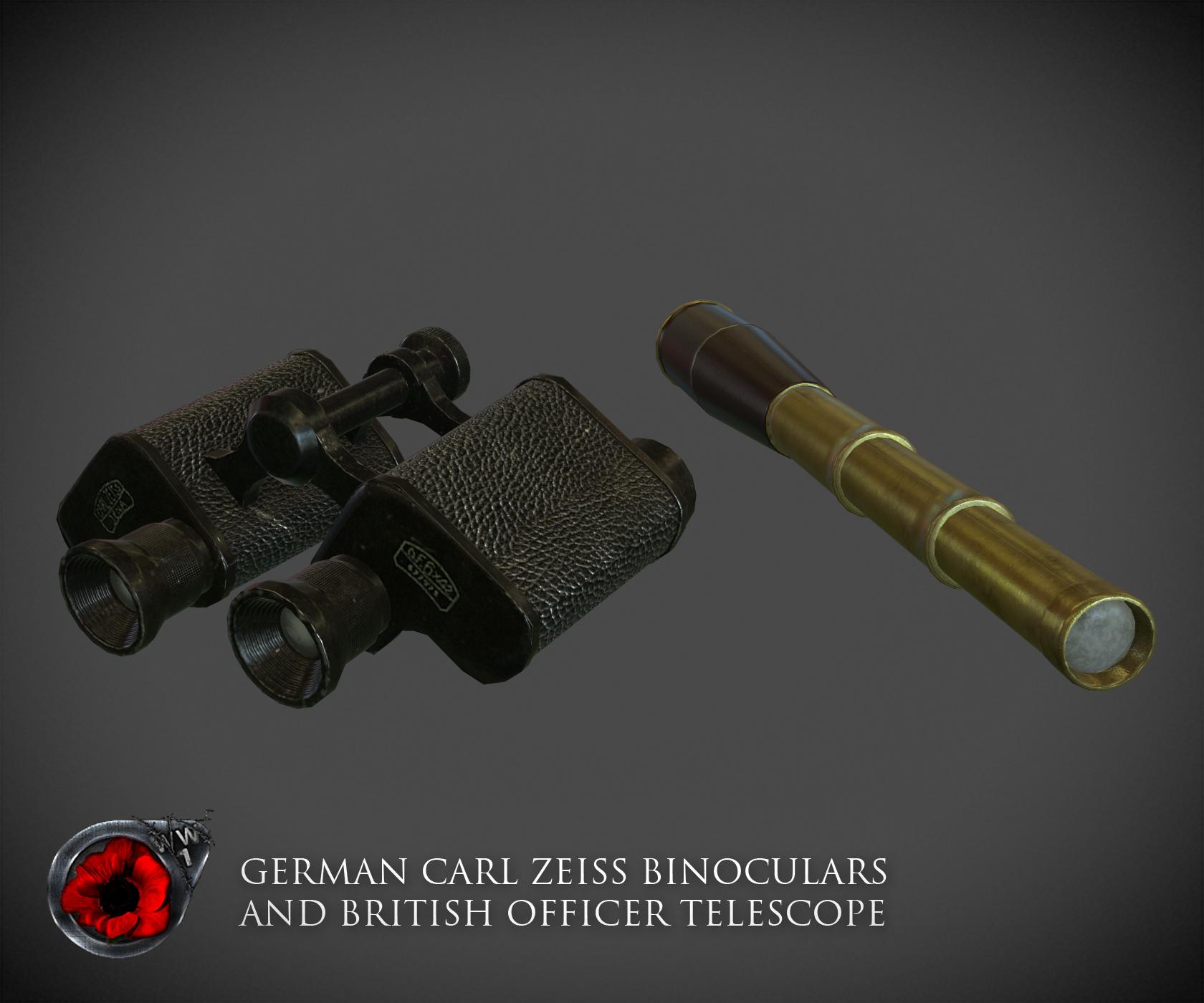 Each team now has an "artillery-timer" (which can be changed via a console command) of a default of 5 minutes (meaning there is a cooldown of 5 minutes between each barrage). This means each team can send one barrage every 5 minutes, and you can still choose between normal artillery and gas. An artillery-strike is now marked with a small flare on the ground, giving both the sending team and "receiving" team an indication of where a strike will hit. The Germans have a red flare, while the British have a blue flare. As the flare dies down, you will hear the actual guns roar in the background, and then the barrage hits with large force. The barrage is mightier than it was in 1.13b. It is more concentrated, has a larger explosive force and with the addition of our ballistics, shrapnel now gets sent flying all over the map. Our particle effects makes the artillery an awesome but scary sight, they were produced by the kind contributor Valdis "Vman" Matas.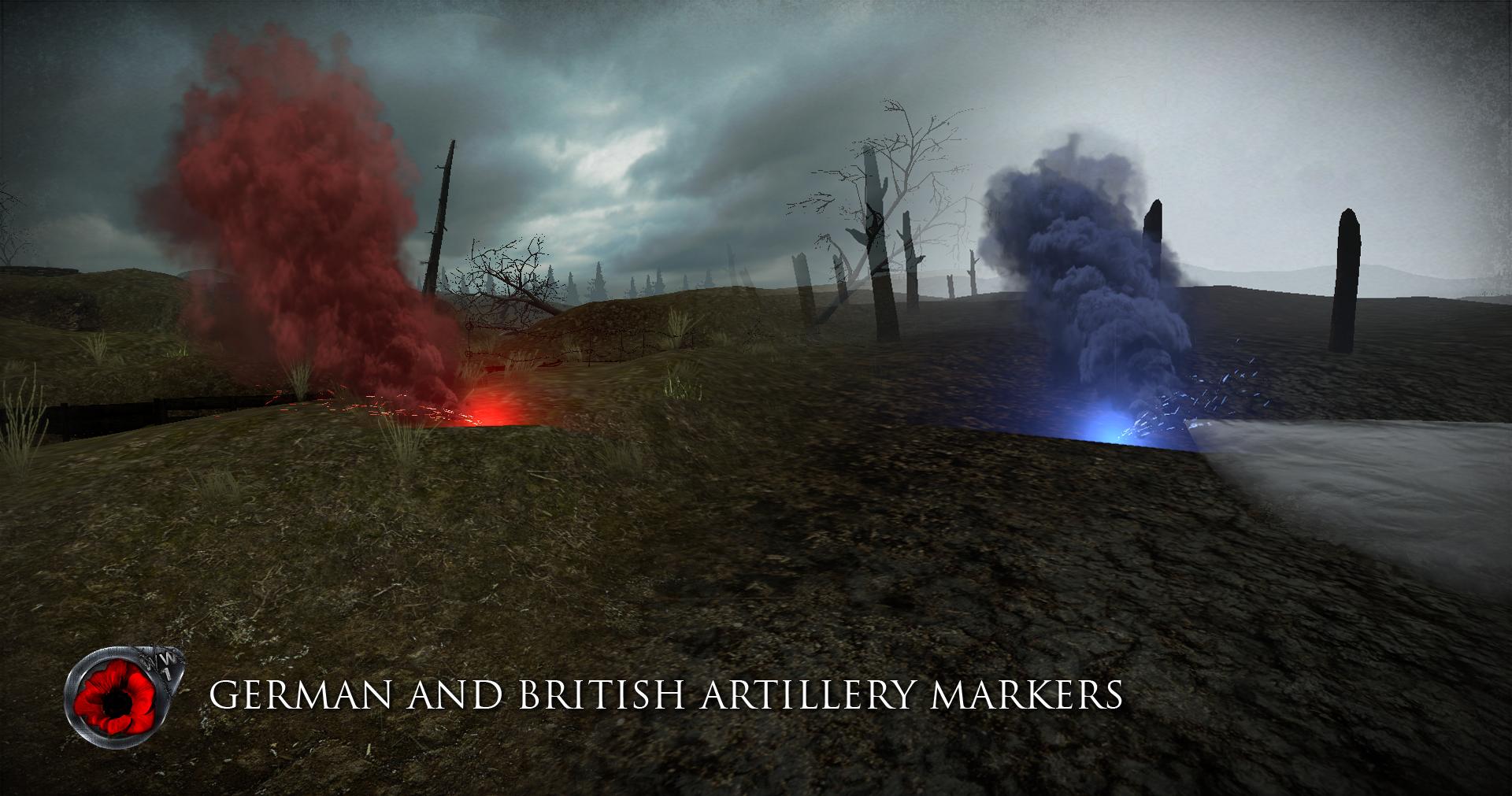 Gas attacks are now more dangerous, as it takes longer for you to get your mask on, and the hit detection for the actual gas has been improved from 1.13b. Fighting with your mask on is not something you want to do at all; it might actually be wiser to retreat. This makes artillery not only an offensive weapon, but also a defensive one. A team can block off an area for the map to prevent the enemy team from reaching it with full effect.
We mentioned ballistics, this changes our artillery drastically. The artillery is now a much more powerful weapon with much more reach, but seeing as it's such a situational, powerful and random weapon (when it comes to the shrapnel) it should be used sparingly. Artillery and gas have their own unique shrapnel-trajectories too; normal artillery has a much more level trajectory, and the shrapnel reaches further. Gas however has a more vertical trajectory and a shorter one, making it harder to cut down infantry with it. You might find yourself unlucky, so it's often better to take cover than to watch the strike happen. (The red lines show where the shrapnel is going in the following pictures)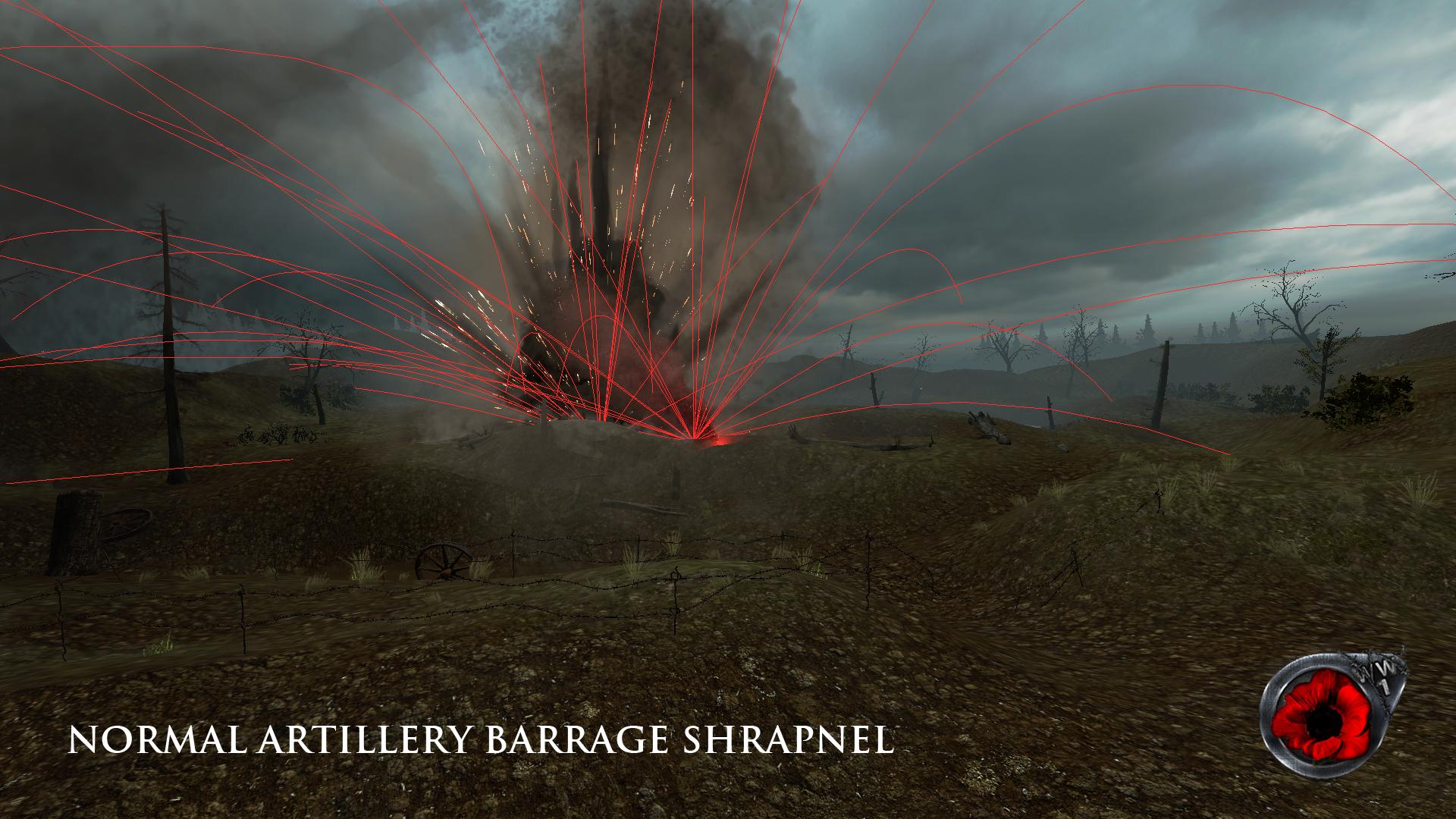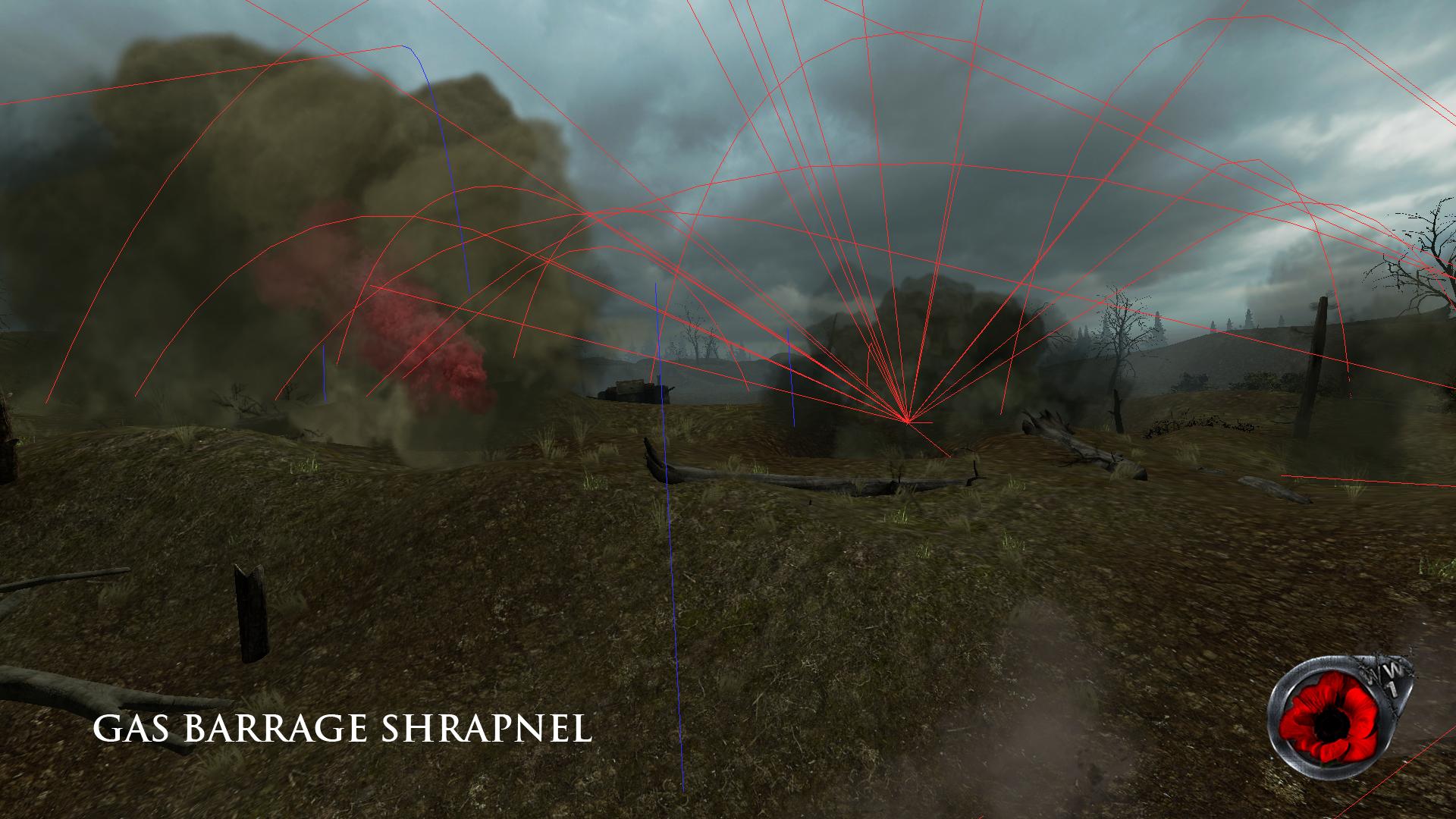 Thank you for reading through this, and we hope you found it interesting! Until next time, take care, have a nice Christmas and a happy new year!
The WW1: Source Development team