At the beginning of development in 2015, we had already defined the universe for Epic Loon and were looking for a cool art style to bring it to life.
As the environments are made photorealistic utilizing textures to depict the parodied movies in which we play, one of the first ideas was to craft an art style totally different for the aliens, the players, with something cartoony like in the 1996 animated movie Space Jam.
But as the game is full of jokes and bad humor, we feared that it wasn't the best choice and decided to dig into an old-school style as you see throughout the gameplay teaser clips.
‍As Epic Loon has a fantastic multiplayer mode, we decided to work on the shapes of the characters to let players easily identify their alien. From here, we decided that our goal was to have different shapes but the same collision box for each player...
‍After some setting the foundation and then polishing, we ended up with something like below.
We then decided to put the characters in color, as the environments are in black & white. In terms of ergonomy it would help the player identify their character easily in the environments.
But alas, we were still not convinced and decided to run a few tests with 3D characters. As you can see below, this wasn't the greatest of ideas.
We ended up coming back to 2D and worked on our new art direction. Some things were really simple, some more old school, others more realistic...
For example :
- With the proposal 4, we could keep the initial spirit of Space Jam but without the colored cartoon aspect that bothered us.
- The 1, 1b and 3 options below are also in this direction but with a little bit more work on the textures.
- At last, 2 and 2b were more realistic and convincing for the majority of the team.
But it was not enough. Still stuck between a cartoon style and a realistic one, our lead artist gathered textures of skins, fingers, teeth, feet, eyes, and other bad things we can't tell you, and applied them to the characters.
We then decided to keep only 4 alien shapes the reminded us of the buttons on a remote control (square=stop / triangle=play / circle=record / cylinder=pause) and also add a number of eyes relative to the order of the players (Player 1 = 1 eye / Player 2 = 2 eyes, etc.).
And we finally got something like this!
‍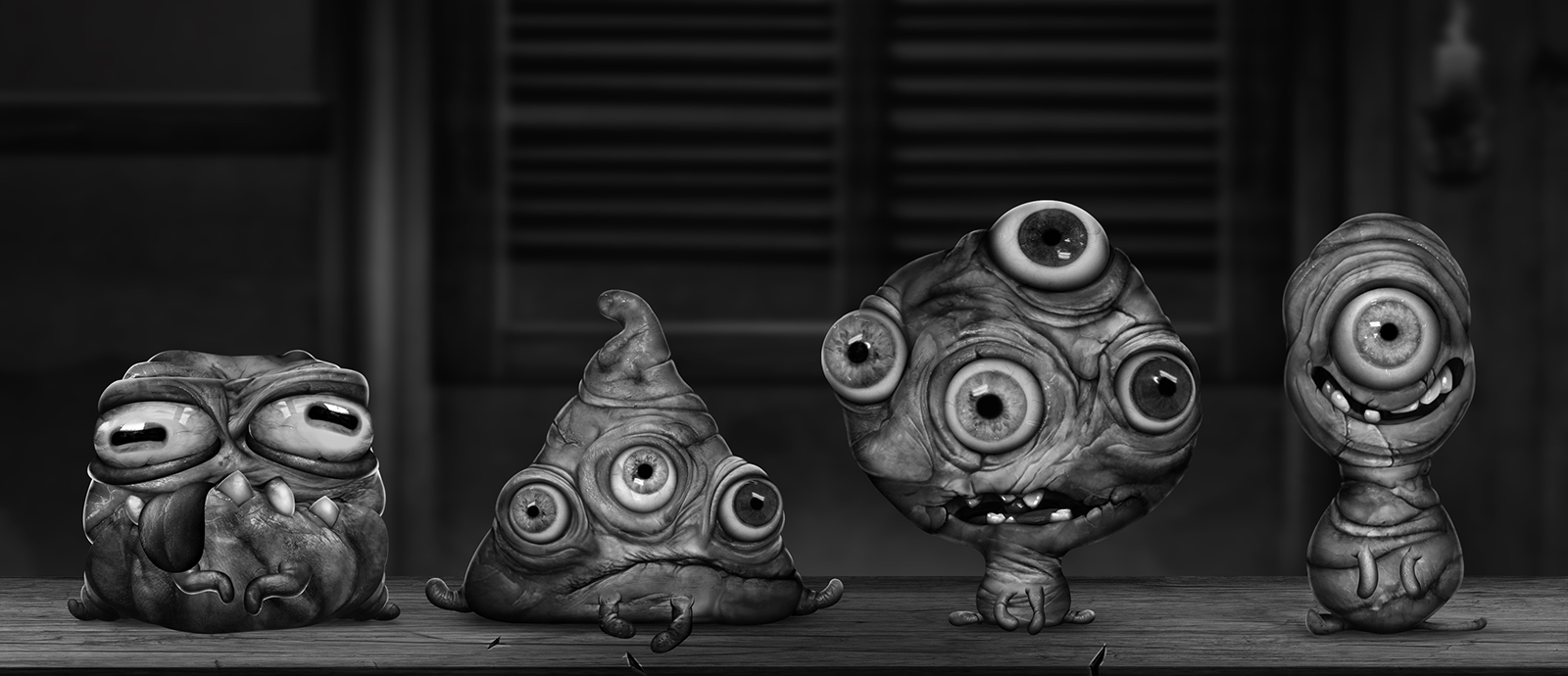 Even if it was a revelation for everybody, our lead game designer still had a problem with visibility in the environments and the differentiation between the characters in multiplayer. So our lead artist decided to add a kind of chromatic aberration with a different color for each alien.

We hope you enjoyed this glimpse into our long and amazing character creation process. Our team hopes you pick your favorite alien and fight over them with your friends in battle mode!