Chaos Renegades
We will start with a small demonstration of chaos renegades fighting against orks. Notice that the renegades work well when mixed together but individually they are not strong enough to face the multiple types of targets an ork army can throw against them.
Overall the greatest weakness of renegades is a lack of dedicated melee units since the only unit that has a considerable amount of good melee weapons is the command squad which in most cases you should keep close to the fight but not involved in it as the members of the squad are more useful to the surrounding troops when alive then dead. This is particularly true because the command squad is only strong with full members and any missing member will reduce the overall effectiveness of the squad.
While renegades have some similarities to imperial guard troops (especially in what relates to weapons and other wargear), their units and their commanders work in a different way from the loyalist guards of the Imperium.
The units seen in the video consist of common chaos renegades, renegade disciples (armour looks similar to IG karskins and they have a camouflage pattern), renegade heavy weapon teams and the command squad. The command squad is composed by an exalted champion which improves all squads near him, a renegade preacher which provides increased damage and speed to the squad, a banner bearer which improves morale, a renegade medic to heal nearby soldiers and finally a vox caster which will provide air support and other abilities. Common renegades can be led by a renegade champion which improves their health and provides other passive bonus and the common renegades will provide you with the massed soldier tactics you would commonly use with IG although renegades have less soldiers per squad than guardsmen have. Renegades are more durable due to the gifts of the dark gods and are particularly effective against infantry especially when led by a commander. Disciples can be led by a champion and are essentially better armoured and more experient versions of renegades, thus dealing more base damage and possessing more health. Attaching them a preacher will make them run fast around the battlefield in case you are searching for fast commandos to do fast strikes in and out of an area. Heavy weapon teams will provide you with defensive or offensive fire support which can be focused as anti-infantry, anti-vehicle or be general use. Heavy weapon teams can provide indirect fire support if equipped with mortars, to serve as a close to the frontline artillery-like unit.
Besides preachers renegades can attach enforcers (role similar to a commissar) or psykers (detector and caster but lacking in passive bonus to soldiers).
Also seen in this video are some cultist like soldiers called chaos fanatics which are pretty much meat shield ranged units which can be easily massed and used as distractions. If equipped with stealth they can be used to sabotage enemies and disrupt their strategies by attacking from hiding.
Inquisition
The Inquisition is not a standard force and so a Wing system is under development to allow players to play with different types of Inquisition armies. The Wing system is not as restrictive as a mark system since it allows units from differents Wings to be recruited simultaneously, although some units, especially commanders, will have caps that prevent players to have the major commander of all Wings simultaneously.
This means you can combine the fanaticism of the Priesthood Wing with the reliability of the Warrior Wing to get the better results in a battle.
Priesthood Wing
Units: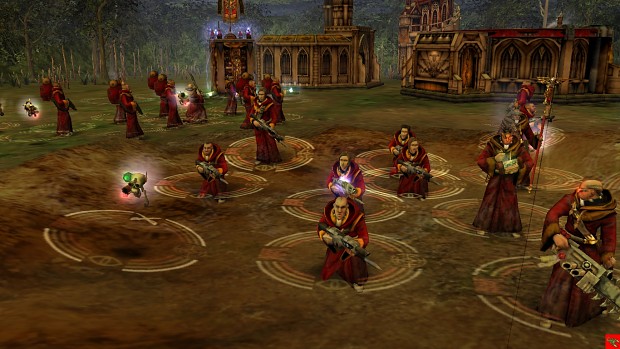 - Fanatics - the most basic warriors in this army, they are simply equipped with lasguns (no actual armour or something like that so pretty much like chaos cultists). They are really fast and they may get something like the cultists furious charge to get into melee quickly when that needs to happen. Useful for quick exploratory attacks since they can hit and run to safety.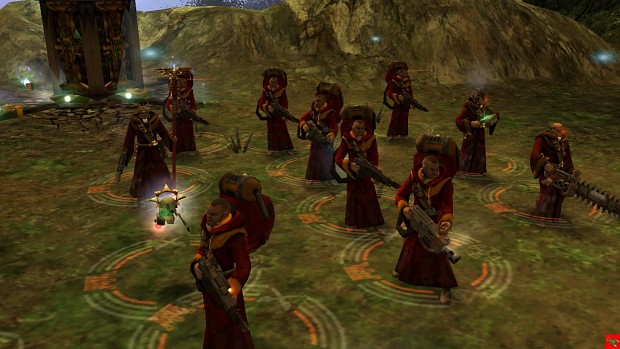 - Redemptors - Slightly better equipped than the fanatics but still without armour, these soldiers are ideal to burn heretics from a safe distance. The heavier weapons and backpacks make them move slower (at the speed of most infantry units in the game). While the fanatics move around fast these soldiers might be used to ambush any enemy that decides to pursue them.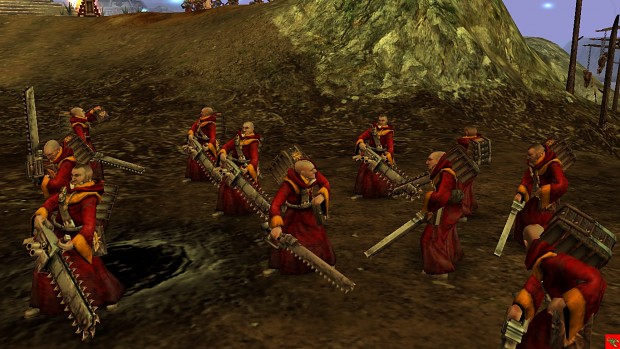 - Zealots - A close combat variant based on the inquisition_acolyte_codex included in FoK/PoK although unused (most likely because it was not completely finished) which was based on the original IG priest model.
Their combat role would likely be similar to that of the repentias killing pretty much everything in close combat.
Commanders: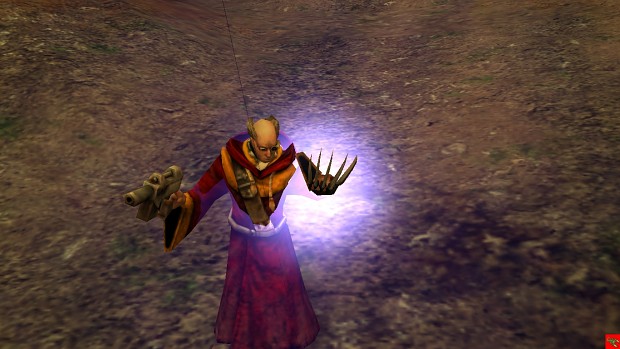 - Torturer - each inquisitor usually have a specialist on torture so it can obtain the information required from the enemies of the Imperium. Due to the fact that some of these specialists in the time of the Catholic Inquisition were actually priests (not all but some were), I decided to include the torturer in this wing. The claw from the FoK/PoK eversor assassin gives it the menacing look the title demands.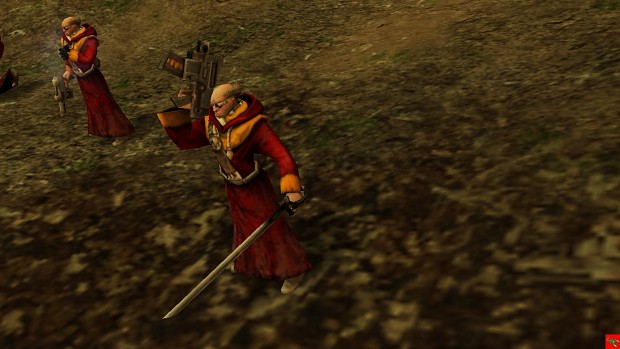 - Banisher - Exorcists and Banishers are the experts on sending daemons back to the warp be it with religious chants, prayers or through the use of powerful weapons, these warriors are essencial to any Inquisitor in the Ordo Malleus. Daemons are powerful enemies and fighting them constantly brings danger to body and mind so Banishers won't likely last long unless their extremely resistent.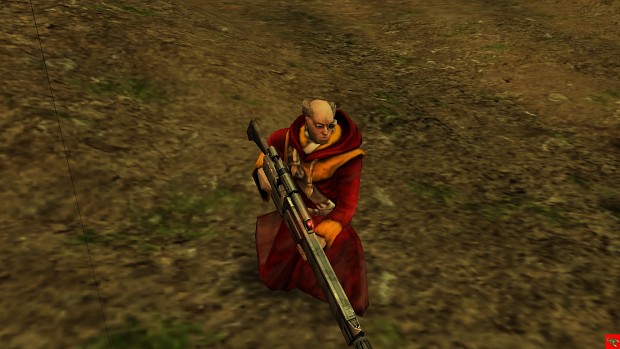 - Scout - any military force needs some sort of scouting unit and so this warrior advances ahead of the main army and checks the enemy positions from a safe distance possible marking them so others can eliminate the targets.
Builder:
Inquisition Priesthood Wing dedicated builder (currently unnamed)
Warrior Wing
Warrior Acolytes are the core of any Inquisitorial force. Although many inquisitors will prefer the well trained and equipped stormtroopers, crusaders and any other elite Imperial warriors, loyalty is usually more important than training and combat experience. Obviously many of these loyal warriors the inquisitor surrounds itself with will die in some forsaken world fighting a war that is all around the Imperium and yet most people are unaware of its battles.
In these screenshots you can see some of those warriors that dedicate themselves to the service of the Inquisition, some obviously in the hope they will one day be inquisitors in their own right.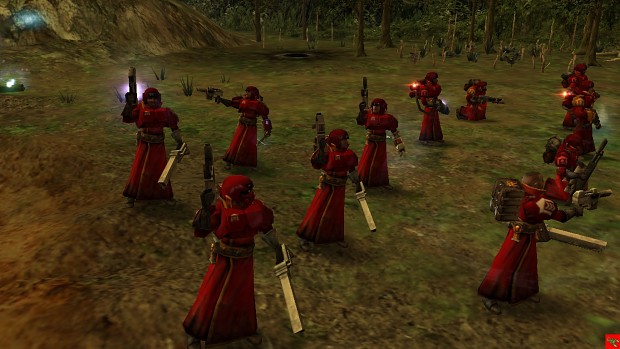 Warrior Acolytes Melee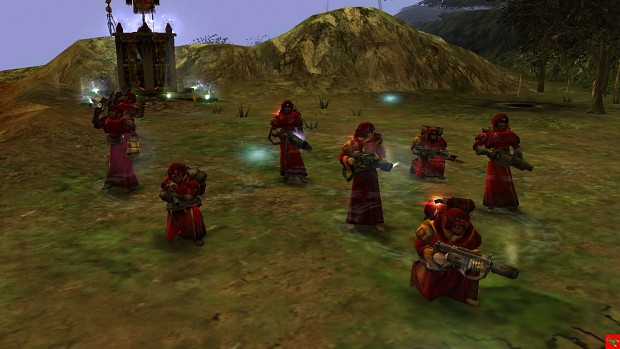 Warrior Acolytes Ranged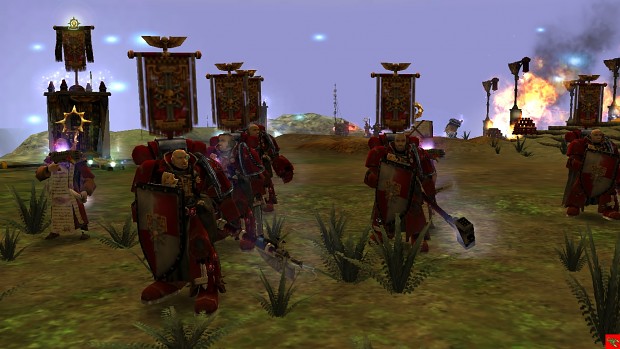 Warrior Acolytes in Power Armour (Melee Version)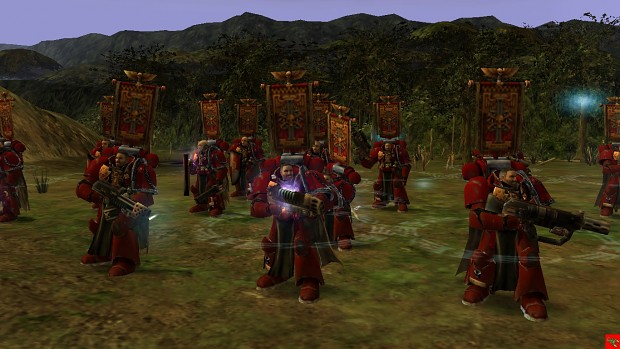 Warrior Acolytes in Power Armour (Ranged Version)
The Wing system is currently Work in Progress, as you can see there are only 2 Wings so far and the Warrior Wing has no commanders for the moment. The Warrior Wing will be a part of the frontline deployment troops of the Inquisition race (units recruited from listening posts thus easy to deploy while advancing) and so their objective is mostly to be versatile as they can be quickly deployed to fight infantry, vehicles, daemons...
To check my latest videos visit my youtube channel:
To be aware of the my latest modding developments (not necessarily all related with this mod) check my profile at moddb: