The C&C Tiberian Dawn Redux Development Team wishes a very Happy Birthday to Command & Conquer as it has been fourteen incredible years! As a C&C Mod Development Team, we take this day with particular pride and honor as we continue to work hard to recreate the classic C&C game that conquered the world fourteen years ago and started an epic RTS franchise!
As a reward to the beloved C&C fans, (as we are ourselves, of course) we will present a recap of some of our newest and most interesting videos and images for the C&C Tiberian Dawn Redux Mod for C&C Generals Zero Hour...
OUR SECOND MOD GAMEPLAY MUSIC VIDEO
Here are some of our latest in-game screenshots featuring never before seen dynamic fog and lighting effects for the C&C Generals SAGE Engine.
Three new "special" buildings from the classic game have been completed in order of appearance... the Bio Research Lab, the Technology Center/Prison, and the Research Hospital.
Here are some samples of the completed buttons/icons being used for Tiberian Dawn Redux Version 1.3. We are using RenX, W3D Viewer, GIMP, Shader 2.0, and Paint Shop Pro in an attempt to create these images from scratch using the actual in-game 3D Models and some random background scenery from real world photographs to give a realistic feeling!

These images are not in any way finalized for Version 1.3, but I felt I should go ahead and show you some samples for your feedback as this Mod has been and will always be developed by C&C Fans for C&C Fans. We listen and your opinion always counts!

SPECIAL NOTE: These icon images have been slightly enlarged from their originals and some of them may look grainy or distorted here.
ANOTHER NEW UNIT HAS BEEN BROUGHT TO THE MOD: THE MICROWAVE TANK
The Black Hand Subfaction of the Brotherhood of Nod has a deadly new experimental unit utilizing microwave technology at their disposal.
The image shown below is the original Westwood Studios concept art for the Microwave Tank originally planned for use in the original Command & Conquer. It was cut out before actual production began. (from my speculation it was due to story and game engine limitations) However, this tank is now brought to life and now has a home in C&C Tiberian Dawn Redux for the Nod Black Hand Subfaction! Note the slight modifications to the actual model in contrast to the concept art shown here. I also speculate that this design was actually revisited later by Westwood for Tiberian Sun in the form of the Mobile EMP Cannon for GDI as many other concepts originally intended for C&C 1 had actually made it into Tiberian Sun.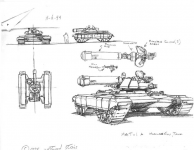 The image shown below is the actual unit as it will appear in-game for C&C Tiberian Dawn Redux! Once again, this was an experimental unit first designed to be a highly mobile (but less destructive) version of the Obelisk of Light. However, as the First Tiberian War concluded and Nod was badly crippled and lacked funds for research and production, the only existing versions of this tank design and its blueprints was eventually lost or abandoned.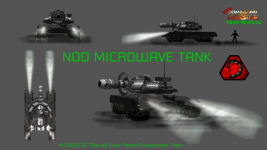 As a special feature, we wish to include a interesting scripture from the Holy Bible that C&C fans and Kane/Nod Fanatics may take great interest in...

THIS IS FROM ACTUAL BIBLE SCRIPTURE:

Genesis 4:15-16

"The LORD said, If anyone kills Cain, he will suffer vengeance seven
times over. Then the LORD put a mark on Cain so that no one who found
him would kill him. So Cain went out from the LORD'S presence and lived
in the land of Nod, east of Eden."
We hope you have enjoyed the updates from C&C Tiberian Dawn Redux as this is our gift to the fans of our beloved Command & Conquer!
Tiberian Dawn Redux Version 1.3 is getting closer to completion and will be coming soon!
Cheers from the C&C Tiberian Dawn Redux Development Team
NOTE THAT WE MADE THE OFFICIAL C&C WEBSITE MOD SPOTLIGHT HERE