Its been a whole month since Blue Portals was released to the public. Over the course of the month, we have been reading peoples responses, and thinking about what we should change in the campaign, and avoid the issue again in the future. Yes, today we are going to talk about the 1.5 update.
Although we do have a goal with this update. The goal is to help players with a lower skill level without interfering with game play for higher skilled players. After we released the mod, we quickly found out that the current Portal community really hates flings with a passion. Although we expected that the knowledge of flings would come from Portal and other mappacks, but we found out that its better off to start expecting that the player does not know anything from the start. So the idea of adding two or so rooms before Chamber 01 is a possibility, but it might effect the higher skill level's playthrough, but it can also aid them as well.
What if we decide not to add the additional rooms to Chamber 00? What did we do to aid players at a lower skill level with chamber 01 and other chambers? Not only players could not manage to do the flings, but in other cases a large amount of people just got lost and had no idea where to place their one and only portal. In response to this issue and fling issues, the maps now have a hint system that will aid the player if called.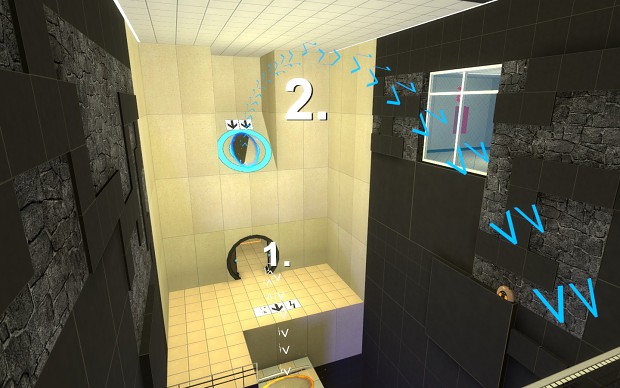 The hint system has been working with aiding players in direction and flings without interfering with the game play of higher skilled players. So how it works is that after the player hits 'h' on the keyboard, a series of arrows and targets will make a visual guide of the chamber in the map itself. The only thing that the higher skilled players will notice is a message that they can use it if they wanted to, but that is it. Although there has been success with this system, it does hold some issues. The way we have it working now is that once the player used the hint system in a room, the player can no longer use it again for the rest of the chamber. Some play testers and other people did not like the idea of that, but how are we going to prevent players from abusing the help system and not actually playing it? There was the idea that the player would have to wait a minute or so after entering each room, and a chime will indicate when the player can use it. But then again, it would interfere with the higher skilled player's game play, as they might find it annoying. So we are kinda stuck on that.
Now its time to address the major entity mess in the last room of Chamber 09. When I did this I had no knowledge of logic branches and simply could not wrap my head around how they worked in general. So the way that room was done was by math counters.
As you can see, it can work this way. But what happens if the math counter gets subtracted or added twice because the player jumped on the button with aggression? Since both cases of if the portal is placed under the fan and what portal is actue are managed by one entity, that is when you have the wind tunnel coming out of a closed portal bug and the tunnel not working at all. But with logic branches, this issue can be solved.
In this case, the logic_compare of the portal detector tells its own branch's value to be true and the auto portal does the same. If both of them are true, the branch listener will make the wind effect come out of a portal. (The portal that had the relay that told the branch to set to true.) The other portal would have its own system but another branch listener would listen only to the portal detector and the other auto portal. Now since I finally wrapped my head around how branches work, I guess its 'bye-bye' over use of math counters.
So what does this mean? Well simply we have crushed the entity screw up in Chamber 09!
Once we address the issue with the help system and along with a few other things, the fixes should be complete. But even after that we will not release the update. Why not? Well we don't see people downloading the update making things more easier if they already played it and enjoyed it how it is now, and at the same time we don't see people updating the mod if they hated it and never want to play it again. So this update will have to wait until we can package something new with it. This can be UP, a community map (if we get any) or something I made because I wanted to try something. The chamber 10 patch was an exception, because the bug prevented players from beating the game. There is one exception, if Blue Portals gets published on Desura, we can simply ship out any changes that have been made without shipping it with something else so people can update sooner . But we need to wait for Portal to be on Desura before we plan further with that idea.
We would also take the last words to congratulate Hunterbrute, Caboose Jr., Omnicoder and a few other people for coming together and making Portal: Project-Beta releasable. I remember working on that mod 12 hours a day till everyone got busy, or simply stopped caring. But its out now, and I recommend playing it if you want to play something closer to Portal, although its unfinished.
And lastly, a quick reminder about the Blue Portals Mapping Competition on PlanetPhillip, I will be updating the SDK files regularly if needed. We've noticed that a user by the name of RubyCarbuncIe has been playing with the tools that are available on PlanetPhillip.com and he's made some interesting ideas and concepts. Have a look!
Hopefully this will influence more of you to give Blue Portals a try and even hop in on the contest. Awesome work, RubyCarbuncIe, we hope to see a release from you!
Thanks for reading, your feedback and have a awesome New Year!
Cheers,
The Blue Portals Development Crew.