BLOG Week 39 - The Future is Ours!
Welcome back oh intrepid fans of Tiberium Crystal War, to our lovely blog.
...
*cough*, okay on to the good stuff.
Tiberium Crystal War 2.0
Yeah, I could write all kinds of stuff about our progress, but Mauler already wrote a whole bunch of wordage about it, so I'll let him fill you in.
Mauler's Minute
Ok! so now that the GDI buildings are using the new features, I have begun to add the small details to the structures . So what does this mean? Well first off the orginal stuctures where so boring and had no ambient sounds/visual effects to really immerse you in this environment! I have provided some videos to showcase these changes.
First up was the GDI Power plant. In this video i have added new sound effects to the power core, and a slight humming from the generator. Also another thing i should mention is that these sounds do change according to the building health. Just watch the video

Next in line to receive new effects was the Barracks! The flag of the barracks in particular.. I know I know! FINALLY!! haha, the original was not animated and looked like cardboard. No problem now though! as I have went ahead and animated it, it will also receive some sound effects, but still a work in progress
Lastly I would like to mention that I have also created WLT files for the new structures! Again made possible by the Tiberian Technologies team. Right now you are asking, "what are WLT files?" here is some info on what these are..
WLT files also known as "Westwood Light Tabulation" These contain lighting information that can be created to light up dynamic objects ingame. So what will they do? They will light up the interiors and provide us with the proper lighting changes when the building is destroyed. These files will be included in all structures in 2.0
Well that's about it for this week! Keep on following us, we are continuing to better TCW for the future, and you guys and gals will enjoy this version more than ever!
Fighters ARM UP!
So you don't just want to test huh? You'd rather develop things? You want to model? Or just learn the basics? Well, why not join us then?
Yes that's right we are now accepting applications to our team! Come join a dedicated team of diverse talents. Joining the team comes with great benefits. Work with talented and hard working staff, build up a knowledge with our training videos, even learn from Mad Mauler himself!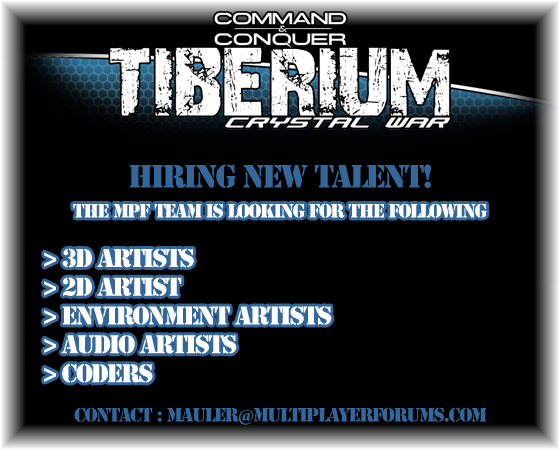 Send in your application now!
Lets give them their PROPS.
Videos? What videos? ... Oh, right. Those videos.
Sorry Mauler.

Tech Corner
Nothing to report this week, except that a small glitch was found in the veterency scripts, but it's nothing to worry about. Just don't get more than 250 Vet points and you'll be fine.
The End Is Now!
Hardly.
When thinking about joining a server to play TCW, remember that there are probably several people watching the player count wondering the same thing. When you join an empty server, wait around for a bit. Chances are greater that people will join if there is one than if there are none.

And as always, keep your eyes open for the next Dev night!
God bless you all,
"One mission, one purpose!"
SS67 / CireX / Mauler / Kenz 3001