Welcome to this week's Battle for Dune blog, here is what we have been upto this week!

---
Atreides Outpost
Work has finally been started on the Atreides Outpost interior, after work on the House Ix War Factory was put on hold for higher listed models.
Here is a WIP.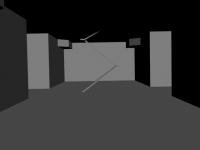 ---
Fremen Cave
I have been very busy working on Sand Trap, as shown in past blogs the new version has tunnels and caves. Here are a few shots of the main cave, the textures are just to show the cave better and there is a small terrain issue but it has been fixed.
---
Recruitment
Battle for Dune is still looking for Texture Artists and Infantry Modellers! So if you like what you see and want to help out, then please pm me here on moddb or come to our forums at www.battlefordune.co.uk , register and show us some of your recent work.
---
Another blog done, we hope you enjoyed it. Please come and visit us over at www.battlefordune.co.uk