Hello and welcome to yet another blog. Sorry there hasn't been anything for about 2 weeks but I have been very busy, but don't worry we are still alive!

---
Buzzsaw
Our newest team member, GuerillaTactics has been very busy remaking our Harkonnen Buzzsaw. Our old model was lost due to no backups and a hard drive being fried.
Here's the first WIP.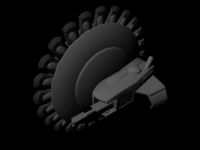 ---
Weapons
We have finally started to get some of our weapons rigged up and ingame, here is the Atreides assault rifle!
---
Sand Trap
I have been making more progress on BFD_Sand_Trap, this time we are showing off the Fremen camp. The camp and the Atreides base are linked by a tunnel so Atreides infantry can get there slightly faster than the Ordos, due to the Fremen and the Atreides being allied.
Here are some shots.
---
Well that's it for another blog from the BFD team, come and visit us at www.battlefordune.co.uk