Hello and welcome to yet another blog, lets get on with it!
---
There was one last Vehicle that needed doing, and here it is, modelled up by LR01, the Atreides Repair Vehicle.
The Atreides Repair Vehicle is the House's only means to repair it's vehicles, so keeping your War Factory alive is a bit more important. Having these units on the field opens up for a lot of new tactics!
Here are some WIP shots.
LR01 has also been busy with our Harkonnen Windtrap. He has started doing the internals in greater detail, starting with the basement.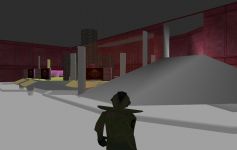 ---
I have been working on Sand Trap once again, this time the Atreides base area. I have changed it a fair bit from the old version, I hope you think so too.
Here it is.
---
Let's it for another BFD blog, come give us a visit at www.battlefordune.co.uk