Our newest member, Fango, has put his skills to work swiftly and has produced this great G.I model, which is still a work in progress. Models like this ensure that Apocalypse rising's graphics will maintain a high quality. One_Winged_Angel would even go as far to say that by the time we've got some infantry ingame, they'll be the best looking infantry on any w3d-based project. Just putting it out there.

Anyway, take a look at this! Don't bother asking for the poly count on this one, because Fango is using a method of modelling which involves making a high poly model, then downgrading it to suit the engine.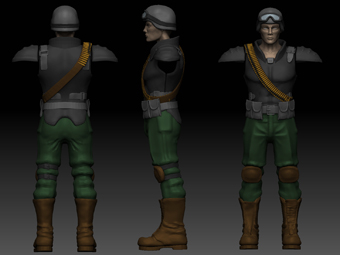 dtrngd had some time off, so he decided to look into making tutorials. With Wallywood's help, he has made a start on a prototype tutorial map. There's not much else I can say, so check the video out!
Guy with a wrench has been working on getting the Tesla Coil ingame and rigged. He's done a pretty damn good job as well, since he's been playing around with one of danpaul88's scripts that allows us to change the model and texture based on damage. This means that at half health, the Tesla Coil will appear to be bent slightly, with visiable damage on the texture. When the coil is destroyed, it'll explode and fall over, much to the amusement of the Allies. This has now been handed over to danpaul88, who will now attempt to get the coil into the main test builds and setup the Tesla Trooper charge logic.
Here's an image of what the Tesla Coil looks like ingame.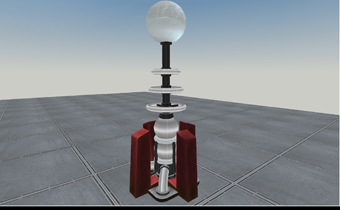 Third Person Camera Position & Bunnyhop Nerf
I've been having a play around with the third person camera, and have changed it so it now appears like this. I was hoping to do an "over-the-shoulder" style camera, but unfortunately, that's not possible in the engine.
Check out the screenshot below for an idea of what it's going to be like. Also, if you have any different ideas about where the camwera should be positioned, post them!
Also, danpaul88 has taken a look into how we should effectively kill bunnyhopping. The answer? Limit the jump height to a more realistic level. The default Renegade jump height is rediculous when you take into acount how high your character is actually jumping, so we've limited it to stop bunnyhoppping for good. You can still strafe quickly from side to side, but it's killed off the main problem, which was the hopping.
danpaul88 was looking through some of the old test builds and found the Dreadnought sitting idly, so he decided to give the Allies a shock and play around with it. This monster is armed with two triple-barreled cannons (as seen in the concept art here), two massive missiles and a salvo of smaller missiles (as seen in the RA2 intro movie).
It's nostalgic to see this monster back in game, since it's from a time where we were using the Renegade vehicles and such to do our testing. I think we've come on a lot since then.
Our next test build it set to include more units to help with balancing, but we shan't be seeing this monster ingame for a while sadly. Fortunately though, we have some really epic plans for the Dreadnought, the Aircraft Carrier and the Naval Transports which will blow your minds. But I'll keep them til a later date.

We are looking for extra staff members to join our ranks! What we are looking for in a 2d artist, is someone who:
is enthusiastic about working with the BHP Apocalypse Rising Team.
has spare time.
will be active in the foreseeable future (a.k.a we don't want you running off).
is competent at creating their own 2d textures.
is over the age of 16 (we overlook this if you are what we assess to be a mature individual. This rule is known as the TruYuri rule).
PM One_Winged_Angel with your application stating why you would like to join the team along with any past experience. Please provide example textures, if you have any.
For the full version of this blog, click here. For the main forums and more, click here!