Soviet troops that cannot handle combat weaponry, due to carrying other heavier equipment, are assigned with a Tokarev TT as standard. This allows the commie's engineers and technicians the ability fight back when under fire from enemy threats.
Guy with a wrench has textured Poggel's model and I think the results are really good so far. There are just a few bits and pieces to fix on the texture before it is ready for rigging.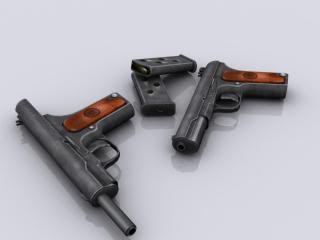 Has your Rhino Tank been ravaged? Siege Chopper looking smashed? Apocalypse Tank looking like it's been through one too many wars? Then get down to your local Service Depot, where our engineers will fix up your vehicles for a price that benefits everyone!
rm5248 has been working on this model and it's starting to take shape really nicely. There are a few accuracy issues to fix up to make the model 100% true to RA2's shp, but once those are fixed up and a basic interior is added, we should be well on our way to getting this structure in-game!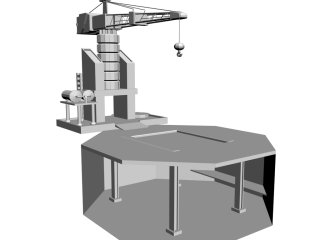 The service depot has no weakpoint, but it does house a purchase terminal and a repair node.
As you guys can probably tell, we've been down on content this past few weeks due to educational commitments as well as the release of a lot of popular games this past few months (Bad Company 2, Final Fantasy XIII, Bioshock 2, to name a few). This has led me to have a think about our PR strategy.
Because One_Winged_Angel can't really get away with posting nothing and the blogs are getting later and later every week, he'd like to put an idea to you all.
Should we change to doing fortnightly or monthly mega-blogs instead of smaller weekly offerings?
Post what you think, because he is eager to read your opinions
We are looking for extra staff members to join our ranks! What we are looking for in a 2d artist, is someone who:
is enthusiastic about working with the BHP Apocalypse Rising Team.
has spare time.
will be active in the foreseeable future (a.k.a we don't want you running off).
is competent at creating their own 2d textures.
is over the age of 16 (we overlook this if you are what we assess to be a mature individual. This rule is known as the TruYuri rule).
PM One_Winged_Angel with your application stating why you would like to join the team along with any past experience. Please provide example textures, if you have any.
For the full version of this blog, click here. For the main forums and more, click here!