Soviet Refinery Walkthrough
dtrngd has completed the interior for the Soviet Refinery and has gotten it ingame to walk around in. One Winged Angel took the map and made a quick walkthrough video for you guys. You may notice that the Refinery has no minor weakpoint. This is because the War Miner affects credit income when the enemy faction destroys it. So the Miner is the minor weakpoint if you like. However, it's not linked to the refinery's health in any way.
Also, the no elevator policy we are running seems to be paying off.

Take a look at the video on youtube below.
Also, download it from here if you want a better quality video.
We had a Conflab
Well, we had a conference on Saturday which was pretty cool. We got just about everyone to turn up and we reminisced about the times of old. Better is the fact that The_Merovingian (or Zion as he's known now) has decided to come back and help AR!

Give him a warm re-welcome. We didn't discuss anything of real relevance to be honest, most of it was just random stuff. We did discuss having new first person arms though. There will be a few more arm types than those featured in APB. this is because units like the conscript and Tesla Trooper have massive gloves which will need modelling out. We'll get them working soon enough though.
Tesla Coil Fixed
dtrngd wasn't happy with the Tesla Coil, so he took it and made it as close to RA2's as he could possibly get. I think he succeeded; take a look below.
Ivan's Revolver Texture
Guy with a wrench has been texturing the Soviet MP-412 Rex Revolver and it's looking pretty sharp. TheBeerinator helped with some advice and several iterations were made. This is looking to be fairly close to the finished product now.
This weapon will be given to Crazy Ivan, as he is seen with a revolver in the concept art. Apocalypse Rising probably has the most handguns of any w3d based game out there; making 6 in total! The 6 are:
Allied Beretta (General Issue)
Soviet Tokarev TT-33 (General Issue)
Soviet MP412 Rex (Ivan's Sidearm)
Colt M1911 (Tanya's Main Weapon)
Walther PPK (The Spy's Sidearm)
S4M Silent Pistol (Terrorist's Sidearm)
Here is an image!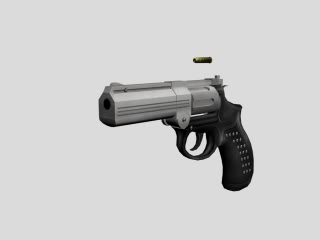 Structure Scaling From An RA2 Perspective
dtrngd has been slowly scaling each building he makes in an RA2 perspective. This helps us to get as close to RA2's scaling as possible in the w3d engine. Obviously, infantry and vehicles will follow Renegade's scaling, but with structures it's a different story.
Hopefully those RA2 modders amongst you will appreciate what we have done here. Take a look below.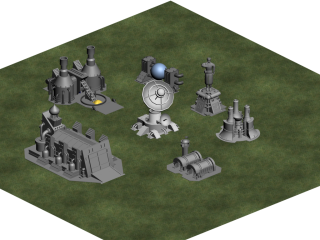 For the full blog written by One_Winged_Angel click here and here.