Blog 150
Allied Repair Node
A while ago it was established that the allied power plants in AR were to utilise geothermal energy as a source of power. This concept has been loosely transferred into the repair nodes by TheBeerinator.
Water flows through the central section of the node, but when the linked building is damaged that water will leak. We'll be using decals and emitters to achieve this. Take a look at this!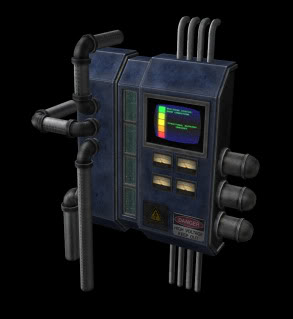 New Civilian Tech Airport
Guy with a wrench has been modelling up the tech airport. This will grant your team a para-drop ability when captured. We are unsure how para-drops will be setup, but we have the basic logic for parachutes ready.
The Tech Airport may not feature in the first release, but will likely be featured in the first major patch along with the American Air Drop. Check out the images below!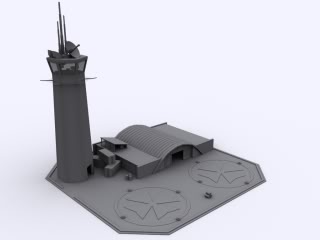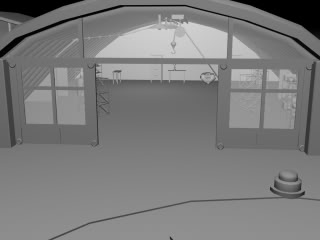 Revamped Refinery
dtrngd has been modifying and updating Ric's Soviet Refinery model so that it accommodates the interior correctly. The animations for this structure are going to be something special indeed. War Miners will have a dump animation for when they deposit their expensive loads off which will hopefully make use of some nice emitters. Check out the fixed exterior below.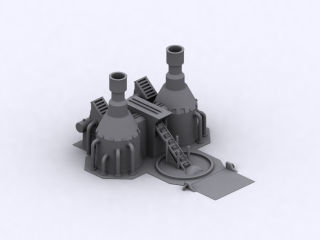 dtrngd, TheBeerinator and Guy with a wrench deserve a lot of credit for their work on various structures so if you see them online, please take the time to thank them.
Blog 151
Installer
Tankmaster has been working on replicating the rA2 installer for use in AR upon release. I must say, he has done a perfect job with porting over the RA2 assets to form this piece of awesome. We will eventually be replacing the renders of the RA2 units with our own selection, but for now we'll keep with what we have.
Oh, and if anyone has concerns over the installer taking ages to install, don't worry. Tankmaster is going to code in a quick install button. Take a look at the images below.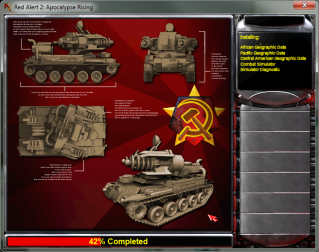 Refinery
dtrngd has been fixing up the refinery and has now gotten the first concept into game. The basement hasn't been connected up yet, but it is soon to follow. We have opened up an entrance in the front of the structure so that it can now be accessed from both sides. This is a welcome change to the old version, which only had doors on the back. Bye bye campers! Here are the first ingame shots of this work in progress.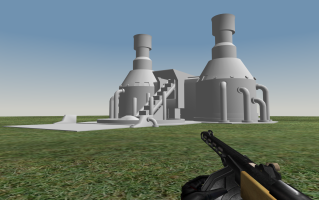 A Populated Barracks
dtrngd has also been putting the new purchase terminals and repair nodes into the Allied Barracks. This is essentially what the structure will look like when you guys get your hands on it, when AR is released on [Date Removed]. Take a look below!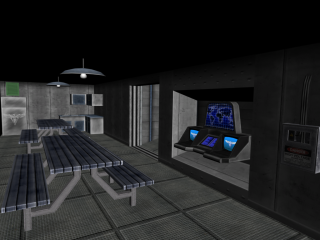 Blog 152
Oil Derrick
So our old Oil Derrick model was a bit... well.... old. So Guy with a wrench has made a new one! This will fit in line with the other tech buildings that he has done previously. Only the Secret Lab to go by my record

Take a look below.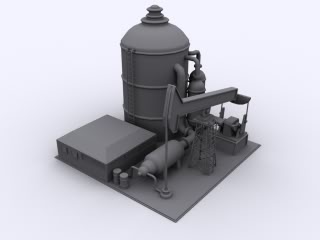 For those of you who haven't been keeping an eye on proceedings, the engineer character on each faction will be able to capture these special tech buildings that are dotted around the maps. They provide bonuses for your team. For example, the Tech Oil Derrick provides additional funds for your team. Tech buildings are handy, so keep an eye out for them. Also, it gives you more of an incentive to become an engineer.
Dumplings
Remember a few weeks back when I was showing you guys the War Miner? Well, now I have gotten the model to the stage where an ore dumping animation can be made. That's right! The War Miner will deposit it's lovely load of ore by tipping it out into the main pit ready for transport into the refinery itself. Take a look at the pretty pictures I have below!
So where do you suppose the War Miner goes?
dtrngd has been working on a few teaser screenies for you guys. No more shall be said only picture...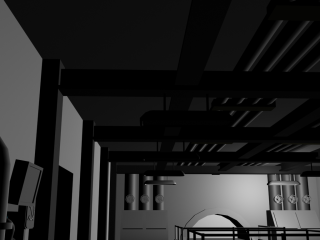 Blog Written by One_Winged_Angel
For the full blogs click here