Chrono Miner
"Ric has been updating the Chrono Miner model ready for unwrapping. The Chrono Miner is the Allied ore gathering unit. It carries less ore than the Soviet War Miner, but can get back to base twice as quickly to dump it.
Here is an image of this marvel of modern technology."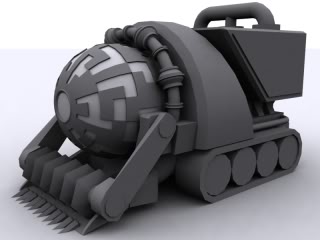 Bomb Defusal
"Since the engineers and technicians in AR carry suitcases, drills and welders we thought that it wouldn't really make sense if they were using them to defuse bombs. To make up for this Poggel has modelled up wire cutters for each faction, so that C4 and Dynamite can be defused. Also, they may give a nasty nip to any enemies that get too close!
Anyway, here is a render to wet your appetites!"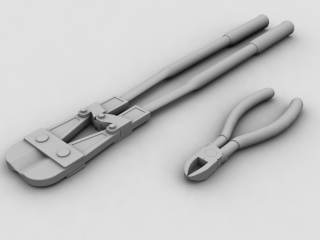 War Factory
"dtrngd has been working on the Soviet War Factory's interior! At the moment it is looking to be our most detailed building yet! You may be wondering why the middle of the floor has railings around it. Well, the render below is of the war factory's basement, but below that is the vehicle creation zone. We are planning to use a giant elevator to bring constructed vehicles up form the second basement, past the first basement and up to the ground floor, where they will drive out of the doors. No more creation of vehicles right in front of your very eyes.
This is going to be epic if you are standing in the first basement watching the vehicles for a tank rush going up the elevator. Kirovs are also going to be epic to watch. I feel that this war factory will probably be one of the most interactive structures in AR, which should be awesome to walk around inside."
Check it out below.