Hello and welcome to a very much needed, blog 111. As you may have noticed, we've been very quiet over the past month, this is mainly due to exams and the fact that we've been more working on game balancing and our latest internal build! But now for what we have been up to in more detail.
---
Forums
If you are one of our forum visitors you may of noticed that we have upgraded to IPB 3. This was due to the fact that IPB has stopped all support for IPB2 now and therefore we saw it as something we must do to make sure our forums are safe and secure. If you are not a member of our forums and wish to see what we've been up to then please visit www.battlefordune.eu .

---
As I said in the intro, we have been very busy with our latest build, Alpha 5. This build is our best so far with all infantry models in, updated rigs, weapons and more! We've been focusing a lot on our infantry balancing lately due to that side of the game being the most complete (including mapwise). More on the build and maps to come at a later date (sooner rather than later).

---
Atreides Rifle
Due to our current Atreides rifle being a very low poly textured model from the old team back in 2003, we've decided to finally make a new one! Eeevil has been busy designing and modelling this weapon, we are going through many ideas with how this should look and what fits with the House in general. At the moment we have the basic ideas down but the size and details of the weapon are still very much WIP.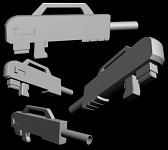 As you can see, it currently looks a little too big and bulky, not something a soldier wants to be carrying around in the deep desert.

---
Atreides Pistol
The Atreides pistol (as seen in the 1980's cult film) has been something we haven't been sure on for awhile now. The design and main shape of the pistol are alright but apart from that is looks really bad and just lacking in every way. Our first attempt at remaking it kind of failed so Fz007 has been busy redesigning it and remodelling the gun. Thinking more about how pistol actually look and work has given us a lot more ideas on how it should be, just see for yourselves!
As you can see, we've even made sure the iron sight is easy to look down through.

---
Harkonnen Jackhammer
Eeevil has once again been busy working on weapons, this time he is texturing the Harkonnen shotgun, the Jackhammer. As you can see the texture is a early WIP but the just of it is there. More to come of this next update but for now, have some images!
Atreides Doors
If you have been following the game, watching the videos, looking at the building images, you would of seen that we really are lacking any sort of doors. Well we are finally designing and putting them ingame. Due to a lot of infantry rape from vehicles in open buildings in testing games and something we have been meaning to put in, here is the Atreides building doors by LR01.
LR01 also wanted to say a few words on the matter.
"We've used dummy doors for the Atreides for awhile (and any other house, so they will be made to) and now we have decided to make one."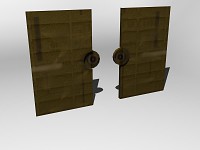 "Both the model and texture are made by myself, this is the first texture I have made.
It's a WIP, so the final will be better but I need to learn to texture so I thought this would be something nice to start with."

---
That's it for this blog, for the full version click
here
. For our forums, SCUD Storm or Tiberium Redux click
here
.