Hey. sorry about such a late blog, we've been really busy with real life stuff and so on. But it's here at last!
LR01 has been busy working on the Windtrap's interiors and I think it's coming along fairly nicely, take a look at how it's looking so far!
Basement
For awhile now we've been using the Ordos AA Trooper for all of our infantry units, we've now finally rigged up our Chemical Trooper and he's ingame!
Here are a couple of shots.
The Chemical Trooper carries a short-range poison gas projector. The projector fires a charge out to saturate an area, damaging any unit caught within its blast, though infantry will be far more affected.
We finally have the Ordos AA launcher's 3rd person model rigged and ingame, here it is slightly too big on the AA Trooper's back!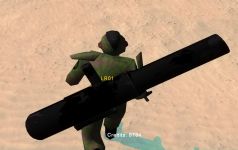 A lightly armored fast moving infantryman, the AA Trooper carries a small but sophisticated missile launcher, which enables it to track vehicles and aircraft out to a long range with ease. It does not deliver a very large warhead, so overall firepower is less than that of the Harkonnen Trooper.
Battle for Dune is looking for Texture Artists, Infantry Modellers and Unwrappers! So if you like what you see and want to help out, then please pm me here on Moddb or come to our forums at www.battlefordune.eu , register and show us some of your resent work, or PM me here.
Well that's it for this blog, to see it in full click here. To see our forums along with Scud Storm and Tiberian Redux, click here!