Welcome to this week's double blog, sorry we went silent for awhile. Some RL things came up but we are here now and ready to do some blogging!

---
Civilian House Ruins
I've been working on Aprit Chard but now I've got to the stage where I need civilian house ruins for the map but I remember that we really don't have any. So I thought I would take this chance to have another go at building modelling. Now these shots are WIP and just need some details added then unwrapped and textured!
---
Atreides Construction Yard
LR01 has been very busy with the top floor of the construction yard has done an awesome job as usual, the top floor will be a building monitoring room where Atreides troops will make sure everything is going as planned, so there aren't two Barracks facing each other so troops can only go from one to the other!
---
Atreides War Factory
LR01 has started work on the Atreides war factory interior. In this WIP shot you can see the start of a vehicle construction room, putting together a Mongoose!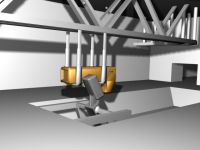 More to come on this next week!

---
Civilian Buildings
I've been trying my hand at modelling again, this time it's more civilian ruined buildings. It's fairly basic but serves it's purpose as a map prop and infantry cover.
Recruitment
Battle for Dune is looking for Texture Artists, Infantry Modellers and Unwrappers! So if you like what you see and want to help out, then please pm me here on Moddb or come to our forums at www.battlefordune.eu , register and show us some of your resent work, or PM me here.
---
For blog 102 click here and blog 103 click here, for everything else including Scud Storm click here.