Introduction
Hi there everyone, and thanks to everyone who's been following the mod and keeping up with its progress! I'm sorry I haven't posted updates more often. If you want a more detailed, in-depth, and up to date look at the way the mod is progressing, you can always keep up with the Black Mesa Forum Thread, which is EXTREMELY active, and I post in on almost a daily basis.
I got a lot of feedback from the video posted of the Alpha, which I used to refine and develop the A maps further. The response from the community was great, there was some real useful feedback (and lots of very unhelpful comments!) posted.
One question which has been posed to me a few times, and I'm sure some people are confused about - is where my mod will actually fit in with the rest of Black Mesa's On a Rail chapter. Here's an excerpt from one of my posts explaining this on the Black Mesa forums:
TextFAMGUY1 wrote: Maps are named with letters corresponding to their position in the chapter. The first map of "On a Rail" would be called C2A2A, and the second is called C2A2B, and so on. For the purposes of simplicity, I will just refer to them as A and B. Black Mesa has 3 maps for On a Rail - A, B and C. My maps slot in around their maps. Half Life had 10 maps for On a Rail - C2A2, A, B1, B2, C, D, E, F, G, H. In the key below, I will show which Black Mesa maps will correspond with which Half-Life maps.

BM_ = Black Mesa
HL_ = Half-Life

Red = Default Black Mesa maps. Untouched by me. Will not be decompiled, or edited.
Orange = Black Mesa default map, which will edited by me, for a good reason.
Green = New, made by me.

BM_A = Mostly uses content from HL_A (roughly the 1st half), plus a few new, original sections created by the BM devs.
BM_A1 = Assimilates the leftover content the BM Devs left out of A, with a little original content of my own. Also contains a side room from HL_B2.
BM_A2 = Corresponds almost identically HL_B1 and HL_C. HL_C's Office Complex has been DRAMATICALLY expanded, so overall this map is a lot bigger.
BM_B = Corresponds to roughly 1st half of HL_D, with an expanded Rocket Silo (plus new puzzle).
BM_B1 = Will correspond roughly to the tiny missing portion of HL_D, and all of HL_E.
BM_B2 = Will correspond roughly to HL_F and HL_G. Parts of HL_F and HL_G will be set outdoors, to add diversity to locales and to make things more interesting.
BM_C = Corresponds to HL_H, but with a new, original 1st half.
Progress Report
The mod's A maps (which is basically the 1st half of OaR Uncut) are currently in "private" Alpha testing on the Black Mesa forums. I consider them private because I will not be personally redistributing the Alpha maps to anywhere else, though anyone is free to download them and give them a try. The response from Alpha testers has generally been very positive, and hundreds, bordering on thousands of minor issues and potential fixes have been identified, and will be worked on in the future. The amount of feedback was staggering, I've never seen such detailed feedback posted for a mod by the community. A huge thank you to absolutely everyone who was, and still is a part of all that. It's been a wild ride so far!
The current plan for release is as follows. Once the B maps have been completed to an Alpha standard, they too will be tested privately on the Black Mesa forums. A week or two after this alpha test, a Beta will then be made available to the general public (and on here too!), which has both the A and B maps - so is essentially the full mod. There will then be a release candidate, and then a final release.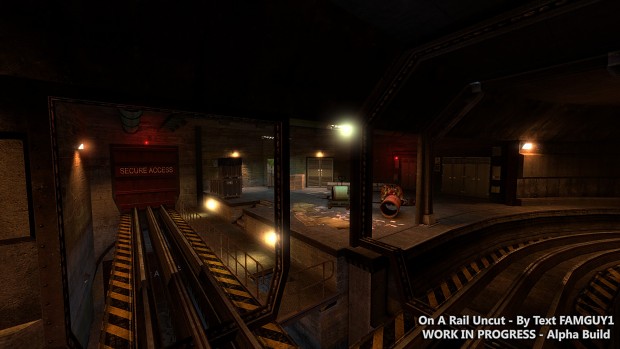 Two major issues which were identified were overall issues with the lighting, and the cafeteria on the A2 map. These have both since been heavily modified. The A1 map has also seen some new side areas added to try and give it a little bit more development. It's still a relatively small map as per Black Mesa standards, but it features a lot of optional (and interesting) exploration.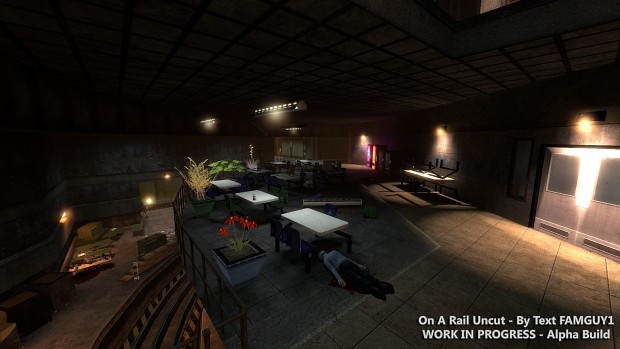 Compared to the Alpha video, the lighting on the Cafeteria is MUCH darker, which fits in with the theme of the Office Complex a lot better, and it's also had its size reduced by 33-50ish%. The response from testers has been generally fairly positive on this change, with the major criticism being of the plants.
With the A maps in the wild and in testing, I've turned my attention to beginning development on the B maps, which has been a bumpy ride so far. Early on in development I already hit some pretty serious layout issues which needed to be addressed, in addition to the dreaded creative block. The first map, B1, already has its basic layout generally blocked out, and with one serious layout problem solved, development is now truly underway. The community can expect to see a video of the map within 2 - 3 weeks, and it may even be playable for Alpha testers within that time frame - we'll see.
For those of you who haven't been keeping up with the Black Mesa thread - the theme of the B maps will be different to that of the A maps. If you've played Black Mesa all the way through, you'll see that the tunnels right at the end of OaR (and in the beginning of the following chapter, Apprehension), follow a slightly different theme. They're themed as a newer, more active, part of the system. Their lighting is different - it's a cold constant blue, which is much closer than Hl1. Earlier parts of OaR in Black Mesa generally featured a contrasty, rust reddish lighting scheme - which, while totally different from HL1, really was a unique and interestingly moody theme.
The B maps will be modeled after the tunnels at the end of BM's OaR. This means they will appear more actively used, blueish in tone, and just overall have a different feel to the other tunnels you've seen before. This will help to alleviate a sense of theme boredom which can happen from chapters being too long, and will help to set the maps apart and make them feel more unique.