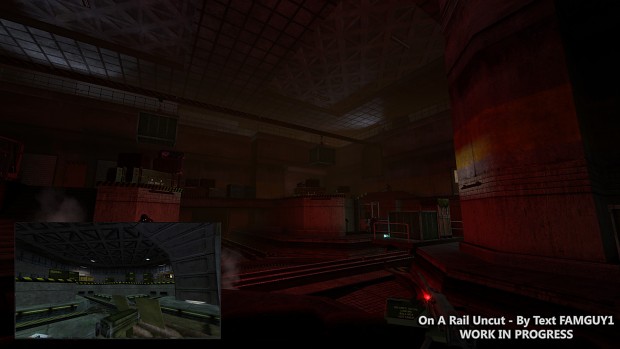 Introduction
Hi there everyone, long time no see! After a long period's quiet (university got CRAZY!), I'm back at work on OaR Uncut, at least for a week or two.
Today I finally managed to finish work on C2A2B1 (called B1 for short), which is the third map out of the four maps which On a Rail Uncut will feature. With development of B1 completed to alpha, I will begin development of B2, whilst also taking in feedback from the B1 alpha. In a few weeks time, when B2 is complete, my plan is to release a full beta for the general public, which will also be accessible from here.
Development of B1 was quite long and arduous, as not only did the entire map's layout undergo heavy redesign on 3 separate occasions, but the majority of rooms saw at least 2 redesigns each. I've very meticulously tried to capture the spirit of HL1's D/E maps while at the same time removing their primary weaknesses - being overblown and poorly laid out. I hope I've succeeded. If you're interested, check out the Alpha/videos and let me know what you think! I've worked really hard on this.
General Progress - Future Plans
With B1 in Alpha (you can grab it from the Black Mesa forums if you like), the development of B2 is underway, literally just starting today. My plans are to have B2 assimilate the leftover content from HL1's F map, as well as some original stuff. The majority of B2 will take place outdoors, another radical departure from both HL1 and Black Mesa. I've always thought one of the biggest weaknesses of OaR was its lack of variety, so hopefully setting a large part of it outdoors will help this. Besides, the night sky looks awesome in Black Mesa, it will be nice to be able to see it yet another time.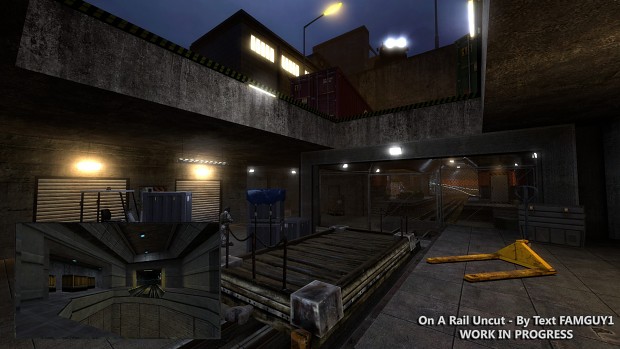 Though I posted this last time, I'll repurpose this comment so that everybody's clear on precisely what my mod is and what it sets out to do. This is a map of how On a Rail will look (eventually!) with my mod installed.
BM_ = Black Mesa
HL_ = Half-Life

BM_A = PART OF BLACK MESA BY DEFAULT. Introductory map. Introduction the whole rail system. = HL_A.
BM_A1 = MY FIRST A MAP. Introduction to loops and track switching. = HL_A.
BM_A2 = MY SECOND A MAP. Journey through a huge Office Complex. = HL_B, HL_C
BM_B = PART OF BLACK MESA BY DEFAULT. Smaller office complex. Introduction to the rocket. Rocket Priming. = HL_D
BM_B1 = MY FIRST B MAP. Introduction to Material Transit system. Turntable room ambush. = HL_D, HL_E
BM_B2 = MY SECOND B MAP. Continuation of Material Transit system. Arrival at the surface. Lots of outdoor areas. = HL_F, HL_G
BM_C = PART OF BLACK MESA BY DEFAULT. Rocket Launch + Passage to "Apprehension". = HL_G, HL_F
OaR Uncut Lite includes BM_A1 and BM_A2.
OaR Uncut Full (default package) includes A1, A2, B1 and B2.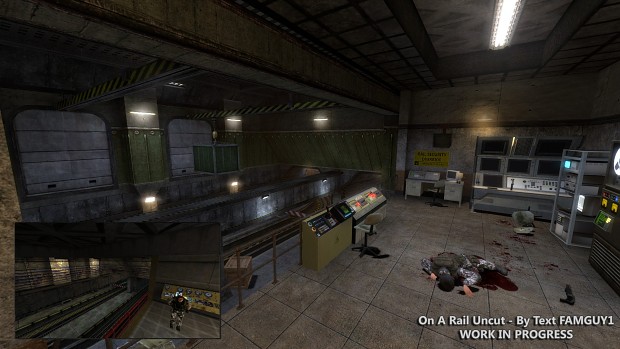 One new thing I'm going to start doing with these updates is post a little development diary showcasing the rationale behind certain designs and looking into the level design process in greater detail. They should be interesting to those of you who enjoy that sort of thing.
Development Diary - How did the B maps develop and why are they like that?
The B maps from this mod are unique in Black Mesa's On a Rail for a few reasons. In HL1, the E, F and G maps represented a Materials Transit system, a unique and thematically distinct part of Half-Life's rail system. Earlier maps, ranging from B - D, represented a rail system traveling through various active/inactive office complexes. I've really tried to bring this thematic difference to life in a variety of ways. Firstly, you're going to see a lot of crates, and means for transporting crates, throughout the chapter, all of which add cool background detail.
Secondly, and more importantly, the B maps are distinct from the rest of On a Rail in the lighting and texturing department. All of Black Mesa's default OaR Maps (as well as my "A" maps," possessed a very distinctive and shared texture and lighting set. The textures were dark, dank and dirty, while the lighting was generally rusty red and orange. I thought the Black Mesa did a great job of differentiating Black Mesa's lighting from HL1's, and the reddish tone of their OaR maps really set a unique mood. My B maps will look different, which helps emphasize the thematic differences (Disused Offices vs. Heavily Used Mat Trans), as well as prevent the long chapter from being too boring, as it now shifts halfway through.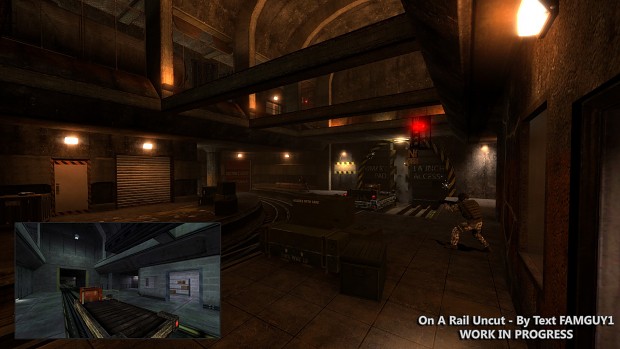 For the B maps, I decided to go back to the Half-Life 1 style of lighting. Cold, but fairly bright, blue. I think this is good in a few ways. This style of lighting I adopted was actually used in the first map of Apprehension. At the beginning of Black Mesa's Apprehension, you very briefly travel through a tunnel system which incoroporates this blueish/white style of lighting, which looks like HL1's On a Rail did. I believe this was their way of nodding to HL1's design even though they wished to depart from it. I'd like to bring it back.
B1 seriously pushes the limits of what the Source engine can do. Though it may not be the longest map (time wise) on the Source engine, it is extremely large size and architecture wise. I've had to dial back quite a few areas because of limits, in fact! The brushsides limit is absurdly close to the point where the map won't even begin to compile, and the entity data lump is at a whooping 210%! The biggest problem with being near these limits is that there's literally no room for expansion at all. To get under the brushsides limits I ended up having to delete two decorative side tunnels, which is a shame, because side tunnels make the tram system seem far more extensive than it really is.
The entity data lump is so full that adding even 2 or 3 more entities causes the gibbing system to break entirely.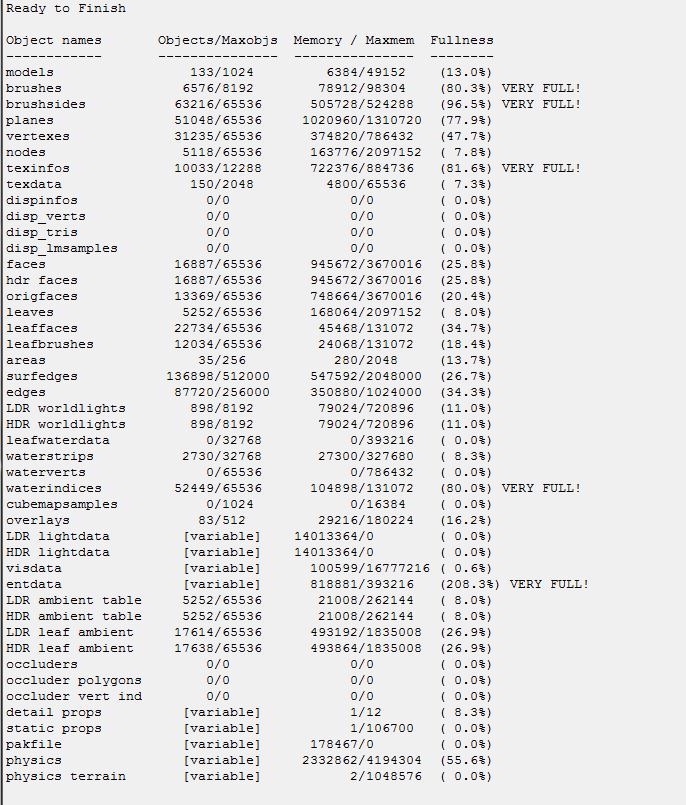 The turntable room ambush was the most worked on scene on the entire map. I asked a good friend of mine, who goes by the name "The Empire," to write the track "Lights Out," for me, to help enhance the mood and memorableness of the scene. It's a beautiful track as a whole and it fits the scene really well, so check it out if you get the chance, he's a great writer! This room was quite well designed in HL1 and the layout of the room itself was extremely memorable - the ambush itself, was fairly bog standard, and boring. I decided to spice it up a bit, and try and create my own new moment similar to the Questionable Ethics Ambush which was undoubtedly one of the most memorable moments of that chapter in Black Mesa. After some brainstorming with the community I came up with the idea of flares - something which Black Mesa totally forgot after the end of the Office Complex chapter. I used them as a cool way of enhancing and darkening the mood, I think it really helps contribute to the scene as a whole. I then layered the ambush into 4 waves.
Wave 1) 5 Marines, who hide behind the boxes and fight very defensively.
Wave 2) 4 Marines. 3 rappel down from above to assault you, another hangs back up high and takes potshots.
Wave 3) 7 Vortiguants. 5 of them teleport in at ground level and engage the Marines, while the other 2 spawn up high, killing the Marine who's up there, and taking potshots at you themselves.
Wave 4) 2 Marines run in through the exit door. The player can leave the room at this point.
You can check out the scene itself (excerpted from my longer walkthrough video) here: