Welcome Commander's!
If these screenshots don't wet your appetite I'm not sure what will! Be sure to head on over to the Official Command & Conquer website for an exclusive ingame video footage on Tiberian Sun Rising! Not to mention C&C4 and Kane himself makes an appearance1 over on the latest episode of Battlecast Primetime!
This weeks update I present GDI's heviest mobile heavy weapons platform the Mammoth Mark 2! Armed with dual Rail Cannons, twin SAM Site's for AA defense and a front mounted machine gun to deal with Infantry. The Mammoth Mk2 is really the walking behemoth of the battlefield!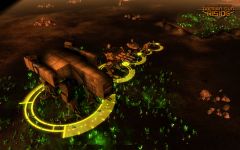 Next up is the GDI Heliport, much more centralsied and compact its modulised design allows 4 landing spots for GDI Aircraft to reload and rearm, much more efficient then the system used in the First Tiberian War.
Also the return of Snow Environments! You'll notice GDI get's its own Snow Camoflague to match too which will be faction wide :) Enjoy!
-End Transmission