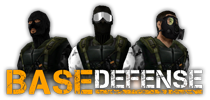 Hello Defenders! I want to highlight a few moments.
New Version
New version will feature completely new economics system, which takes a player to another difficulty level. There was no economics system before, to be honest. All money rewards were just pretty random and resulted in having crazy money amounts without any idea how to spend it. Weapons and ammo will have new prices and it also will be shared between different maps, so weapon/ammo price isn't a mapper's choice now. New economics system is a part of balancing work (and it's only just began). Balancing work includes new weapon damage values, but don't worry, it doesn't mean any weapon became less powerful. There are a lot of other changes like new graphics for different menus, new models, updated maps, tons of bug fixes, etc.
Information Pages
I don't really know how many Base Defense players remember all the versions of Information Pages site, which began as wiki-like site. It was a kind of little database containing information about in-game items, monsters, skills and other. Well, I have good news: Information Pages are up again! Now the site contains Base Defense Manual - a guide for newbies. I think old players will be able to find out something new too, despite it's about basic things mostly. The site is clean and simple. Base Defense Information Pages.
Discord
Our community has an official Discord server. It's the easiest way to contact me or to find a mate to play with. There you can find some interesting content also. I'm posting different snippets, screenshots and other content from development process. Join us!
Trailer
It took quite a while to create a really smooth video, but the result is great. Take a look at it.
Thanks for your attention ;)
See ya in the game!