It's now been seven years to the day that the ADR version of Ashura was designed and finalized.
I would say its embarrassing, but there are a few Sonic projects in existence, and 'still' being worked on today that has been in development a lot longer.
Scouring the internet over the years I have seen questions about who made the look of ADR Ashura, and reading about his fan made backstory. I have to say, some of the fans out there have come close to guessing his personality for this game.
So... for all those wanting to know the history and developement of the character. This is for you.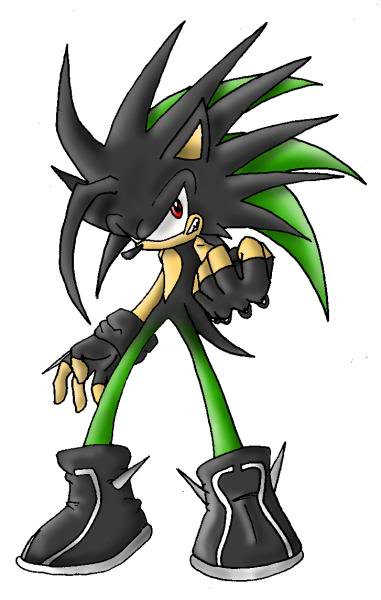 Under the spotlight - ADR's Ashura




Who created the design of Ashura for ADR?


Dekrayzis and PunkXBlaze.
History of the character
Ashura was originally planned as just a regular character for when the game was to be a character pack for Unreal Tournament 2004; but once the pack was turned into a modification and research and development had started; Ashura's look started to shift into something more than a recolor.
Being a palette glitch from Sonic the Hedgehog 2, the team researched and spent a vast amount of time browsing the internet for anything related to the Sonic series, and anything that seemed substantial to who Ashura could be. We came across Ashura being a loveable rogue, a Demon, Sonic's evil brother; and even as a genetically created version of Sonic that went wrong.
In the end we settled on a few elements and made up our own version, whilst keeping the look close to Sonic, in homage to the palette glitch in Sonic 2.

The Look:
Ashura went through 4 stages of developement.
At the very beginning during the model pack making era Ashura was pretty much like Sonic.
An image found on the internet gave him that cool quill to his forehead and so it was added to the design with a strange forehead pattern with green/blue eyes.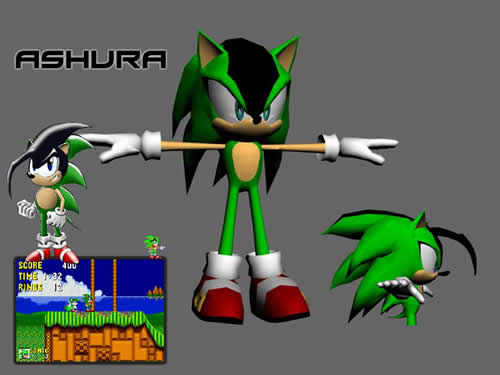 Stage 2:
After sometime I 'Dekrayzis' wasn't happy with the initial design that I had given Ashura, so a redesign was needed. I wanted to give him a more menacing look. His eyes were changed from green/blue to red, and after watching Jurassic park of the Dilophosaurus spit venom out at the geeky Dennis Nedry with its skin flaps around its neck rattling and fanned out like an umbrella; I incorperated more spikes around the head.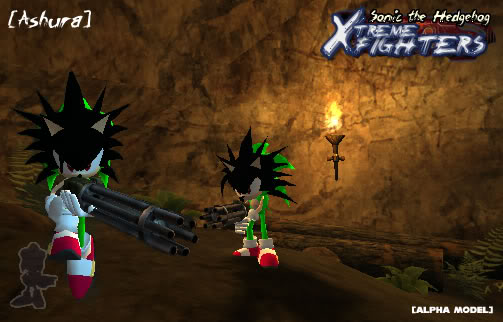 Still he didn't look good enough. and if the above shot doesn't show it, the one below should.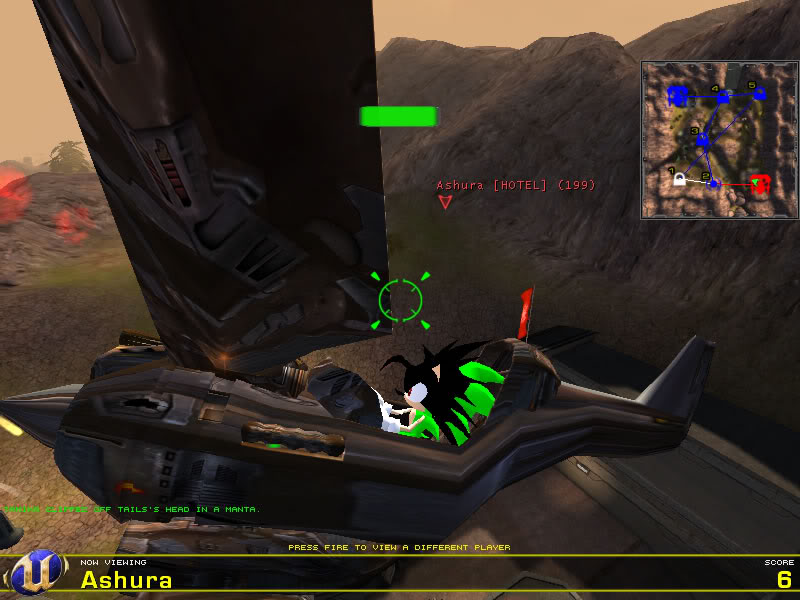 Green hedgehog with black spikes and red eyes, piloting a plane with white gloves. It made the character look somewhat of a good guy with a crazy hair style.
Stage 3 - Ashura version 2
With Ashura's back story under development, the character started to take on a more central role to the plot of the story, and thus needed a more darker image. PunkXBlaze who was a concept artist on the team at the time, and who rejoins the team every so often to do Ashura's artwork gave the idea to add an X-Men Wolverine look by adding spikes to the gloves. For the feet I swapped out Sonic's sneakers, after overhearing 'Crocodile shoes' being played on the radio, I swapped them for Vector the Crocodiles footwear.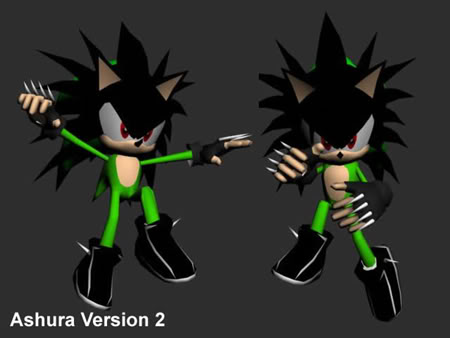 And yet...Something was still missing.
The team liked the look, and PunkXBlaze was asked to create some fan art for the character.
After looking at the artwork I asked him to give the torso a blend of Green and Black.
before I got the artwork back he was in awe. I saw it, and the look was finalized.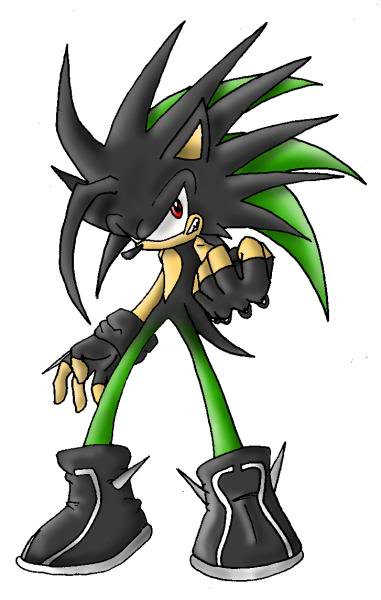 Since 4th December 2005, ADR's very own design of Ashura has been popping up everywhere on the internet in the most unexpected of places. From artwork in other fan games, his likeness in Sonic Adventure DX as a character hack, and multiple scores of fanart dedicated to this design alone.
We never expected for a second that this version of Ashura would take the Sonic community by storm and leave a big footprint on the internet. Just googling today, the first version you see is of this Ashura.
Yet...the question remains. In this project that he was created for, who is he?
He looks like a Hedgehog, but why does he have that quill on his forehead, and why is it oddly shaped. Why is he green, and what connection does he have to Sonic.
Hopefully, we will get to finish this project and the answer to those questions will be answered.
For everyone who has been with us since the beginning, or over the last few years or even recently joined and already excited by the look of what to expect. And to everyone who has drawn or likes this design. Thank you.
Its because of you, that this project has not died and given up the ghost as I would had quit along time ago. But seeing your fanart, polls of Ashura vs another character and seeing him pop up in the most unexpected of places. or just hearing about the project whilst sat on the train traveling to someplace and being praised for it from people sat just in front of me (Yes it has happened, and I did hear) it's a good feeling.
I have two pieces of information to give.
1. Check out the gallery for a render of the boss.
2. With any luck and hope as I am currently working alone on this...; expect a demo within the next 6 to 8 months.
Thanks for reading, and enjoy the festive season.