After too many years churning out vidja games for "The Man", we've finally jumped on the indie bandwagon, right when the last inch of the Steamy gates have cracked open to funnel a whole new generation of creative effort down a blackhole of discoverability, yay!
In the interest of documenting our journey towards abject poverty, I present to you the first public details of our ongoing effort to simulate our fate as if it were in a fictional future…

Ship Out of Luck is a wacky space adventure where you take on the role of a wily but washed-up space captain-turned-bounty hunter trying to stay ahead of her debt by chasing down some of the lowliest scum in the galaxy.
This is an action RPG where you take the helm of a rust-bucket starship, balancing the morale of your oddball crew against the choice of being sneaky, blasting everything in sight, or sweet-talking your way of trouble.
A soundtrack full of funky space jazz sets the tone for a journey where you will have to face the shadows of your past in order to hunt down the man who once ruined your life and career…Heavy stuff!!
Here's some answers we've put together to get some questions out of the way:
Q: What the..? I mean…What?
A: Yeah I know, right?! We thought the same thing ourselves! And then there's this guy:
Q: What the hell was that?!
A: That's Bob! He's a Glorkian...he likes you!
Q: Oh-kaay?
A: ...to eat, I mean. He would like to eat you...
Q: Right, so, moving right along then…
A: ...for dinner!
Q: Yeah I got it, so how about the Unique Selling Points (USP™) in the game?
A: Oh, damn… No softball questions from you, huh?
Q: Seriously? That's a pretty basic…
A: Whoa ok, jeeze, gotta pick on the new guy, huh! Ok, well, for starters you play as a spaceship!
Q: Oh, so it's a Twinstick Shooter?
A: What? Nononono! Launching a Twinstick Shooter in this glutted market is like committing indie game studio seppuku!
No, in this game you are "technically" playing as this Spaceship Captain right here:
...she only happens to fly a spaceship!
Q: So...you do control a ship in the game?
A: Well, yes, err mostly…you do. Correct.
Q: And you use 2 gamepad thumbsticks to control said ship?:
A: Well 1 technically, but yes more or less [And Keyboard + Mouse Controls also available!].
Q: And all of this from a 3D isometric sorta perspective:
A: Yeah...
Q: Aw jeeze, well I really don't mean to be a stickler on this one point…
A: But?
Q: Well, you know this game kind of comes off as a Twinstick Shooter, right?
A: What?! No?! Whatever makes you say that?
Q: Well this:
A: Oh…
Q: And this:
A: Ok, yeah...
Q: These are your GIFS!:
A: Hey! We aren't interested in conforming to your socially constructed categories, man!
Q: Kinda boxed yourselves in on that one...
A: Ok, ok! Just ignore the whole ship thing for a minute!
Ship out of Luck is much more of a Story-Driven Action RPG, with a big beautiful expansive world:
...where you have this misfit crew that is constantly chattering at you…
...And an awesomely funky Space Jazz Soundtrack...
...you just happen to also control a ship in the process...with analog sticks, amongst other things.
Q: Ok, well maybe that does sound kind of interesting.
A: Yeah! AND we have a TON MORE to talk about in the next days, weeks, months [and hopefully not year(s)]!
Q: But, but, I've got more questions!
A: Suuuure you do, but for now, let's just leave you with a peek at this lil' guy: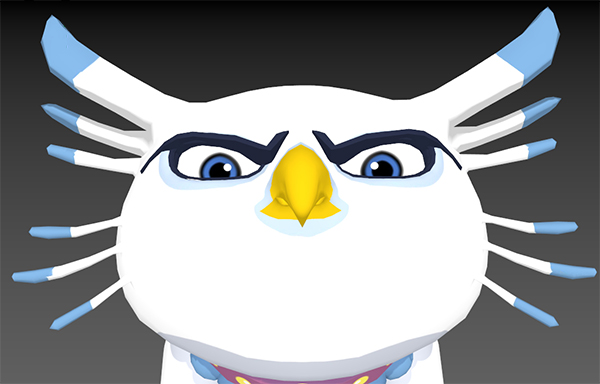 ...isn't he cute?
Q: I guess he wants to eat me too?
A: Yup!


Follow development via Facebook | Twitter | Tumblr | Newsletter | and of course here on IndieDB