About mutants
Greetings, dear friends! Development of Ray of Hope is going as planned. The team continue to work on all aspects covered in previous articles. In this article one of our artists - konhis - will personally give some trivia on creation of mutants models.
First off, I'd like to point out that my work is not dramatically important for the project (for my own good). I am only trying to replace the existing models with new ones. And by doing so I do not delay the main part of the project from development. Finished models can be added in any part of the development, for example I can already enjoy looking at my own models of the Blind Dog and Flesh in the project, alongside with good ol' Boars, Controllers and other monsters.

Second off, I'd like to talk about the working process itself, so you could have a better understanding of 3D creatures' models creation. This will help us avoid misunderstanding and lift the majority of simple questions
About the creation process
Having some concept art or an idea of a monster's final look, a high-polygonal (high-poly) sculpt is created. To be short, its a sculpture made from "digital" clay. A model like this has a considerable high thickness of the polygonal grid (in my work its usually around 10-15 millions of polygons in final sculpt) which allows to render literal pores and wrinkles on monster's skin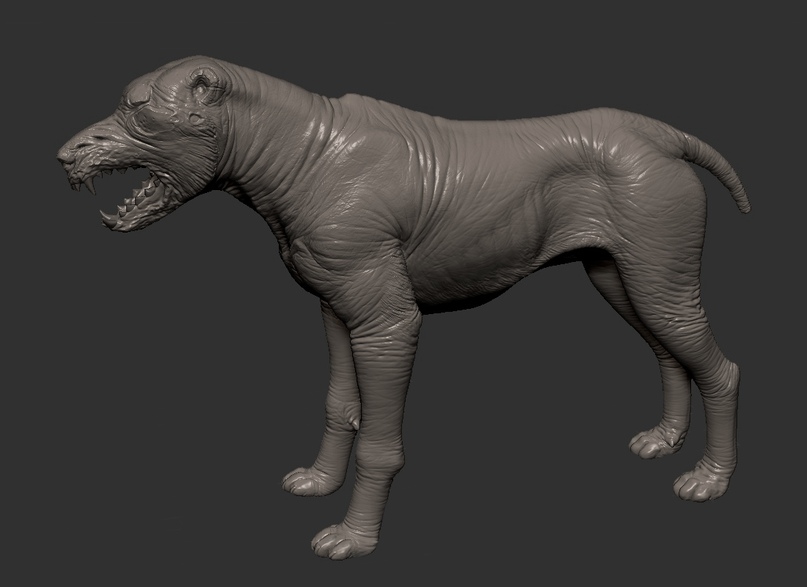 Then, a low-polygonal model is created (low-poly). This stage is done for me for anyone from our modelling team (I do not have enough patience and time for this). The grid in this one is dramatically optimized - this model will end up in a game, but only after being re-textured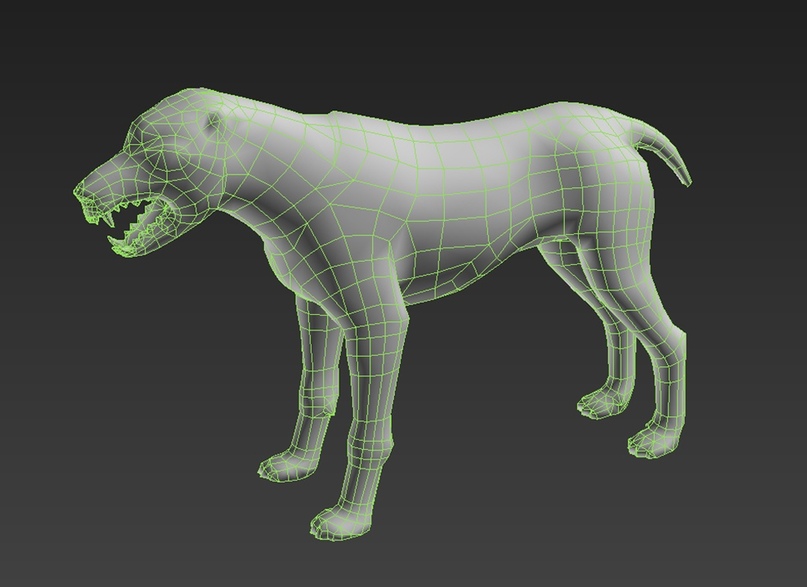 And with some simple manipulation, detalization of high-poly's surface is moved to a low-poly model as a 2D texture map. Then we create color and glitter maps: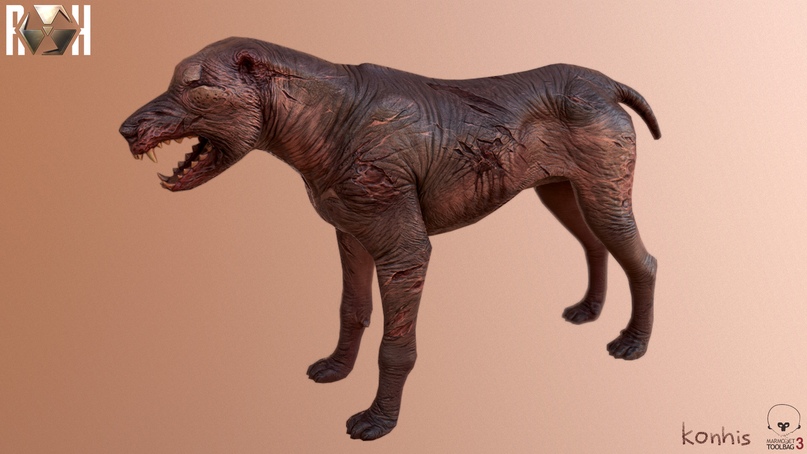 I described the process as short and fast as I could. If you want more details on the topic, you can have a look at this article on Render.ru: Render.ru (not translated)
Straight to business
When creating new mutant's models we encountered a problem, which are animations. Original animations don't transfer well on our models - they have different proportions, which causes severe distortion when motion is applied. And sadly, we could not find someone who is proficient enough to do new animations for creatures or properly convert them to new ones.
I decided not to wait for a specialist to join and team and now I will tell you how we got out of this situation.
Most of our work on mutants is in sculpting stage currently, which is the first stage of creating a model. This allows to correct proportions right off the bat. Some of the new models had to be corrected manually - insignificant distortions in dog's animation can't be noticed and a distorted Flesh look like it was meant to be this way (after all, it's just a meatball on legs). But Bloodsucker had some bad luck - he has to be made from scratch (this is for best, was one of my first models, which drastically affect his design and overall final results)
Boar
At first I thought taking a regular wild boar as an inspiration for the model. I made him a bulkier by adding something from rhino's appearance
On screenshots you can see a finished sculpt of a new Boar model. The model itself is a hybrid of the original model and Ray of Hope's concepts. New boar is very similar to the original's proportions, which will allow us to utilize already existing animations. The fur is gonna be added on the stage of texturing and additional geometry, which are plains with textures and alpha (similar to the original).
Burer
In original design of this gorgeous midget I always saw a problem - his trench coat. Enormous, with this bulky hood he looks as he was specifically made for burers. Also minding the fact that it is always the same.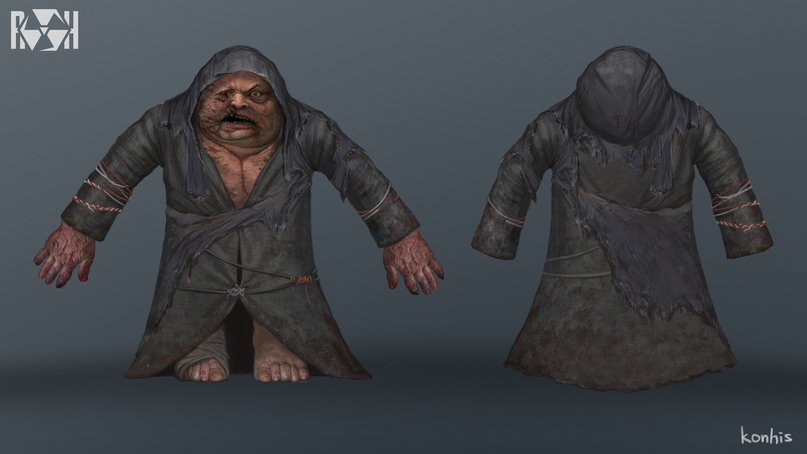 I decided to make them look more convincing I will make them wear bindings of rags, which can be found in dungeons. And by adding a variety of colors and textures on each of the elements of this "suit", I could achieve some distinctive qualities, which in the case of Burer is inevitable.
It is also worth mentioning that the Burer also goes along with old animations, for the same reason of animation utilization.
Shatun
And now for something completely different. I always thought about new mutants which would go along with the universe of S.T.A.L.K.E.R. And a bear would be an obvious candidate. But good ideas never crossed by head, but doing something as a bear from Metro would not make me happy.
So I stumbled upon a very interesting concept: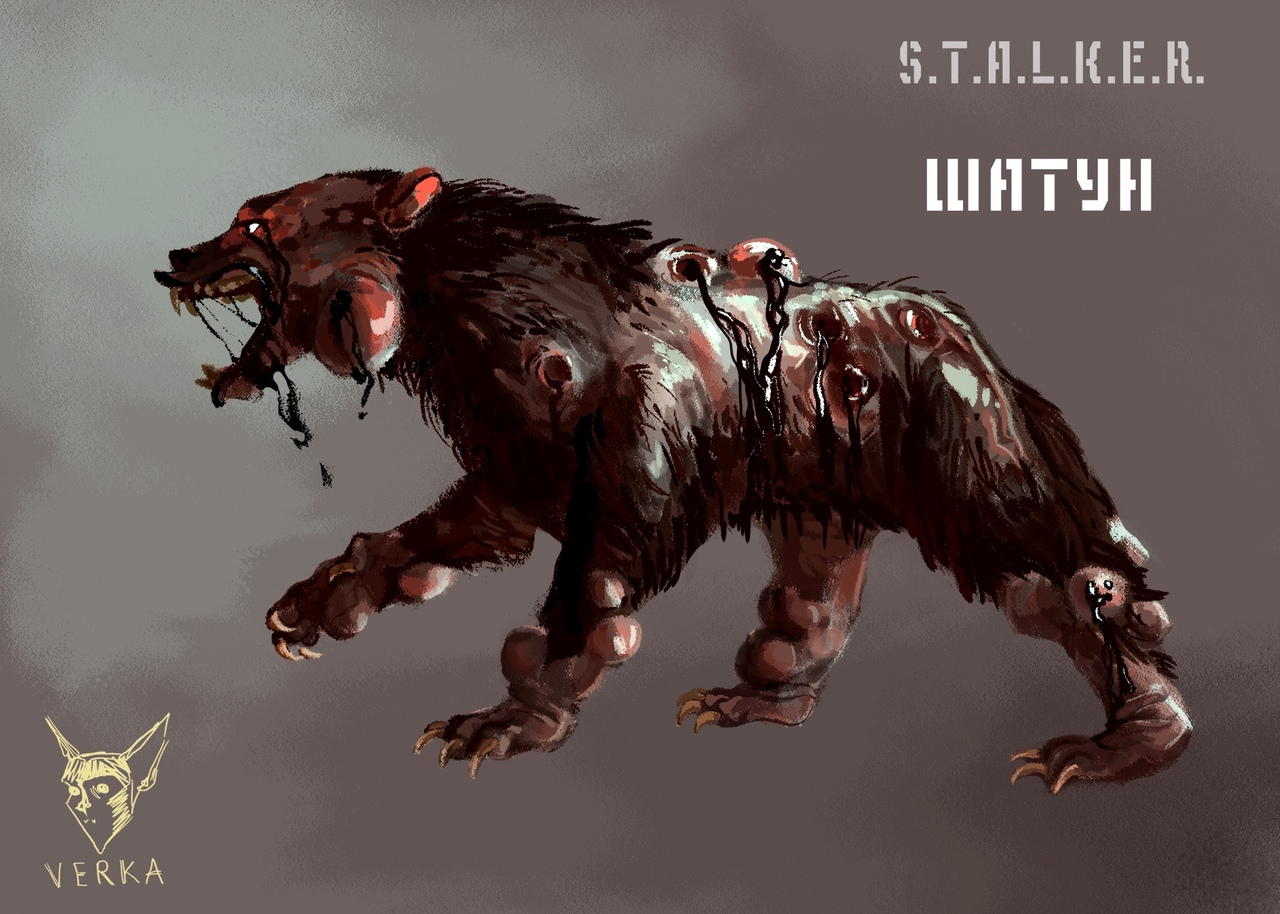 It was made by Vera Danylina. She also followed with a description of the concept:
"Shatun" - a victim to Zone's anomalous activity. A noble inhabitant of the forest, now trapped in a miserable existence. Because of constant exposure to chemical and thermal burns, his skin is now covered in giant, dripping ulcers. He is blind and enraged from the pain, attacking everything he sees. Gladly, those creatures don't live more then 2 weeks.
A creature dying in agony, depraved of life and full of blind rage - this is what makes this mutant's concept interesting. I contacted Vera and got a permission to use the concept in "Ray of Hope". As of current, the sculpt of Shatun is almost done:
If you are a 3D artists and have skills in Retopology, UV Mapping, Rigging - join the Ray of Hope development team.
Thank you for your attention!
Ray of Hope development team continues working on the project and wishes you luck in these crazy times. Wash your hands, stay safe and protect your close ones