We would like to thank everyone who voted for us and helped us getting into the top 100. We now need all your support if we are too progress further. However, as a thank you for your votes so far, we would like to present.
Western European Vortex Bomber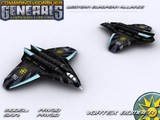 The Vortex Bomber was one of the most oddly designed planes ever manufactured by the Western European Alliance, considering how the lead designer fell asleep at his desk, and at the last minute, took the design concept straight out of the last film that he watched. Ironically, the design of the plane became something of a feat of engineering, and the bodywork was often being complimented on being 'too nice to fly into a warzone'. Nonetheless, the design was stuck with, and after a few alterations, created to almost the exact specifications used in the film. In early testing phases, the novel design caused several problems, notably, the engineers were unable to find a way in which to increase the manoeuvrability of the plane without the tail fins snapping off in mid air, which resulted in the horrific death of two test pilots early into the testing programme. The perseverance paid off, however, as the bomber swiftly came to be seen as a life saving weapon in future engagements. Due to the body shape of the Vortex, it has proven capable of carrying immense payloads under the most extreme of conditions. Specifically, the temperamental vortex technology, developed in secret by the WEA, can be stored in the body of the plane, due to the complementary shape of the plane and the vortex containment fields. Should the Vortex bomber get in range of an enemy's units, it will annihilate them with the powerful vortex weaponry, as the stability of the vortex bomb swiftly breaks down and implodes upon itself. This implosion also emits an ElectroMagnetic Pulse (or EMP) which disables all but the most basic of weapons in the area, allowing them to be picked off with ease. Unfortunately, it is not always possible for the Vortex to get in range of its targets, due to its body being made of a lightweight form of carbon fibre polymer. If the Vortex bomber does drop it's payload, it should return to its home airfield relatively unscathed, as the EMP effect renders the anti-air units in the vicinity completely useless.
We also have an ingame screen shot for you.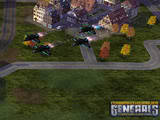 Here is a link to the top 100
Moddb.com
to our ModDB. To vote for us, go down to the best upcoming mods sections, click the Zero Hour link and vote for us :)
We would like to thank you all for your support so far and hope you enjoy the update.
This is the EC team signing off.