Greetings fellow commanders!
In this article, we will be discussing some updates on the future of the Tiberian War: Collection and it's development.
Hello, my name is MirceaOfRivia and I am the mind behind this wonderful project. Over the past few months, I have been hard at work expanding this mod, yet I can not take all the credit as the Warzone team has been growing, witch such artists as Cake (lead sound engineer), Tayy (content creator and discord C.M.), Kerbiter (lead client developer), ayyLMAO (lead adviser and content contributor), humble Rimtas (lead beta tester and adviser), and new addition Lysander Bekker (promoter) plus others (full list of credited names here: Discord.gg)

With the expansion of our dev team and acquirement of assets, so came a cost that has been supported by me and our fans, in this regard I have started a Patreon page to gave fans of this project a way to support the ongoing development.
Currently, the benefits for supporting is a direct line to communicate with me and provide your input and inside on the development process (videos and images)
I promise to do my best and push all my projects to the limit.
Now about

Here is a small preview of the content coming with the next major update of TW: WarZone.
- New fire system and effects - New cabal mines - Nod Vertigo Bomber (napalm bomber) - Dark Seeker rework - New GDI power plant, all 3 turbines one upgrade - New advanced GDI powerplant - New AC-130 like Vtol - Revamp A10 look to the original orca scout - New Dropship mechanics - New Seeker super weapons - New Meteorite graphics - New Dirt splash graphics - New Blood pool graphics - New Arctic map additions - Artic skin For GDI faction - Classic TD skins for the A10 and AC 130 - Animated Voxels - New maps - Signal flare - New Mammoth MK2 skin and unit design
Let's focus on some of the major ones, starting with my favorite as long time fans will know, FIRE!
A realistic and visually pleasing redesign has been added to the game and in combination with the fully destructible trees and flammable bushes, a new level of details has been accomplished.
All trees will have an extra stage of damage, looking burned.
For all GDI units, we will have adaptive camouflage for artic maps
The options menu will have additional customization options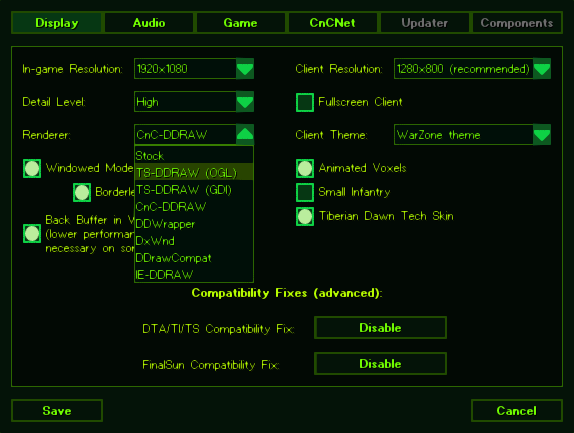 New units showcase and redesign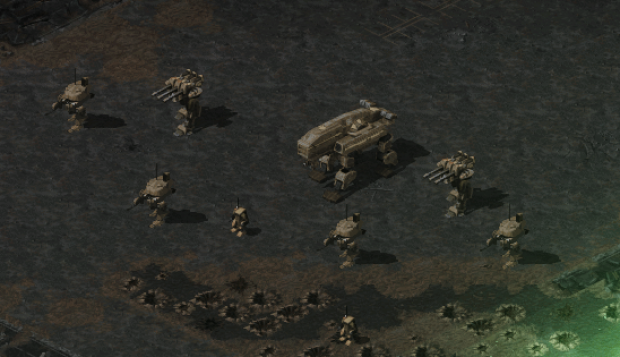 New abilities!