A Bit on the Story
As I said a couple posts ago, the dashing moves and slashing attacks of our character got us flirting with the idea of making it about a ninja. That was further endorsed by Nando's admiration (more like fanaticism) for feudal Japan. I'm not saying the game actually takes place in real Japan (or in the past), as the world of Keen is all made up; we just wanted to have a well-established aesthetic to our hero that could convey the values of respect, dedication, hard work, honor, and all that Hollywood ever implied to medieval Japan. It is a trope, I know, but we're using it mildly, like George Lucas did with the samurai in Star Wars.
Another thing we quickly decided was that our hero would be a girl named Kim (now THAT's an intended pun!). There's not much to say about why she's a girl — we just felt like it — but a lot to say about how to make a female character that wouldn't perpetuate gender stereotypes, which is a subject for a whole post on gender representation in Keen.
Finally, the setting. Keen is a clash of the Eden-like village where our heroine has always lived, with the corrupting power of a highly industrialized, techno-megalopolis, represented by the evil Chikara Corporation. All enemies are either robots produced by Chikara, or people brainwashed by it. Everything practical comes from the City, whereas all things mystical are from the village. This rather satirical take on globalization was probably infused in my head after watching a bit of Koyaanisqatsi/Powaqqatsi/Naqoyqatsi/Baraka with Frango. Again, Keen setting should become a post of its own.
Speaking of Frango, now that's a nice guy to have around your projects. Frango is Keen's Art guy, but he surely does a lot more than that. He also was responsible from taking Keen from this: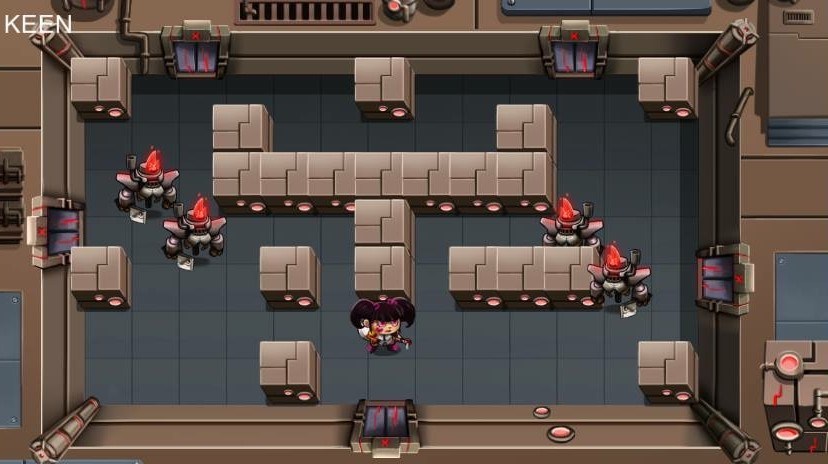 To this: