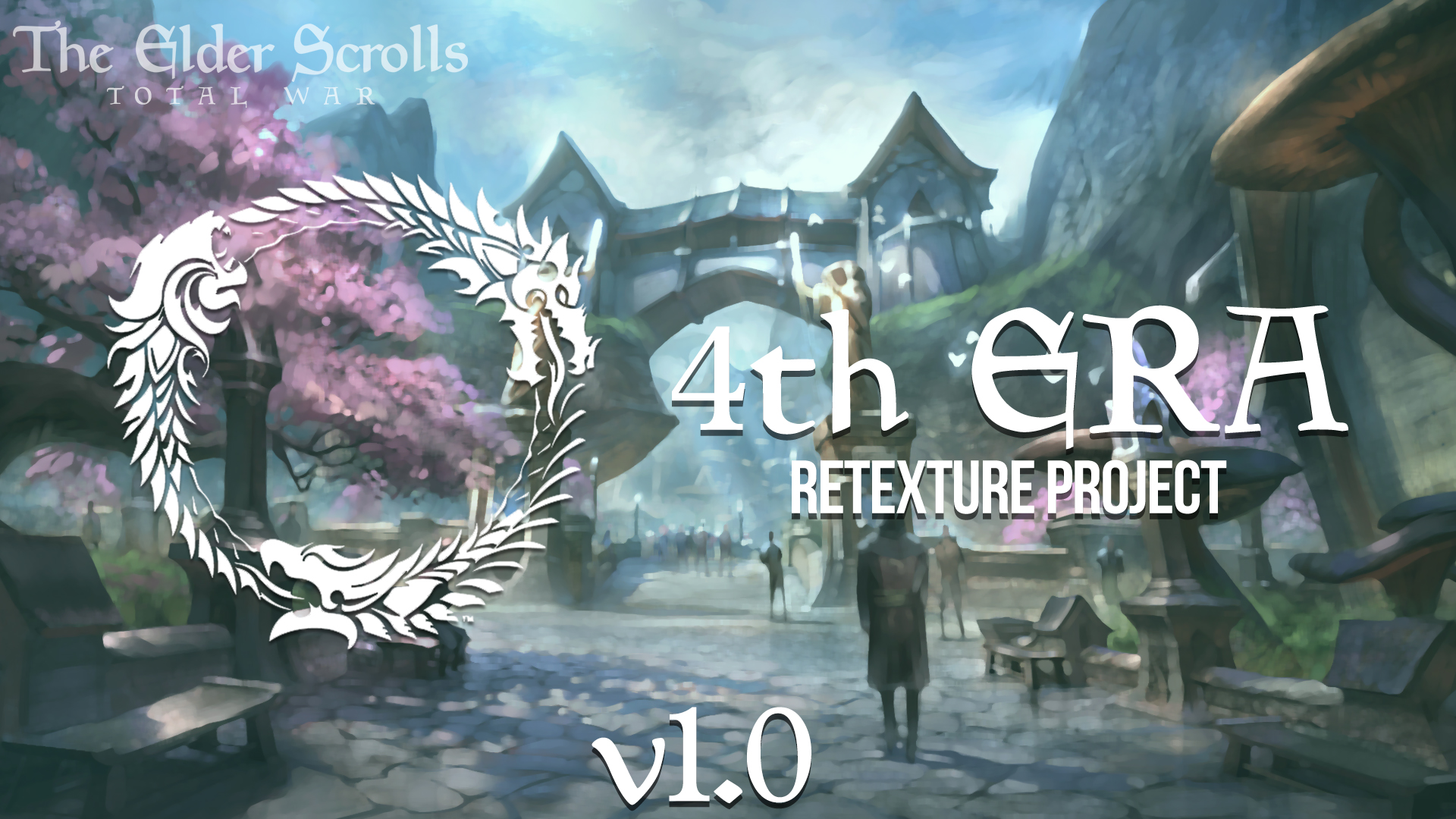 BEFORE YOU DOWNLOAD YOU MUST HAVE:



In that order.
Then install MY submod on top (after) of both of these!
4th Era 1.0 Features
Retextures and Renames (Most Units in...):
- Clan of the Forebears
- Clan of the Crowned
- Kingdom of Wayrest
- Kingdom of Daggerfall
- Kingdom of Skyrim
- Tamriel Empire
A full overview of the new units can be seen here in this video made by yours truly (ITS A VERY BAD VIDEO):
But in case you didn't watch the whole thing I'll give you a rundown of the most important information.
Firstly, I want to discuss my involvement in the Unofficial Patch Team. I am mostly doing the same thing that I am on this mod. Creating new units, retexturing units and things along those lines. The unofficial team will be working extremely hard after the 1.4 update of TES:TW to balance, retexture and adjust new units and to create a whole plethera of new content like new, custom campaigns and new factions etc. GET EXCITED. So after 1.4 continue to download the latest patches on the Unofficial Patch to get the newest, hottest tamriel units and textures. I doubt I will keep updating this mod as some of my works on this mod will be implemented into the unofficial patch after September 1st anyway. That is the plan anyway.
Next I want to talk about the future of this here mod. I will strive to complete all remaining factions so
- All of the Dark Elves (Minus the Ashlanders because they are being retextured by Rafmc for the unofficial to be released in september)
- Some units in the Aldmeri Dominion
- Most Units in the Argonian Tribes and The Khajit Kingdoms.
Then when I am working on the unofficial patch team full time I am going to be creating all new units like the Penitus Oculatus and much more. Suggestions should be sent to me on moddb, my email (kmartdsign@gmail.com) or my total war center account.


Lastly my thanks and sappy stuff.
I want to thank the multiple mod teams that have made the base mods this sub-mod is based on. The enthusiastic community behind these mods including people like Alphonse12 and Rafmc. And finally Pixelated Apollo (who probably wont see this but whatever) for exposing my sub-mod to his audience.
Installation
Step 1: Install both the latest TES:TW and the latest TES:TW Unofficial Patch (found at top of article)
Step 2: Go to addons and click on 4th Era Retexture 1.0 then download.
Step 3: Extract the winrar file on your desktop.
Step 4: Navigate to your mods folder in your M2TW folder
Step 5: Take your 4th Era 1.0 open it and copy "The_Elder_Scrolls"
Step 6: Paste it in your M2TW mods folder.


Done. If you have any issues, suggestions or gripes again please message me here on Moddb, my email (kmartdsign@gmail.com) or my TWC account.


Protect those knees from arrows and things, enjoy the mod and good day stranger.