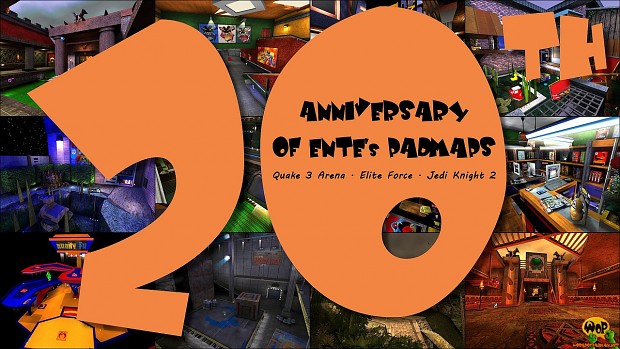 This year World of Padman celebrates 20th anniversary of ENTE's PadMaps. All of it started, when ENTE released his first map PadCastle for Quake 3 Arena. Actually, it was more out of frustration, because ENTE wanted to create his comic character PADMAN as a player model for Q3A, but this turned out to be not so easy and he did not find anybody who was willing to do it for him. Back then ENTE's PADMAN was the "meanest gamer in the world" in the PADMAN comic series in a German console games magazine and was simply too unknown internationally. So ENTE made the decision to make Padman internationally known in the Quake3 scene. So in February 2000 he created PadCastle, a small knight's castle in gothic style with some Padman motives from the comics on the walls. The plan worked out and the PadMaps and Padman quickly found many fans. Many PadMaps should follow, such as PadHome, PadGallery and PadCenter.
The PadMaps found their way to Quake3 servers worldwide, including the ENTEN-Teich server of the German Q3A EntenClan. ENTE even created a map especially for the EntenClan, called PadPool. Server admin was the good Magnacus at that time and through him the [PAD]Community got their own server and the PadForum. On Magnacus Quake3 server PadHouse only the PadMaps and of course the PADMAN player model were running at that time. The EntenClan from back then does not exist in this form any more for quite some time now, but from the remains the Haus Enten (house of ducks) with the focus on Star Citizen has emerged anew. Of course other games like Star Wars: Battlefront, ARK: Survival Evolved or Quake 3 Arena are also a topic from time to time. So the idea was born to resurrect the old PadHouse server of Magnacus for the 20th anniversary of the PadMaps.
In cooperation with Haus Enten we want to give you the opportunity to relive this great time of the past. Therefore we will put the respective PadMaps and PADMAN skins on the server at the original release dates, only 20 years later. So you can already play the first three PadMaps online now. All you need is an original and at best freshly installed Quake 3 Arena with the latest Point Release 1.32c or ioquake3. You should definitely join the server with the "autodownload" enabled, so you're guaranteed to get the same files as the server has. Since the PadMaps were not all created in one day, the campaign will run at least until the end of next year, as far as the current planning. A huge thank you goes to Chavez from Haus Enten, who supports the campaign and provides the server!
Visit PADMAN at: 193.30.122.7:27860!