As previously talked about, 2.0 will see a great amount of lore, locations and facts from The World of Ice and Fire introduced.
One of the great new things is the revelation that there's more cities in Essos than previously known. This should make the continent of Essos a lot more fun to play around on. I've also overhauled the Essos part of the map - more mountains, forests, passes etc.
All to make Essos more appealing, and less bland. The Essos factions have also received a diplomatic overhaul. Some cities, like Pentos, will not go to war but the Three Daughters (Myr, Tyrosh and Lys) will go to war against each other frequently and without warning.
I've also emphasized making some features less tedious. The modification is designed to be super frustrating, but only through difficulty, not poor design. So minor annoyances have been tweaked - as an example, you no longer need to travel all over the world looking for Velvet if you want to move your court to a new location.
And as previously discussed, I'm continuing the graphical overhaul with even more props to make the world come alive.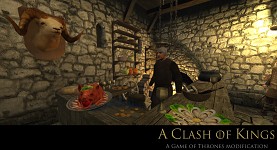 Previous previews: Moddb.com