---
Starting from today, we will be releasing updates about the development weekly/biweekly right here, in our blog and forums. We will be providing a lot of insight into our development in the form of various media and text. We wish to show how the game is being crafted, what is happening with the team and possibly even teach you how to make the best pancakes in the world.
Let's start...




Teaser? Yea, Teaser!
So to start out, we have a little teaser for all you awesome people. What you'll see in it, shall probably be a bit new or possibly hard to understand but it's going to make more and more sense as the story unfolds.
Check out a high quality HD version on our
Youtube!
---
Prototype madness. Physics and boxes. Boxes everywhere! The horror!
We are working on our first prototype which will be played in a little scene that you can see in the below environment concept piece. It's not a huge area but it will give a nice glimpse into what's to be expected graphically - and of course some basic gameplay features.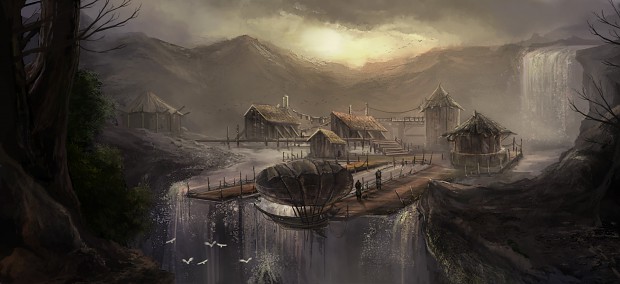 We have also set up our work environment with Unigine so that it's instantly compatible with Windows and Linux. How? Well, we've got our SVN on a dedicated server and we instantly update our files between a Windows and a Linux client. It's really useful as we can straight off test on both of these platforms, fix bugs and optimize. It's also interesting how some of our members who don't really use Linux or Windows (as they use the opposite) work together on something that's tying the two together. We really hope the gamers will enjoy a similar experience. Both "worlds" are rather different while here we are trying to prove that both are equally good for gaming. And the more we experiment, the more proof we generate that they really are.
By the way, we are using Windows 7 and Ubuntu 10.10 Maverick Meerkat as our main development platforms, but will set things up for Windows XP and Vista (64 and 32 bit) and a variety of Linux distributions such is Fedora, Mint, Debian, Opensuse etc.
First things that we are setting up is a basic movement system with physics and networking. And yes, you've guessed it. We tested physics with lots and lots of boxes.... aaaand, water. Water and boxes just make this world a better place. What's even more fun that that? The physics sync works properly between platforms and network. We'll pop up a video about the physics madness soon.
---
Tech fun
Yea, we have to speak a bit about the tech things as well.
We just started using Redmine. It's a flexible project management web application written using Ruby on Rails framework, it is cross-platform and cross-database. It's open source and released under the terms of the GNU General Public License v2 (GPL). It's a great tool and we especially recommend it to teams that have any distributed members. But not only them, it can be used in-house to organize things very efficiently.
---