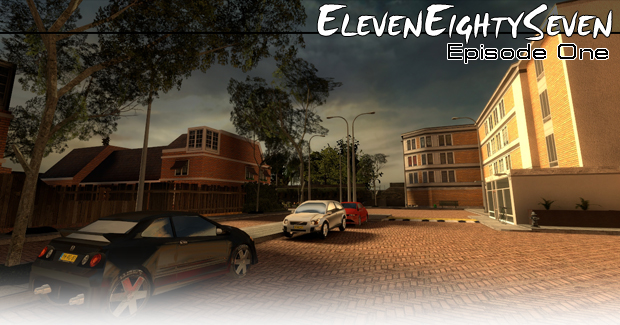 April update
All right, well it's been over 3 months since the last news update. A whole lot has happened to the mod since then. Polishing of the mod is reaching completion. Tons of new textures, skins and models have been added. Most of the scenes have been refined and touched up. A gazilion code has been added and, well, we have another thing going on with 1187 which I will get into a little bit further down.
First of all I want to let the guy's on the team relate to you their experiences while creating the game. If it wasn't for them this mod wouldn't be as awesome as it's shaping up to be.
Dave
Hey fellas Dave here. In terms of Modelling & animation 1187 has taken a gigantic leap from what you've seen from the ol' demo's. From prop models / animated prop models to new weapons and the animations for them.
Dec and I ( but mainly Dec ) have been working hard on the coop build of 1187 : ep1 and it's awesome. We ( TeamGT ) have had quiet a couple of test runs on it and I can say that it's pretty damn fun to play 1187 : ep1 with mates ;D
It feels fresh and new with all its new features and still resembles next gen like gfx mainly due to Joures new fancy texture work . Dec as been implementing lots of new code for me to play with regarding weapon animations for more realism.
There was an internal beta release between us a few weeks back which is quiet a leap from the previous beta. I've done 6 new enemy character models for some new eye candy while you blast away..
My work now is to polish up and fix the new bugs that come up related to modelling and animation. We are dedicated now to getting a release some time not long from now, but you can never be too sure. Anyways see you in-game "not long from now" hopefully. ;D
Dave.
Robert
Hey there! This is Duke Robear but everyone just calls me Rob. I do the voice acting for the Non Player Character of John. I'll be helping you along through most of the game.
A cool feature built in is that when John takes enough damage he'll fall to the ground and you'll have to help him back up with a medkit. The medkits for John look different than normal ones, but you'll find a good number of them scattered throughout the game.
Just don't let me die or it's game over. I had a lot of fun recording all the dialouge so expect to find some pretty funny and unexpected stuff coming out of your number one tag-along.
Ian
Working with TeamGT is probably one of the best experiences of my life. I have gotten the chance to work with some very high-profile people like Dec and Joure, which is always something exciting. I made many life-long friends on the team like Rob, Dec, Joure, Dave, and the others [whom right now I can't remember since I'm only working off about 4 hours sleep again [hehehe…]], and it, to me, acted like my big break, because almost every mod after applying to 1187 took me on as some form of a voice actor.
I came in as a newbie fresh off of the budding crowd of Project Kursed and, because of 1187, became something I never would have been able to imagine.
Mike is probably one of my favorite characters to voice since I feel like, in some regards, I am him. We both like learning, we both like science, we both enjoy the same music [although that may, UNWITTINGLY, have been my doing XD], and so I feel like I put a bit of myself in him. Make him personal, you know? Plus I've been through some of what happened to him, so it's a little deeper too. When I was young, I lost my grandfather. Only had a few years with him. Mike also experiences loss in the game, although I won't say what. You'll just have to play and find out.
Drew
Hello ModDB, it's nice being able to get a word in on the latest news update. Joure asked me to answer some questions posed to the whole team, so listen up!
How was your experience with 1187?
Definitely a good one. I remember joining 1187 way back when it was just taking its baby steps on the mod scene. After a short but meaningful conversation with Joure, he decided to let me on the team as a playtester. Whether or not that was a mistake I'll leave that for him to decide XD. But as time went on I began to contribute to the mod in my own way, revising story segments, offering to voice act, and many other things than my job implied. Eventually Joure and I came to grips with each other and embraced the challenge of writing an innovative and captivating storyline for a mod that would break down the boundaries of storytelling and atmosphere. Time rolled on like a freight train, and we accrued a large amount of new team members over time, all of them very talented in their own ways. I'm very proud of our work ethic and the friendly atmosphere that is shared by the team members. Whether it be a drunken Skype call with Dec making us all laugh or a semi-serious team meeting to get stuff done it was a blast.
What have you done for the Mod?
Compared to the other team members, not as much as I'd have liked. I don't have any modeling, mapping, or coding experience so I had to contribute using the tools available to me. A pen, some paper, a nearly insane imagination, and many long nights of pondering. Personally, people might think of me as an Ideas Man, I prefer the term Think Tank =P. I've helped Joure add meat to the metaphorical bones of the 1187 storyline, shaping it and enhancing it wherever possible. With my help, the story turned from a simple narrative to a complex and intertwining epic of a tale, centering on multiple characters and various locales. Don't get me wrong though, Joure deserves the bulk of the credit. I'm just happy to experiment with new game mechanics, displays, storyline subversions, and new methods of approaching an old problem. Another thing I do for the mod is test it on the hardest settings. And trust me; I make sure they are brutally hard. 1187 will NOT be a cakewalk. We want players to feel challenged like in the old school games where developers didn't babysit the player and hold their hand the whole way. I plan on voicing a semi-important character in the second and third Episode of the Mod, so you all can look forward to that in the future as well.
What do you expect from the players?
I expect players of 1187 to be drawn in to an immersive experience with a vast variation of new textures and models to draw people away from the Half Life look, but still retain the Half Life feel everyone knows and loves. I expect players to connect with the characters in the mod, and have to think about things to understand why they were included – or how does it relate to the Half Life storyline. I also expect players to feel constantly challenged by the hard difficulty of the game. Resource management and conservation will be key. On the hardest difficulty, it should take several retries to make it through a map at least. I also expect players to see a degree of realism and animation in the simple things, to appreciate the small things in the mod that make it that much more inviting.

What do you see for the future of 1187?
The final question, phew. The future of 1187 will be awesome. If anyone thinks that Episode 1 was the greatest thing ever, just wait till 2 and 3. Episode 1 for all intents and purposes is a sandbox for us to get the formula for 1187 down. You can expect faster progress and even more insane work from the team in the future. Episodes 2 and 3 will be longer, have more content, and more things to shoot (And blow up). It might have taken us a while to get here, but one thing's for sure. We're not giving up, and we're going to deliver a mod that won't just knock your socks off: It will blow them off with the force of a nuke.
-Vis-
1187 - CO-OP
So what's up with 1187, well, some of you know already by now. 1187 Will have a co-op mode. Since the maps have not been designed for that, it will have some limitations. I'd highly recommend playing through them in single player mode first. Although they are playable in co-op and work just fine, it's pretty much the same exprience just with some more enemies added to the mix here and there.
There are tons of features where you can decide how many lives you'll have, head bob or not and a lot of player models to choose from. You can choose before you start a game to play as a group of civilians, or just go all out and play as a vortigaunt. Yes, you read it, vortigaunts are playable characters, with their own powers. Dec went awesome with this feature, and Dave just helped him making it more awesome.
On top of that I will create a small campaign made entirely for co-op only. I'm not sure if it'll be in the first release of 1187 or as an update. Rest asured the mod will have one or two updates for co-op in the future.
New enemies have been added as some old ones from hl1 too. I don't want to spoil anything so you just have to wait and face them yourself.
It's taken 2 years for this mod to get where it is now and I am gratefull for everything I've learned a long the way. Everyone on the team and others from the modding community have helped me greatly in learning and understanding of how game developement goes. I hope to be working with these guys in the future on the other episodes. It's a blast and I don't want to stop here.
So what will happen after ep 1? A frickin HUGE break from 1187 is what will happen. Eventhough I love the mod and will continue workin on the next episodes, I need to take a break and do something new and totally different. I will still be updating the mod with some new co-op maps and other new content, but I hope you can understand I have other stories for different games in my head and need to work on at least one of them. I will never really quit on the mod, I have to see it through to the story's end. There's so much to be explained and told and so many new things to be implemented.
So lastly I want to end this news update with Images from the current build. Many textures have been edited, tweaked, recreated and spiced up to give people the best quality I can offer. Now, the mod is not without it's flaws ofcourse. Some map design errors are present and I bet players will always find out bugs that we haven't eventhoug hwe playtested it to death. But it is highly playable, and everything works. Remember that I didn't have the knowledge I have now when I started the mod, and I do not have the time to recreate the maps from scratch. They work and are fun, so I'm happy. some of the brush work is really outdated, but that should not stop anyone from enjoying the maps and getting emerged in them.
Robert did an incredible job as a VA, and next to him there's Ian who also did an astounding job voicing his NPC character. I also want to credit Drew for his input and his time for trying to make this such a cool game. The end is near and the finish line is in sight...
Now for the frickin IMAGES:
And the last Image shows one of our own thought up enemies, the armored zombie.
That's it for now. I'm going back to work on the final stages of the mod. We're still alive, and almost nearing the finish line. Still am not going to estimate how long it'll take, but we're still at it...