We made it!! MechWarrior: Living Legends has now seen ten years of activity and development! Happy tenth anniversary, MWLL!! As its development team, we're really happy to have made it this far, and we're glad to have had you - the community - alongside us for the journey. Much of where the project is at right now would not be possible without your support, determination, and stubbornness, squabbles and all! For that, we are especially thankful and appreciative. We'd also like to thank everyone that participated in both playing and creating MWLL, from the very beginning through to the present. Without all this, MWLL wouldn't quite be the spiritual video game embodiment of BattleTech's combined-arms warfare that it's become today. Also, a happy new year from the team!
New Update!
In celebration is the public official release of update 0.11.3! Though it doesn't pack quite as much content as some of our past updates, it brings the iconic and very much hyped-up Marauder mech (as you may have already noticed), among a few other notable changes. Some of you veteran players may recall that this mech was planned by WSS ages ago but never saw the light of day - now it's finally here! For those not especially well-versed in lore, here's a bit of background info on this cool new mech: the Marauder is an Inner Sphere heavy class mech, dating back to the times of the Star League (so it's been around for a while). It's up there with the Warhammer and Mad Cat/Timber Wolf as one of BattleTech's most iconic mech designs. Speaking of which, we chose a design that mixes the old "unseen" style and newer modern style, and a lot of folks have taken a liking to it. The Marauder - in all of the configurations we have here - packs a hell of a punch, and a speed profile matching that of the Clans' Mad Cat/Timber Wolf heavy class mech. Of course, it also costs about as much as one! Our team is really proud of this creation, and special thanks goes out to Nay Nay, the artist that brought this mech to life!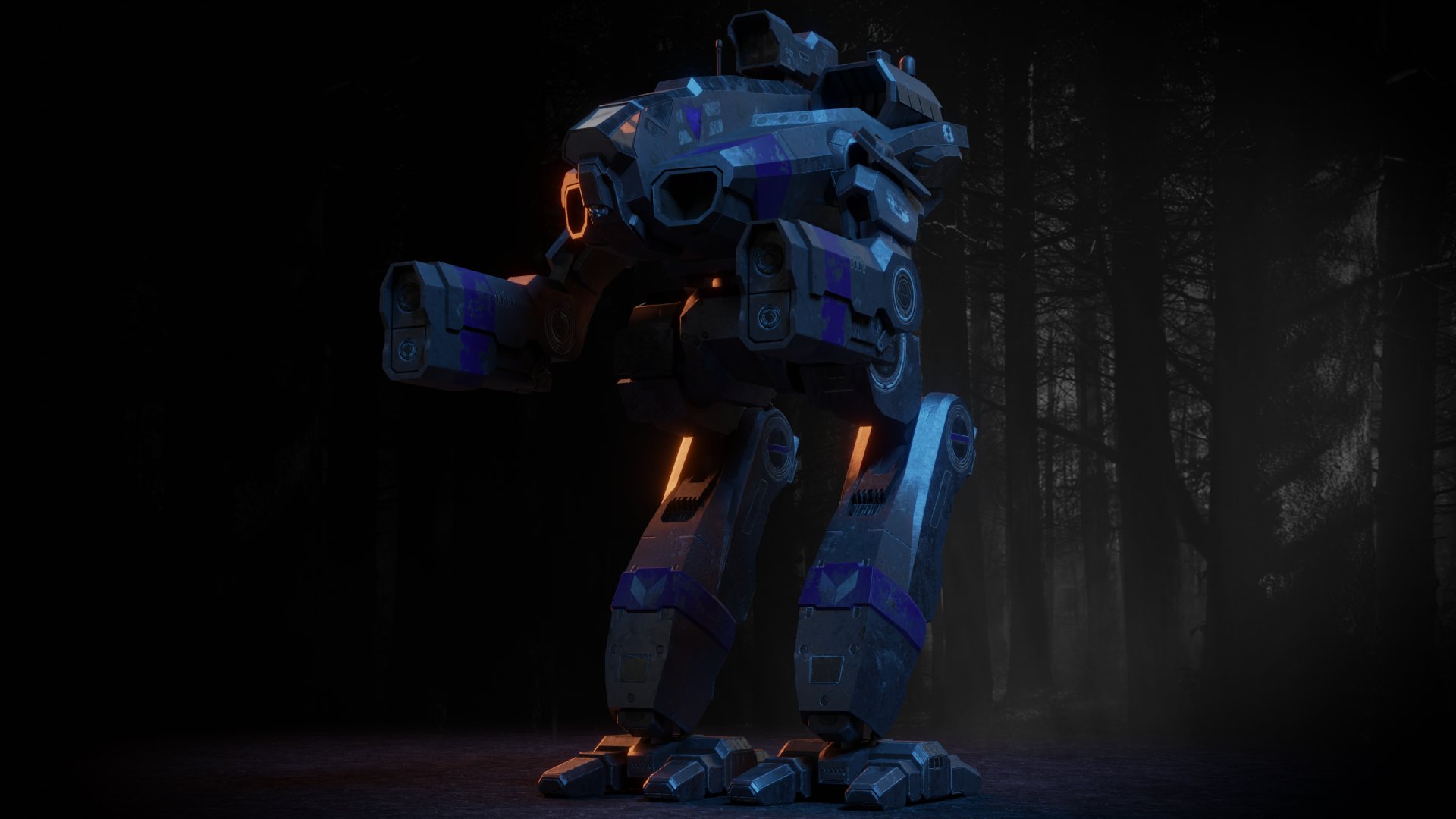 Render, without weapons; courtesy Nay Nay
Naturally, the Marauder isn't the only bit of new content included in update 0.11.3. Currently exclusive to the A variant, the Snub-Nose Thumper Cannon is also new, as you may have guessed from the loadout lineups above. It functions as a shorter-ranged version of the Thumper Cannon mounted on the Rommel A, has a much more noticeable arc (albeit not as much as that of the Long Tom) but does not require that the asset mounting it deploy or crouch. Thus, you can fire the Snub-Nose Thumper while on the move, but you'll find that it can be pretty difficult to hit targets from long range due to that arc. It also deals the same amount of damage as the regular Thumper, but fires slower-moving projectiles, and the reload time is considerably slower than that of its larger cousin.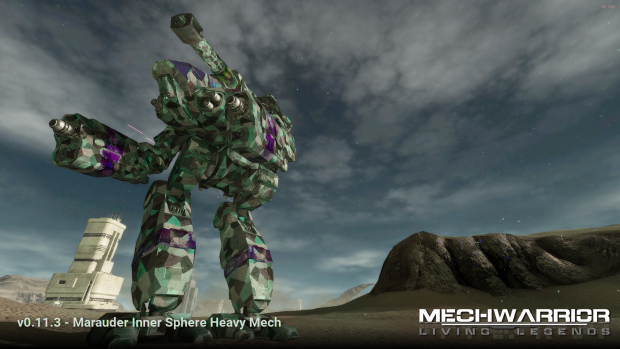 The Marauder A with its dorsal-mounted Snub-Nosed Thumper


Marauder A and Snub-Nose Thumper gameplay, courtesy of player Toriate
Apart from these two big changes and a bunch of chassis and loadout adjustments, 0.11.3 also features a few cosmetic updates: the buy menu is now sorted by tonnage and then techbase, the Novacat mech now has cockpit art, the mech HUD's "EJECT" warning is replaced with an "ENGINE DAMAGED" warning when your mech's back torso is taken out, and a host of sounds have received a balance pass. Lastly, some weapons have been changed up a bit, like Arrow IV tracking being toned down and Laser-Guided Bombs now following your ASF's crosshairs!
Clip courtesy of player SpaceMilk
We've also released a small hotfix, 0.11.4, and as the name implies it fixes a few things. Aside from some sound issues being addressed, the biggest fix here is that the load order of resources has been corrected, so you might see slightly better overall performance. We'll not clutter up the text here by dumping the full changelog (or patchnotes, whichever you prefer), but you can access them from the mechlivinglegends site here.

Outside the game updates, the launcher itself has received its own minor update, bringing two new features: you can now see who's playing on which servers when you hover your mouse over the player counter; and for you folks in the Americas, the launcher can also now mirror your downloads through the 12th VR servers, so you can enjoy hopefully better speeds! A huge thanks to the lovely folks of the 12th Vegan Rangers for providing this and all their other services!
Resources and Community Events
Now on to some other stuff: a lot of community resources have received updates in the past month, hopefully making this project more easily accessible to more people. If you've been experiencing poor download speeds via the launcher - and getting the delta archives from the main site isn't going well either - you can try to update or get a new install of MWLL via our delta archives hosted right here on ModDB! Start with the Crysis Wars Trial, then the 0.10.0 archive, then 0.10.0 to 0.10.1 and so on. You can also now get the latest version of MWLL from the 12th Vegan Rangers' network, at Mwll-tc.12vr.org, as one complete install. You can download all of the files in this directory into a new folder (though ideally don't put it in Program Files (x86) because Windows tends to create permissions issues there), and then run the installer.
Also recently, an FAQ was put together, which can be found on our subreddit board at Reddit.com and also in its own channel (#faq) on the MWLL discord. It should address the most common questions, and if anyone new to MWLL is reading this, we highly encourage you to read this FAQ! Also new is a massive list of resources available to the community, which can be found here, which is also in its own channel (#resources) in the Discord. If you're new to MWLL and want to git gud, it's highly recommended that you check out this list of resources in addition to building your skills in-game.
There's also the matter of community events. Last month saw the season finale of the long-running Chaos March, and that event is on hiatus until further notice from its organizer Duelist - so for now consider it an event finale. Chaos March has been running for over seven years, if not eight, and is what kept MWLL going even in its dry season post-WSS shutdown. It typically involved a few faction versus faction battles organized over comms and dropcalcs per session. The results of each series of fights would affect which faction held control of the contested planet within BattleTech's region of space known as the Chaos March. A huge thanks to Duelist for keeping Chaos March going for so long, and may he return with another season - even better and more fun than ever! Here's the full stream recording of December's season finale battles:
Going a bit further back in time to November, one of our community mentors, DireWolf2K, unveiled the Open Merc Nights event, which is basically semi-organized TC games that take place on voice comms. The idea is to have such games held weekly, with minimal organizational overhead - just hop into comms and coordinate with the team you've been assigned to. Nearly every week since has seen this event run, and it's been successful in maintaining a steady flow of participation outside of pub games. Another mentor, Carbonel, has been bringing together the two most active Clans (Star Adder and Jade Falcon) for regular, organized, friendly skirmishes. These have been ongoing for the better part of the last half-year, and have been a great way for participating players to work on their combat and teamwork skills. There are other events as well, like the few intermittent 3v3 tournaments that were had throughout last year, and we hope those will continue through this year as well.


All in all, MWLL is clearly still going strong, and its community is still very much alive - even after such a long and bumpy ride that has been the last ten years. We, the dev team, are proud to have this community along for just such a ride, even if we aren't the original drivers of this vehicle. You guys have made the experience a fun and memorable one!
Once again, happy new year and happy tenth anniversary, everyone! See you on the battlefield!