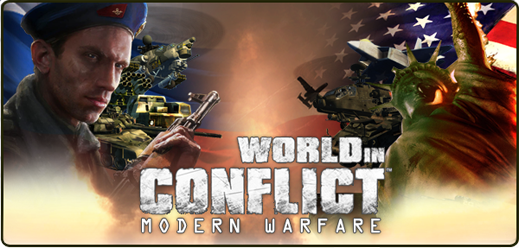 Modern Warfare Mod Version 3 is here!
Modern Warfare Mod has had a huge update to version 3.0, codename Phoenix.
Some of the major changes are that the heavy SAMs (the Patriot and S-300) are now simulated using the FLINT engine, ballistic missiles now use the FLINT engine and are fired by AI, fixed-wing aircraft now conduct SEAD strikes, and more.
As well as these major updates there are a range of bugfixes, changes and performance improvements which are detailed in the changelog.

NOTE: This mod requires your World in Conflict to be patched to version 1.0.1.1. or it will not work. To patch your game, simply start the game, sign into multiplayer, and it will detect that your game is outdated and patch it.
Mod
Choose which type of install you would like to do. Please note that the installer is only compatible with Windows Vista and Windows 7, not Windows XP.
This is a full version of the mod. Even if you don't have the mod at all this will install it as 3.0. If you do have a previous version, it will update you to 3.0.
Maps

NOTE: If you already had any version from 2.5 or onwards you do not need to redownload the maps.
System Requirements
Due to the increasing complexity in the simulation of missiles, aircraft, artillery, and more- Modern Warfare Mod 3 requires a higher-end system than specified on the original World in Conflict system requirements.
These are now the minimum system requirements:
OS: Windows Vista or 7
Processor: Intel i5/i7 or AMD Quad Core FX
RAM: 3 GB or more
Graphics card: DirectX 11 NVidia or AMD ATI card, Nvidia GeForce GTX 260 or ATI Radeon 5870 or higher.
Graphics card memory: 512 MB or more
Sound card: DirectX compatible sound card
These are now the recommended system requirements:
OS: Windows 7 64-bit (Vista also supported)
Processor: 2nd Generation Intel i5/i7 or high-end AMD Quad Core FX
RAM: 4 GB or more
Graphics card: DirectX 11 NVidia or AMD ATI card, Nvidia GeForce GTX 460 or ATI Radeon 6950 or higher.
Graphics card memory: 1 GB or more
Sound card: DirectX compatible sound card
At minimum, your system (including video card) must maintain 27 frames per second or higher, and 40fps or higher is recommended for a good gameplay experience. Below 30 fps, numerous homing projectiles may miss their targets or fail to perform altogether. Try lowering your graphics settings if you cannot achieve enough frame rate.
World in Conflict and MW Mod both support multi-threading.

Due to the fact that WiC's dedicated server application (WiC_DS) only runs at 10 frames per second and is incredibly buggy, MW Mod cannot be run on dedicated servers or it will crash.
This means that all sessions need to be hosted by players.
For details on how to host a game with your friends or other MW Mod players, please see: Understanding Multiplayer for WiC MW Mod.
To find other MW Mod players, please join our WiC Clan, and join our Steam group !

Firstly, here are some lists that may be useful:
GENERAL
Crash to desktop during Heavy SAM launch in some maps has been corrected.
Substantially improved stability during game to address crash to desktop and freeze-ups during gameplay.
Permanently fixed the "helicopter turns the other way after firing anti-tank missile" bug.
Level of Detail (LOD) optimizations during intensive gameplay.
Significantly improved performance of Sector Scan code for FLINT missile launchers, which caused substantial frame drop in 2.7.1 and earlier versions.
FIM-92 Stinger and 9M39 Igla now accelerate much faster, up to Mach 2.3-2.5 (very dangerous now).
Retransmission Homing "track-via-missile" (TVM) guidance module for FLINT Heavy SAM missiles. The missile will relay the target boresight position to its controlling ground radar. Ground radar then fuses the data with its own tracking data and uploads steering command to the missile. Missile is nearly impossible to defeat using only countermeasures or jamming. Well-timed evasive maneuvers combined with countermeasures will be required to defeat the missile.
Bang Bang guidance module for FLINT missiles. Thrust Vectoring Control (TVC) and Attitude Control Motors (ACMs/side thrusters) for certain missiles are now properly simulated.
Added Kh-31P anti-radar missile for Russian faction.
Added AGM-88C HARM (high speed anti-radiation missile) for USA.
48N6 surface-to-air missile for S-300 SAM now uses FLINT missile system.
Removed 9M96 and K9M96 missiles.
PAC-2 GEM and PAC-3 MSE missiles for Patriot SAM now use the FLINT missile system.
MGM-168 ATACMS ballistic missile now uses FLINT missile system.
9K79 Tochka ballistic missile now uses FLINT missile system.
Added Su-35 SEAD patrol aircraft to Russian AF units.
Added F-16 SEAD patrol aircraft to USA AF units.
96K6 Pantsir will no longer waste ammo by attempting to gun down incoming missiles that cannot be intercepted (i.e. maximum effective range/altitude).
ELINT as a Sensor for FLINT missiles. Anti-radar missiles homing into radar emissions can be defeated by putting the radar or SAM unit on Hold-Fire and driving away.
Reprogrammed Inertial Navigation (INS) course for AGM-114R and AGM-114L Hellfire missiles.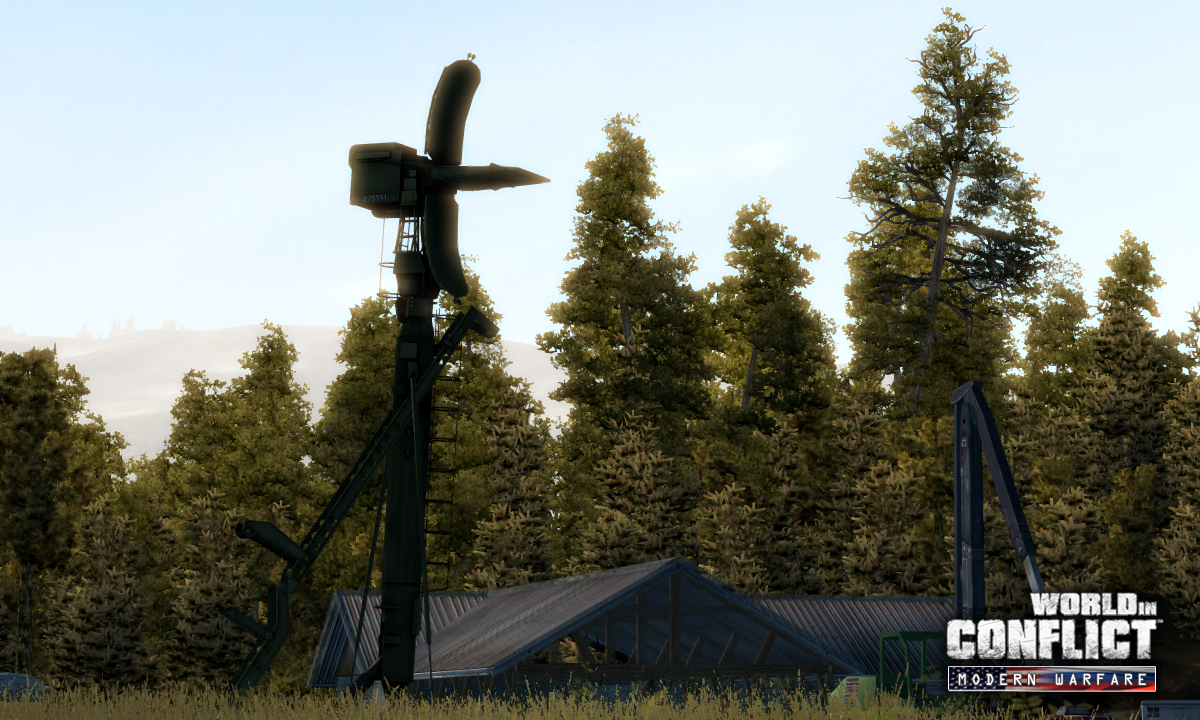 AI and FIXED-WING AIR
Replaced Tor escort with Strela-10 for Russian armor bots.
Added both Pantsir and Tor to frontline AA escort for Russian support bots.
AI support bots now launch ballistic missiles against enemy targets, preferring to attack human players first.
Fixed-wing aircraft units will now conduct Suppression of Enemy Air Defenses (SEAD) missions and launch anti-radar missiles, preferring to attack human-operated SAM sites first.
Adaptive Performance Indexing for AI aircraft missions. AI fixed-wing aircraft units will refrain from attacking enemy units if the game's frame rate drops below 40 fps, in order to avoid excessive lag during game. JTAC/FAC units can still override.
9A4172 Vikhr missile's maximum speed re-scaled to proper realistic values (Mach 1.8 max).
Su-25 and A-10 close air support aircraft will now properly drop cluster bombs using CCRP bomb release computation.
ARMOR
US M1A2 Abrams tanks perception range reduced by 50% against hidden infantry.
SUPPORT
Increased price of Heavy SAM units to limit total number of SAM rounds available during match.
Patriot Weapons Control Computer (WCC) software upgraded to version 4.0, in order to operate using the FLINT missile system.
S-300 control software upgraded to 3.0 to handle FLINT system.
Removed several nuisance missile launch messages from both Patriot and S-300 programs.
ROK K-9 and 2S7 Pion artillery now inflict higher damage.
Increased price of K-9 artillery to match 2S7 Pion price.
Removed KM-SAM from US faction (temporary).
MANPADS (Stinger/Igla) AA infantry can now be airdropped anywhere on the map using Tactical Aid.
Heavy SAMs (Patriot/S-300) will engage incoming anti-radar missiles with their own SAM.
Mobile Mortar pricing reduced for all roles.