Ultimate Apocalypse Home Page | Ultimate Apocalypse on Youtube | Ultimate Apocalypse Wiki Page | U.A. Main Group on Steam! | Frequently Asked Questions (FAQ) | MOD DB Forums | Strategy Guide | Changelogs |
ALL FACTIONS HUB (For downloading new factions like Tyranids or Chaos Daemons or IDH)
---
As of November 14th, 215; we have reached mid November and for that, the mod team has finally thought up sort of a schedule for what is going on! Hopefully all of you kind individuals will read through it or at least skim for the important infos.
Version 1.84.58 has been released!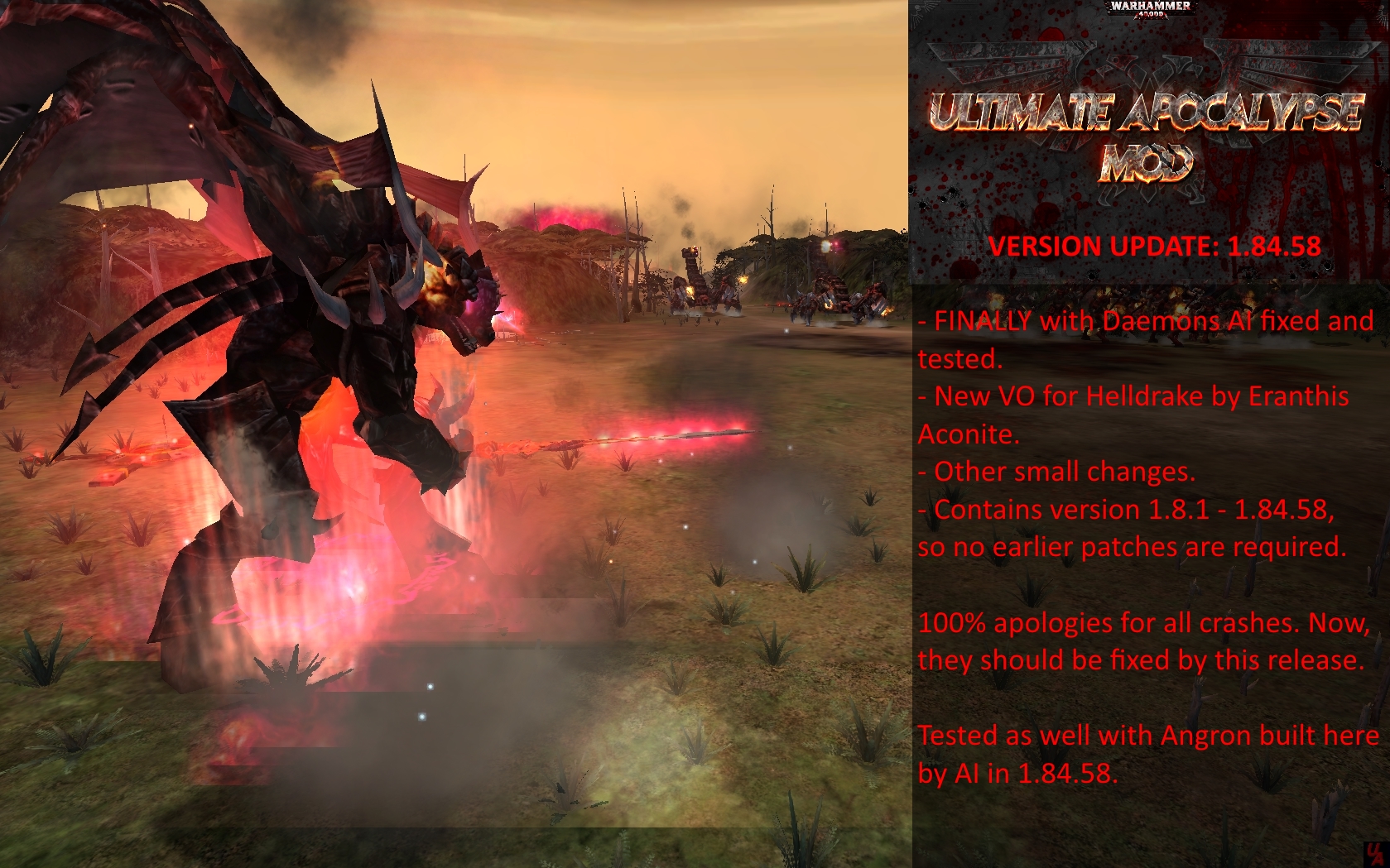 Video News: Part 3 of November - Mod DB
So what's the big news so far?
The "Big" (I guess) news would be that Lord Cylarne is back for good, and the entirity of Ultimate Apocalypse mod pages, including MOD DB comments, MOD DB forums, news itself, images, videos, Ultimate Apocalypse Wiki page, UA on Relicnews, UA on Steam, and more will be updated with care as quick as possible, and especially with time on our hands since LC is from Job Corps.
Youtube channel hosted by Lord Cylarne as well will be revived. The youtube channel was most likely announced dead since Lord Cylarne had to go suddenly to a place called Job Corps, lost internet capability, or at least most of it, therefor it layed dormant for many, many months including most other forums and web pages of Ultimate Apocalypse.
So spread the word and get it and wiki page back on its feet. Relicnews could use some atmosphere as well, and any page related to UA will be revived as best as possible. Thanks for sticking with us UA fans! We may be gone for the past few months, but we will return...
General plans (Todo list) from being away from the last 5 months (Not to do in order)?
Reply to as much important content/fans as soon as possible (100% complete)
Update everybody in getting to the PMs (90% complete)
Reply to all Youtube comments (100%)
Visit the forums and read + jot down fan feedback/reply to whoever (10%)
Update the mod continuously with patches (in progress permanently)
Get going on the 1.8# video updates (50%)
Update Relicnews (home page) with mod links (0%)
Update wiki page with whatever content needs adding and tech trees (0%)
Revive Youtube channel (25%)
Revive Wiki Page (0%)
Revive All Factions HUB (100%)
Finalize news for the future (100%)
What will be going on in the future? Maybe even through December?
Prepping the release for 1.85, 1.86, 1.87, 1.88, 1.89, 1.9, etc...
Youtube will be revived, featuring update videos for each release and much more!
Tech Trees will be 100% complete.
The above todo list will be complete.
Maps will be in the works, especially from Eranthis Aconite.
Lots of things from Eranthis Aconite.
Work on the Grand Release Gold Edition.
Work on my new game (50% of the time, really).
What will be going on within the Wiki page?
Tech trees will be updated 100% complete
Information on all new units/structures and etc. will be in the works to make that place more useful.
Exclusive events and features will be added. Even videos from youtube.
What will be going on within the main youtube channel?
Posting regular UA videos for fun.
Posting regular videos from other games.
Posting reviews based on the played games.
Post video updates related to the mod's new versions.
Make reviews based off from other DOW SS mods.
IMPORTANT SURPRISE STUFF.
What is the Grand Release Gold Edition?
The next biggest release, one similar to The Hunt Begins, including a campaign.
You mentioned your game?
Yup. I'll be working on that along with UA mod. It's something related to UA and it will give me pay so I can do this sort of thing for the rest of my life. Maybe I can post videos about it on youtube or make an Indie page one day?
And finally if you would like to donate to keep the mod progression going (especially now since I am back for good). Please donate! We got lots of things to do and every cent will help us perform and release updates faster! So donate today!