No more tech support, sorry.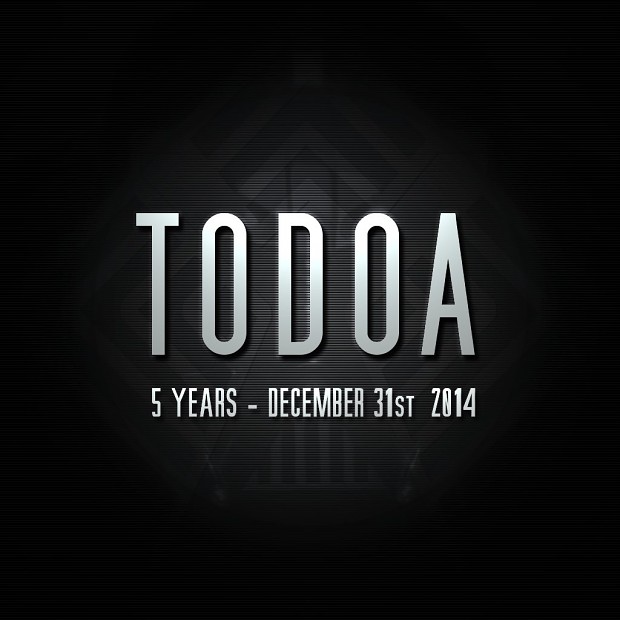 Happy 5th Anniversary to TODOA! Here's an FGR cover-arrangement to celebrate the occasion:
---
TODOA TC (originally created to celebrate the 2nd anniversary of TODOA itself as well as the 15th anniversary of Jedi Knight: Dark Forces II) is the definite release of TODOA. It consists of two releases, TODOA TC Single Player and TODOA TC Multiplayer.
Features:
* New version of the Jedi Knight unofficial patch
* New lightsabers courtesy of Xzero
* Widescreen view
* New savepoint system for single player
* New Death Star-themed duel level for multiplayer
* Assorted bug fixes
* New SP content (level architecture, easter eggs)
* Gameplay mechanics from the SP release adapted for multiplayer

The RAR containers include the necessary files to patch the original unpatched, non-Steam/GOG/etc. JK.EXE into the TODOA TC version of Jedi Knight. If you have other versions of the game, you can use the JKVersions tool as available from JKHub (or this project's download page) to retrieve the original JK.EXE.

The multiplayer release includes 4 DM levels designed for 12 players: the City of Apocalopolis (i.e. 2009 TODOA DM), Duel in Apocalopolis (i.e. 2010 TODOA Duel), Anodean Spaceport (content from 2009 adapted for DM) and a new short Death Star-based duel level (Battleground Death Star) celebrating the release.
And yet, it still needs to be emphasized that TODOA TC Singleplayer is best played in one sitting and the new savepoint system has been designed for that purpose. However, you're still able to enable normal savegames if you wish. I very very highly recommend you to read the documentation first!
Thanks to everyone who took their time to play the mod! Best of luck in the future!
Don't forget to check this song out! ;]

Cheers,
- FGR
DISCLAIMER
Because of the millions of different hardware and software combinations possible with today's personal computers, under no circumstances including negligence shall FastGamerr or anyone else be held liable for any incidental, special, consequential or any other damages that may result from the use or inability to use this mod/add-on content.