Working Hard on a Surprise that's coming!
Join our new Official Discord Server for Tiberian Sun Rising!
Thank you so much for your support in voting us into the Top 100 Mods for 2019! Apologies for a slight delay in getting this update out. We've been working round the clock since our previous update on something special for you all pulling some pretty late hours. While we continue to work hard on this special surprise we wanted to bring you some more of what we've been working on for Tiberian Sun Rising. Today we'll be taking a look at the Cyborg Commando we previously showed our new concept design for our take on the Cyborg Commando here in an earlier update. Now in this update, ts been brought to reality by the incredibly talented "Arfa" who brought this to concept to life. We've also got our first look at the Cyborg Reaper finally in-game! A GDI Amphibious Carrier had an interesting encounter with a new unidentified vehicle of Nod design an image has been reconstructed from the Amphibious Carriers black box recorder that was damaged in the fight. What's quite alarming is how quickly the Amphibious Carrier seemed to have been destroyed.
Mod of the Year Top 100 - Phase 2 Voting Reminder VOTE NOW
A reminder that you need to vote again if you would like us to win MOTY 2019, after making it into the Top 100 this is the 2nd Phase of Voting, if you'd like to support us for Mod of the Year please make sure to vote again for us. VOTE HERE 24 hours remain.
The newest model of the Cyborg Commando mechanised combat skin has proven extremely effective in field tests. The Plasma Cannon adapted from the advancements made from the Banshee Prototype and working from the Tacitus. It is savagely powerful ripping through the toughest steel armour and boiling the flesh of its victims. If that wasn't enough the wrist-mounted flame thrower on its offhand makes short work of infantry that gets up close and allows the Plasma Cannon to focus on armoured targets. The Cyborg Commando is truly a terrifying sight to behold burning through GDI Titan' Mech's like butter.
A Culling is at Hand Human! The Cyborg Reaper
CABAL ONLINE
Datalog: I took the initiative of creating a new class of Cyborg to utilise for my own purposes. Behold my Children! I call it the "Reaper" the Cyborg Reaper utilises a new Mechanised weapon platform of my own design. To increase a cyborgs speed and ability to traverse more difficult terrain with ease. But also so heavier weapons could be attached without slowing the Reaper down. Armaments I've equipped the Cyborg Reaper with twin Multi-Missile launchers and packed in a Web Launcher to immobilise enemy infantry.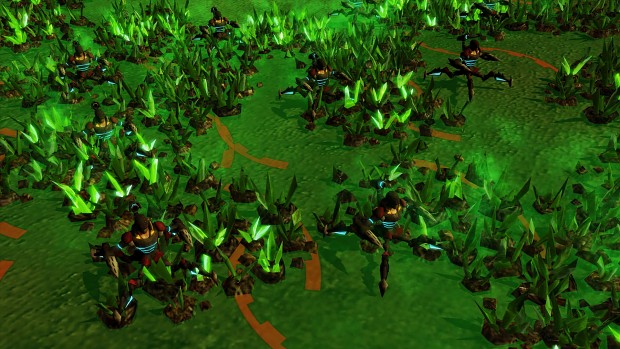 With demand for Cyborg troops increasing for the Brotherhood of Nod supply has not been meeting demand. I sent out Cyborg Reaper teams to harvest mutant vermin and humans for their organic components. They will be turned into superior cybernetic creations. As I have orchestrated from the beginning. The Cyborg Reapers have proven far more effective than previous methods of gathering humans for Cyborg Processing and has reduced both mortality rates and escape drastically.

We've interviewed a Shiner with an interesting report while suffering from deep trauma. He is the 5th such report from a member of the Forgotten. He claims to have encountered what he calls a "Reaper" that they came two by two, rings of blue and took his entire village. "They were webbed up by this strange spiderweb-like material they have and I watched in horror as they took everyone!". This is the 5th such village their entire mutant inhabitants just disappeared and forgotten.

GDI's General Soloman claims the reports of "Reapers" are a Shiner myth.

When we pressed the GDI Defense Council for further comment on the situation we had the following response.
"Ah yes "Reapers" an army of spiderlike Cyborgs allegedly waiting in Tiberium Red Zones, we have dismissed that claim"

The GDI doesn't seem to be taking the issue seriously but it is true that there isn't one shred of evidence to back up the claims of these Forgotten Shiners. Is this a just a tall tale the shiners version of the boogeyman? Or is this a new terror of the night? You decide, that's it for W3N news tonight!
Unidentified Nod Unit Encounter Report!
Intercepting GDI Transmission
A GDI Amphibious Carrier on transit to Pheonix Base encountered an unknown classification of vehicle. It appears to be a Nod design based on what we can make out of the design. We recovered the Black Box recording from the Amphibious Carriers remains, the black box was damaged watching the recording it is distorted but it shows this new Nod unit appearing from what appears to be nowhere and was able to destroy the Amphibious Carrier in shockingly fast fashion.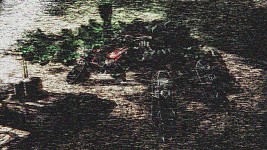 Our sources within the Brotherhood haven't mentioned or revealed any intelligence on whatever this is. Is this a new kind of Terror weapon? Some kind of advanced weapons platform? We can only speculate, for now, the Brotherhood of Nod's technology continues to advance at a rapid pace with unexpected developments. What is Nod's secret? We'll provide extra guard patrols on the next amphibious carrier we send out we need to gather some more intel on this new Nod unit.