The Voice of Reason: A Goldwell Interview
With the release of "The Accountant 2: New In Town..
Goldwell has cemented his position as a first class mission author. This is a large, complex mission with no shortage of excellent voice work, scripted sequences, and tense navigation. Goldwell started strong with the original "Accountant 1: A Noble Home" and has been "all killer, no filler" ever since. Even the speed-build mission "Spring Cleaning" was remarkable in scope for the short deadline it was constructed under.
Interview:
Q: What was the first Stealth game you played?
A: The first stealth game I ever played as odd as it sounds was actually Oddworld: Abe's Oddysee on the PlayStation 1 back in the late 90's. My first interaction with it was on a demo disc that came in the box with the system itself I believe and I remember in certain parts you had to sneak around the guards by either using the shadows or climbing above them where you couldn't see. It wasn't exclusively a stealth game but it definitely had stealth elements to it.
Q: How long have you been into the Thief genre games?
A: I've been playing Thief games since the early 2000's. Oddly enough I only discovered the FM community in 2013 though. It was fantastic to stumble upon a massive vault of fan missions for games I loved and played years before. Strangely enough I actually discovered all of this through finding and playing The Dark Mod as usually it seems to be the other way around.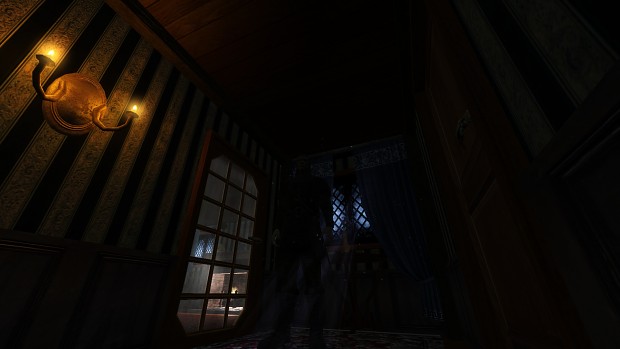 Q: What did you think of The Dark Mod when you first tried it?
A: I was in awe at the dedication and effort that went into a non-commercial project. The first mission I played was Return To The City and that made me fall in love with the dark mod as a whole. A modern version of Thief with great graphics and fun gameplay, what's not to love?
Q: You're an excellent voice-actor. Did you act in any commercial projects before working with The Dark Mod?
A: Thank you! I have worked on commercial projects before mostly doing commercials, voices for mobile games and as a narrator for product review videos.
However I have since retired from the commercial aspect and just do non-commercial work for the Thief communities now.
Q: Have you worked on any other gaming platform as an FM author or commercial mapper before?
A: The Dark Mod was my first modding and mapping experience. I have never been a commercial mapper before, I really enjoy mapping as a hobby but I think if it was a full time career I wouldn't enjoy the stress that comes with modern day game development.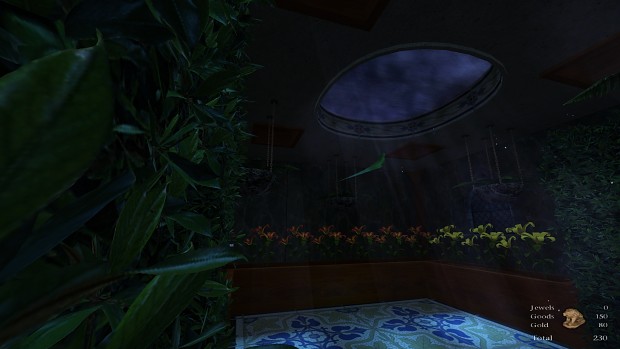 Q: How long did it take for you to create Accountant 1? Did you create a test mission before it to build-up your mapping skills?
A: The accountant 1 went through a couple of different versions, the first version was meant to be a very simple mission where you break into one nobleman's underground house to steal a ledger. Then it expanded into a city mission and there were mansions and zeppelins.
My creative vision didn't match my mapping ability at the time so I decided to pull it back and do something simple. I whipped up a small level in a couple of weeks and after some help from the community with detail passes and beta comments/advice it quickly became the accountant 1.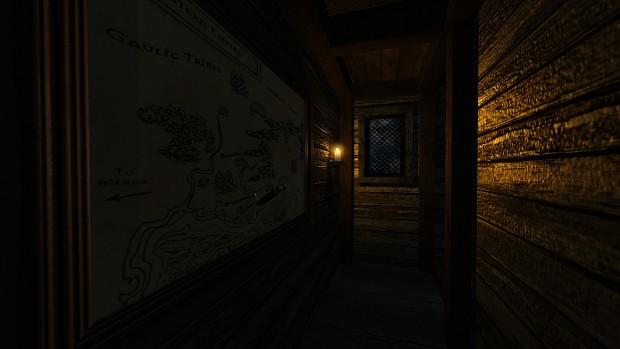 Q: You're missions often have lighting right at the edge of the AI alert level or are setup to provoke game choices.
Do you design the look of your missions first then tune the lighting or is the gameplay designed first?
A: I usually design the look of a mission first and then fine tune the gameplay elements, over the course of development I will get ideas for unique or interesting gameplay ideas/concepts and write those down. If a scene that could implement those ideas presents itself I will implement that and try to play around with making it work. Sometimes the ideas make it into a mission and other times they sit on the back burner for another mission.
For example the zeppelin I mentioned before will be making a return in the accountant 4, so the ideas are not always lost.
Q: Would you ever betray the Taffers to the Builder order? How much coin?
A: Only if they offer enough to buy an apartment so I don't have to worry about stealing to pay the rent all the damn time!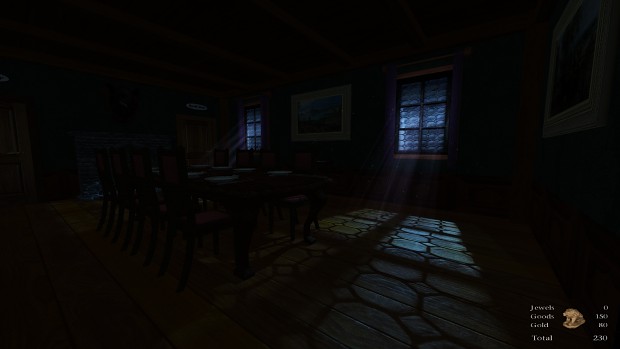 Q: What's your favorite non-Thief game?
A: Anything in the Half-Life series.
Q: Do your friends know that you make TDM missions?
A: Yes they do and they're very supportive of my work. Most of my friends are very creative and work with video (as seen by the briefing videos) or work with textures & models (as seen in most of my missions too). I used to play a UT multiplayer mod called Thievery with my friends as well which is where I discovered their love for the Thief series.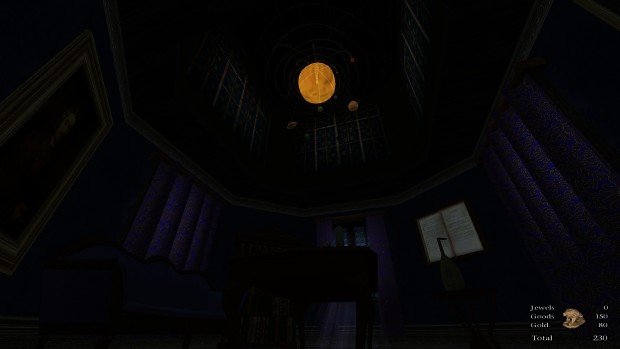 Thank you Goldwell! The wait for The Accountant 3 will be quite dire.
---
Other News...
---
"King of Diamonds" by Spooks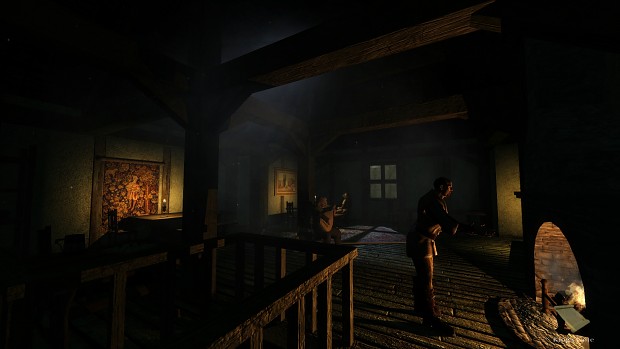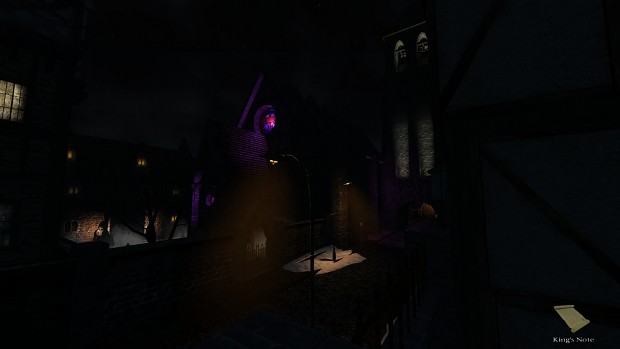 New TDM mission author Spooks has rocked the scene with a gargantuan mission that nearly rivals Behind Closed Doors and is packed with quality text story, has some nice player narration (Courtesy of Goldwell!!!), varied gameplay (from city exploration to spell puzzles to manor heist) as well as some of the best lighting since RPGista's "In Remembrance of Him". Bikerdude, as ever, assisted with this one after being blown away by the early beta builds. How did we get so lucky?
---
"Full Moon Fever" by Spoonman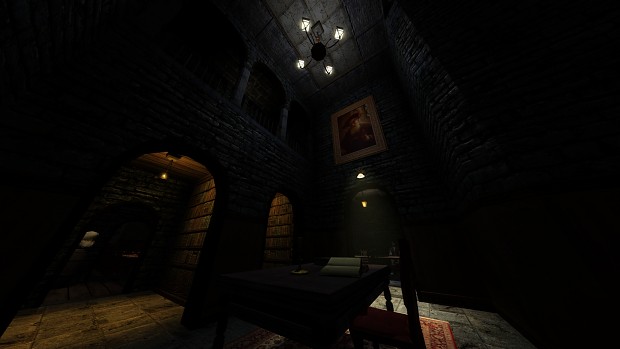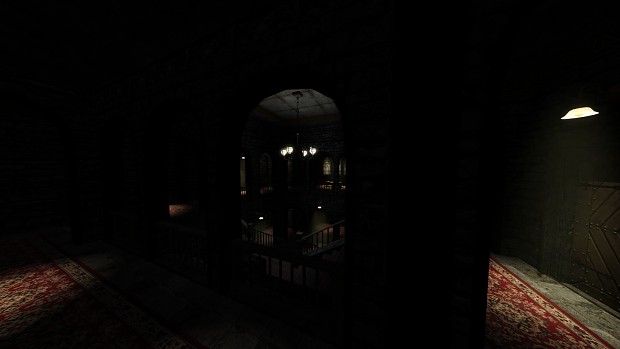 Are you a Thief FM connoisseur? Have you by chance played "Broken Hammers", "Heretics and Pagans", or "The Lost Crusade"? If so, you should be well aware that Spoonman is a top notch mission designer and he has graced The Dark Mod with one hell of a mission.
Does lightning strike THRICE? It does at the TDM community!