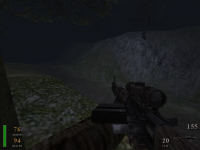 The new FG42, in The Dark Army.Read this totally new and exclusive Q&A Interview about The Dark Army mod on the mod's website, on Wix. More than twenty questions and answers, with a lot of revelations about the project's development, its situation and what it is going to be in the futur.
→ Just click-here to read-it.
---
The Weapon Flashes bug, finally corrected!



A bug about the Weapon Flashes appeared in The Dark Army mod, while I was modelling the new guns. It started in January, and I didn't find any solution.
Then, in my last post, I talked you about a poll I did on Facebook, to know if the players are thinking it is important. Of coure it is! Then, I had this problem for a little while, without finding any solution. Then, I asked to C.Z.R. (who's actually working on another mod, named RtCW Remake Mod), what to do, because he has new weapons too.
With his help, following his tutorial, I finally fixed the weapon flashes bugs with a program called "MilkShape 3D". So, now don't worry, I fixed the major problem of my mod, and then you won't have to worry about this anymore. Thanks to C.Z.R. again.
---
The new guns, from 2001 to 2014!



Once I had fix the gun flashes bugs, I decided to re-make (again) all the weapon models of my mod, before continuing the development. Then, you can see, in the pictures below, the new guns.