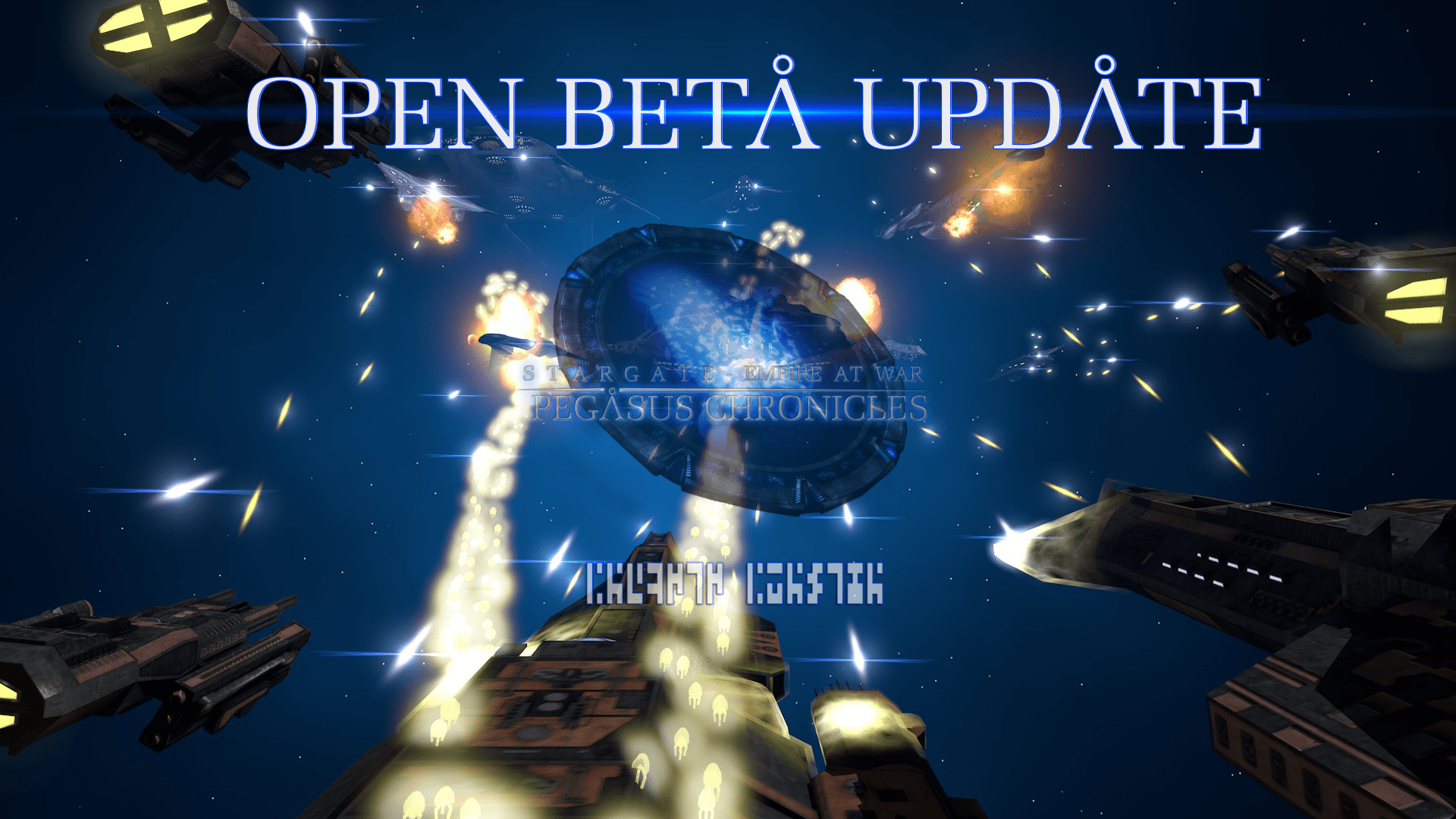 Hello dear community,

After releasing several much needed fixes for Pegasus Prelude, updates for our launcher and the re-launch of our website the team needed a small break to focus on other business (and probably some of us also enjoyed some sunny days).

While having some time away from code, models, etc. we still had a close eye on your feedback especially on Pegasus Prelude. Now that the temperatures outside are decreasing everyone is slowly getting back to their modding related work. The team is very happy about the results of the Pegasus Prelude stability survey and your feedback in general as it shows that the GC made great progress during its time in the open beta.
Our aim is now to incorporate the feedback in a new patch, deliver that one to the open beta and if our expectations hold true we plan to shift Pegasus Prelude to the stable branch of the mod.
It would help us lots if you could let us know if you experience any balancing or other issue with the GC after patch 2.1.0 by completing the below survey.
We will closely monitor your feedback for the next few weeks and then make the final decision by when Pegasus Prelude will come to the stable version.

The first step for the shift to the stable version is today's release of patch 2.1.0 which includes the below major changes:

- Massive amount of AI changes and improvements
We have improved the AI on various fronts, significantly improving its performance in GC and skirmish. This includes a re-balance of Pegasus Prelude and will also benefit all future GCs.
For Pegasus Prelude, we have also fixed the Asurans being nearly useless as they hardly killed any Wraith forces at all. Additionally, units use their special abilities more intelligent now.
Furthermore this patch incorporates various feedback by the community including numerous balance updates and several minor bug fixes and tweaks...and by numerous we mean a lot!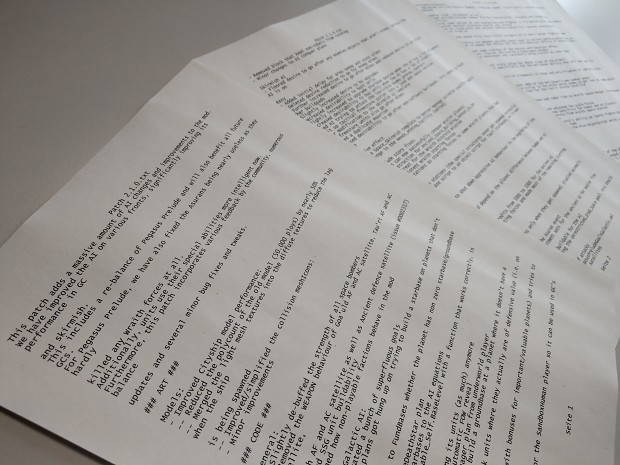 - Reworked bump and shadow meshs for all Tau'ri space units (except fighter/bombers)
After the Empire at War Remake team published information about a bump issue that was discovered by community member Enpremi we updated all of our Tau'ri space units to have a much more crisp and detailed bump map. Below you see the O'Neill class and the BC-304 as example (left old, right new version).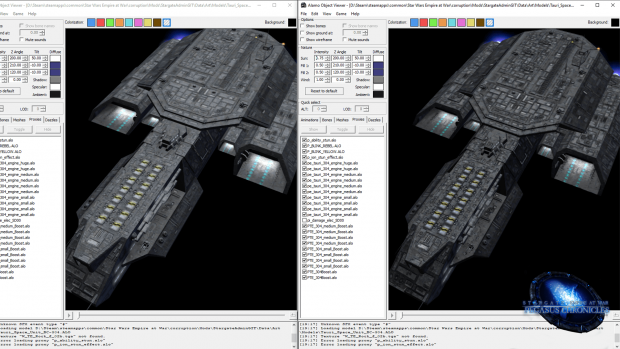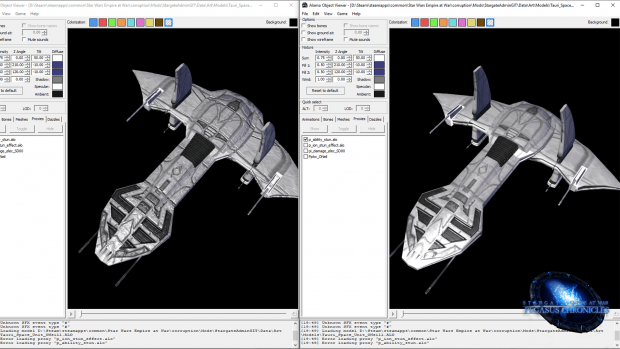 While being at it we also enabled shadows for all Tau'ri and Wraith units except fighter/bombers (to ensure performance).
Below you see the O'Neill and Daniel Jackson class as an example. The units of the other factions will be adjusted with one of the following patches.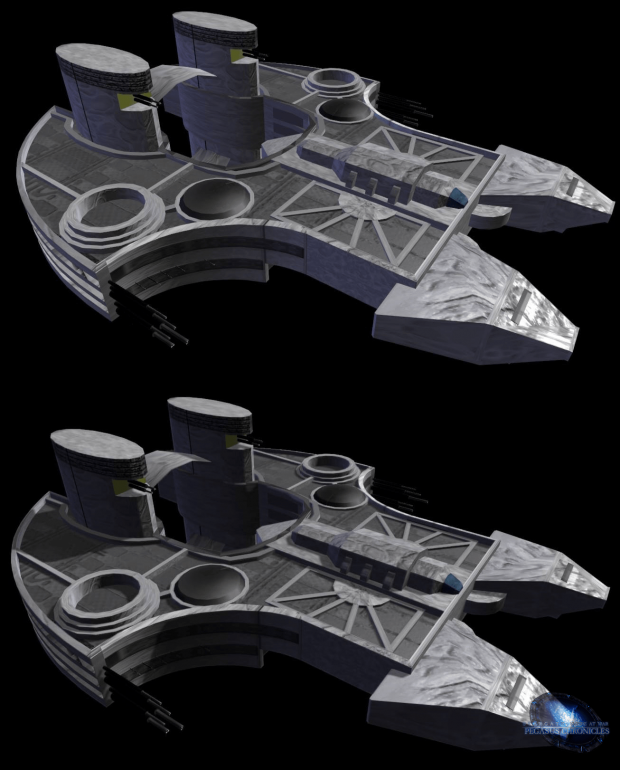 The full changelog can be found on our new changelog page.

Once this period of focusing on Pegasus Prelude is over we will go back to the remaining GCs and of course the ground part with full force! However, we definitely weren't idle in that department during the last few weeks. ;)
(In case you wonder about the face...that's Martin the 3D artist who made this neat animation :) )

More of that in later news!
Yours,
SGMG