"Now, here's an interesting factoid for you: In statistical terms, the US military has expended 250.000 bullets on every insurgent killed during our campaigns in Afghanistan and Iraq back in the day. When the War on Terror went Global, that number got even worse and we faced about ten times as many bad guys at a time. If you're up against an enemy as blood-crazed and fanatical as the GLA, the last thing you'll want is to run dry in the middle of a firefight. Our ammunition makers could barely keep up with this extreme demand and even if you've got enough bullets to keep the dakka going, you still need the logistics to distribute them among your troops. This, my friends, is what the Mule Drone is all about. What you're looking at right here is a new, state-of-the-art unmanned ground vehicle. The Mule is rugged, reliable and armed to the teeth: You can load anything from magazines and ammo boxes to missiles and shells onto this thing and grab whatever you need in the heat of battle. That way, our grunts can be extra generous and put out an overwhelming volume of fire. This also brings us to the Mule's own armament which consists of an M134 minigun and an array of flare launchers that can be used to draw enemy anti-aircraft fire away from out planes. It is this excellent combination of mobility, utility and lethality which earned the Mule a spot in the armoury of America's most elite special forces."
"Have you ever watched one of those Chinese or Russian military parades where they roll out their giant, overcompensating Overlord or Sentinel tanks and wondered: What the hell kinda idiot builds something as insane as this? Those slow, sluggish steel monstrosities that plough through roads, demolish bridges and tear giant holes into the pockets of the average commie taxpayer. By comparison, the US military always had a policy that can be summed up in one clear, simple statement: High speed, low drag! Our response to these massive, super-heavy tanks comes in the form of the new AT Drone. Some call it the Redeye, others refer to it as the Alpha-Tango. I like to call it - The Anti-Terror Drone! The ATD is a revolutionary new anti-tank weapon that walks on four mechanical legs that let it run at a stable 70 miles per hour. That's faster than a Californian cougar and I'm not talking about the fortysomething kinda cougar that lives in fancy suburbs. These monsters will run up to a tank and proceed to cut it apart with a plasma torch that burns through steel at over 50.000 degrees. Now -that- is some serious nightmare fuel!"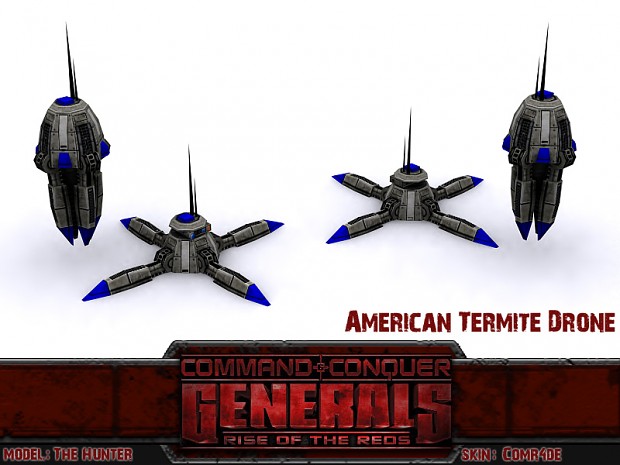 "And while we're on the subject of messy things, I also want to show you this pesky fella: The Termite Drone - and boy, let me tell you: This drone is a reeeal pain in the rear! The Termite is the most sophisticated area denial weapons system in the world. Once it has found a nice spot to dig itself in, it waits for the prey. Now, conventional wisdom would tell you that it's basically just a mobile land mine; a robotic drone that packs a charge of, say, ninety pounds of C4 and maybe a copper liner to slice through a tank. Good enough for a nasty explosion to be sure but nothing that the EOD folks couldn't handle, right? Well, in this case, conventional wisdom would be wrong; dead wrong! The Termite contains a highly compact EM emitter that is capable of generating an intense field of microwaves within a large radius. The pulse is brief and it drains the drone's entire battery, forcing it to re-charge for a while but that one charge is all it takes to short-out any piece of electronics in the vicinity and fry the nuts off any poor sucker caught within the area of effect. No exterminator in the world is gonna help you against an infestation of these!"
"Well, this concludes our lovely day here in Virginia. Needless to say, I had a lot of fun watching these mean machines in action and I, for one, welcome our new mechanical overlords. I see you all on the next episode of Future Warfare, oorah!"