As Lead tester on Phobos, I've been asked to write this Devblog about our testing process, what goes into it, what comes out of it, and, more often than not, goes straight back into it again. It's a constant cycle of improvement and refinement, which can be fairly gruelling at times, but is pretty rewarding.
What goes into testing?
Playtime. Quite a lot of playtime. Most recently we've been nearing the end of Phase 1 on a lot of maps, which means they're getting rigged up for combat. What this means to me is playing through a lot of the same sections multiple times, working with a fellow team member Caffeine to try and get the right balance of challenge throughout the maps. Sometimes this happens quite quickly, Caffeine will set something up and it will be great first time. Others involve a lot of back and forth, changing the number of enemies in an encounter, or swapping them out for different ones, over and over until it feels great to play, and most importantly, feels right in the map.
Quite a lot of attention to detail also goes in. While we're not at the incredibly nit-picky stage of Phase 2 yet, I also keep a constant lookout for graphical errors, stuff like texture problems and other things that aren't exactly show stoppers, but aren't up to the level of quality we're aiming at. When we're ready to go back over the maps with a fine tooth comb in Phases 2 and 3, I'll bring these things up, in an effort to produce the best quality work that we can.
What comes out of testing?
First and foremost: A much, much better game experience. While the work that the mappers do is really very good in the first place, the process of having someone look over what they've done with fresh eyes really helps bring out any problems. To give an example, one of our mappers added a small section to a map recently, and when I came to test it, the new room stood out from the rest of the map - it wasn't the same standard, and needed more work. I gave this feedback to the mapper, and after a couple of iterations, it came out not just looking as good as the surrounding areas, but better. See below for before and after shots.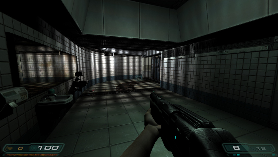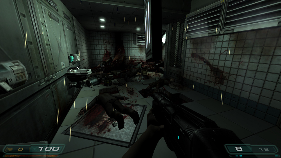 And straight back in again...
Nothing is ever perfect. Especially in a huge project such as this. While I can lock off a lot of things right now and say they are "good enough" for Phase 1, I know that I'll be going back to a lot of the same things in the latter stages of development, and seeing what can be improved. We'll have to be careful not to fall into the trap of endless refinement; but I think we have a good grip on what is "enough polish", so I think we'll be okay there. It will be interesting to have a larger testing team later in the development, to see how the decisions I have made fare against much fresher eyes.
Testing Phobos is a massive double-edged sword, for me. On the one hand, it is a great chance to get in and see the project, see the awesome stuff the guys are doing with Doom 3, and see it all as it unfolds. It's also great experience for me as someone hoping to get into Game Design as a profession. The downside, of course, is that I'll never be able to play the final product with a completely fresh perspective. Some of the magic will be lost, and that's a shame. However, the brilliant feeling you get when you put out a great product, knowing you had a hand in it, is well worth it. I'm sure all you guys out there working on your own projects know exactly what I mean.
While we're still a good stretch away from releasing Phobos, I'm already proud of the contributions I've made, however small they are overall, and I'm looking forward to bringing it home as a quality product that I would be happy to pay money for.
- AirRaid
Quality Assurance and Lead Tester