Building levels for the modern First Person Shooter is a great challenge. When the levels are contained in a high-quality and story-driven mod, you take it to the next level, including several new aspects you have to take into consideration. Consistency is extremely important. It doesn't stop here, though. The mod in question is split up into three very distinct episodes. To avoid inconsistency and style confusion, you have to go to great lengths in order to establish a style for each individual episode. The challenge is heightened even further when you realize that it's not just one person bringing his vision to life, it's a collaboration of a team; a team of level designers.
Having several designers on the same episode can be a challenge by itself. Having multiple designers on the same level is a completely different and much harder challenge. That is why many teams eliminate the idea of having two level designers on one level. Inconsistensy and an unfriendly confrontation is likely to occur. This is where our team really sets itself apart from the norm. Collaboration is our key to success. While creating out levels, we spend a lot of time discussing the content and the tie-ins with the story and general design document. We reach an agreement on what should be in there, and everybody can take part of this process, not just level designers. It is because of this that we can switch levels and let another continue the work. The idea of complete collaboration is what has been driving of forward in the difficult times we have had.
Episode 1 - Mars
The first episode of the project takes place on Mars. This is the first fact we took into consideration when developing the style. We knew it had to stay within the boundaries that Doom3 had created. Mars City had to look like the Mars City of Doom3. Anything else just wouldn't make sense. So, we took a look at what else we could change around to make it more of our own. We expanded the size of the rooms a little, included a little more variety in the general areas and we didn't turn off the light for all the rooms. This left us with an episode which looks and feels like Doom3 with a twist; our twist. Just like we wanted.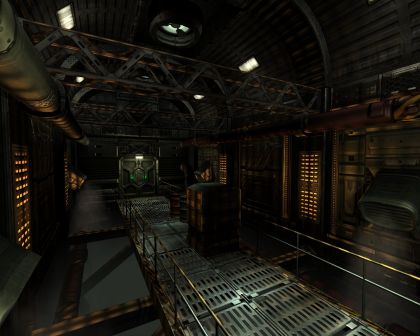 Episode 2 - Phobos
With the second episode, things get very interesting as we are able to form a new style that doesn't necessarily resemble Doom3's corridors all that much. Players are not going to be in doubt of where they are at; Phobos or Mars. We have developed a style that we feel is really unique and very suitable for the game's universe. The Episode 2 style takes a lot of cues from the original Doom episodes one and two. The attentive player is going to recognize a lot of design decisions while fighting through Phobos. The design style isn't the only change, though. We are going to design Episode 2 around some of the same principles that made Doom 1 great. The episode is going to be even less linear than Episode 1, and it will feature a lot of the same things we came to know and love in the original Doom. Elements such as toxic waste and environmental puzzles are back. Players will find that there is a very good reason why Doom 3: Phobos is named after this episode.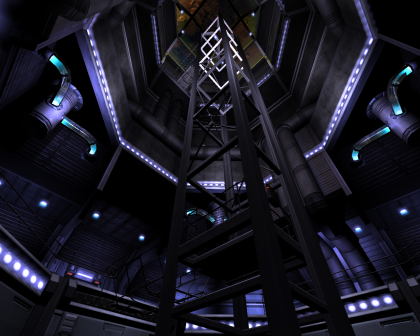 Episode 3 - Hell
Rules are out! With the third episode we felt that we had free hands with the style. While the Hell levels in Doom3 and Resurrection of Evil were memorable and interesting, we don't think they really reached the potential that Hell for a new Doom had. This is why we are only going to take hell design cues from Doom3 in part. The original Doom hell was a lot more varied and wonderful. It was something really unique. Our hell is going to follow in those footsteps and bring back a lot of what has been missing in First Person Shooters ever since the Doom days. Prepare to be blown away by the uncomfortable journey that is hell.