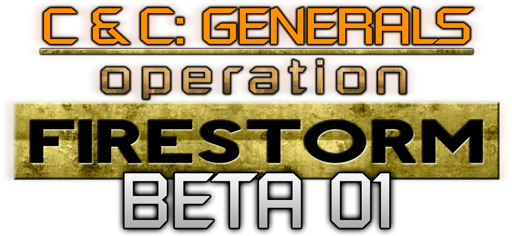 We proudly present our first release!
Features
7 playable Generals with tons of new units, generals powers, upgrades, etc.
working AI for Skirmish and Multiplayer
HD User interface and widescreen support
lots of explosions
and a lot more...
This mod is currently playable in Skirmish and Multiplayer only, Campaign and Challenge mode is not supported. A full list of changes from ZH can not be provided at this point but you get an idea from the mod description page.
Note that this is still a Beta and is not entirely bug-free. A lot of assets will be re-done, and there's still a lot to come in the future.
In order to quickly fix bugs we will open a Support and Bug Report forum shortly.
Installation instructions can be found on the download page.
Thanks for your patience and support, and have fun playing!
~Stalker and pWn3d
---
Credits:
Operation:Firestorm Dev Team:
pWn3d
Stalker
Additional Development & Design:
No Life Studios:
Anubis
Keksz
Kris
n5p29
Zeke
Zhao
Additional Asset Providers:
Beng - Code
Cboidy - Particle Effects
Chappi - Particle Effects
ColT - Models
Coolfile - Models and W3D Importer
Creator - Models, Code
Fritz - Models and Textures
Ion Cannon - Particle Effects
IPS - Models and Textures
Mylo - Models
RequiemLux - Particle Effects
Sharpshark - Models
The_Hunter - Models, Textures, Code
TheHonestyFishZ - Models
Xezon - UI Textures
Special Thanks:
to the Staff & Community at:
Fallout Studios
Sleipnirsstuff
SWR
Moddb
for Resources, Assistance and Tutorials
and to all the other great ZH mods for countless
hours of fun and lots of inspiration.
NOTE: If we forgot anyone on that list, send us a message on Moddb
---