First of all, we should thank Erayser and [TZP]LoNer1 for their splendid work on the source codes of ModDB "ModDB staff are to be thanked too!", with their work I managed to pull out a nice new design for our humble TAZ. The code is originally made by Erayser and heavily modified by LoNer1 for use in multiple mods, RADIUM, GHOST LAND, MISERY, I took several codes from the three mods and made few more touches to get a special look for TAZ.
Now the progress. You may have noticed a drop on speed after the release of 1.7.4, I have explained this before, no more updates till Misery 2.2 is out, only than TAZ will kick in again with new updates, and the first release will be 2.0, however, the development is still running, and this is obviously noticable through the constantly uploaded screenshots, so bear with us folks!
Many vanilla weapons has been replaced with HQ models, and many new weapons has been added, here are few samples from both parts :
The things you know :
You all know how wonderful the skins Kuba comes up with, so here are some cool reminders :
The M590 will take place of the Winchester-1300 as we don't have any good quality models, once we get a proper model we will restore it.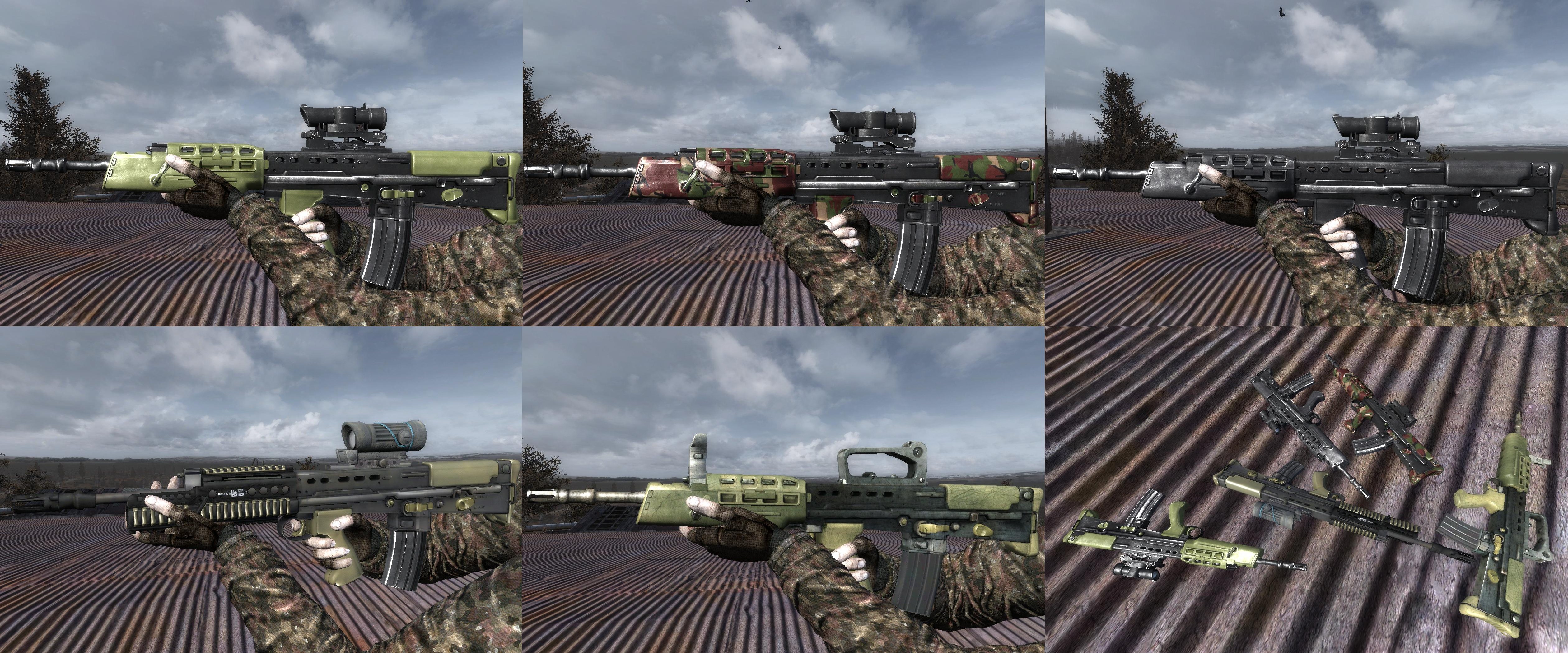 You have also seen some rendered images but no actual ingame shots, so here are some of them "no more just to keep the hype at ease" :
Things you don't know :
You will never know everything about a mod as long as it's still being WIP, so always expect the unexpected. Here are stuff that I won't bother introducing for now :3 but I will put a proper introduction some other time.
Have fun finding their right names!
And finally, let me introduce Trapper's gift, the mighty Engraved double barrel! this will take place of the vanilla Winchester-1300 you get from trapper as a reward, I never liked that poor thing anyways, so here is a much beautiful gift for you stalkers, work your a** hard for it. "Toggle Fullscreen for a better view"
Engraved Double Barrel by mp5lng on Sketchfab
------------------------------------- ------------------------------------- ------------------------------------ -------------------------------------
Here are two Spreadsheets I made in MS. Excel to keep track and things organized :
Vanilla weapons : This list contains all Misery 2.2 weapons and their status including knives, detectors, grenades, basically everything you see in your hands.
Featured in 2.0 : This list contains only the stuff 2.0 will bring, nothing will be replaced from the vanilla.
Both lists are still WIP, the first will stop once there are no remaining vanilla, the second won't stop at any number as long as we're breathing ( ͡° ͜ʖ ͡°)
P.S : It is better to download the files and open them in MS. Excel in order to get a proper view.
Cheeki Breeki bandits!