IMPORTANT: Since RC8 there are more settings available in this file than shown in the screenshots, you can now modify experience gain and customize the size of neutral stacks, both in and outside buildings. You can really set them to any size 1-5 or millions etc. !!!

The new release of MMH5.5 included a large revision of the town management ability script
and allows the user to switch on and of the following 3 abilities independently from each other:

-Town Gate
-Town Conversion
-Town Governance

It is for example possible to play with governance+conversion, but without town gate. This allows a very different type of game that is much more focused on controlling the map with stronger secondary heroes.
The Town Management ability can now be activated anywhere on the map at the cost of 0 mana, even if the hero cannot use any abilities a message will still popup providing a lot of detailed info that was previously hidden, such as exact statistics on movement points, mana regeneration, elemental summoning and creatures gained from the new governance feature.
The abilities can be activated/deactivated in the MMH55-Settings.pak file located in the "location where you installed HOMM5"/data folder. This is technically a zip file, but should not be recognized as such.
The easiest way to change the user settings is to open the MMH55-Settings.pak file with a program like 7Zip and right-click edit: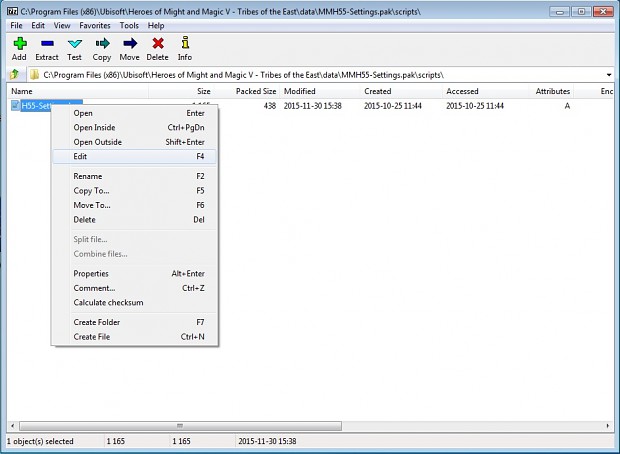 In this file you really should only modify the numbers or something can go very wrong, the comments pretty much explain everything: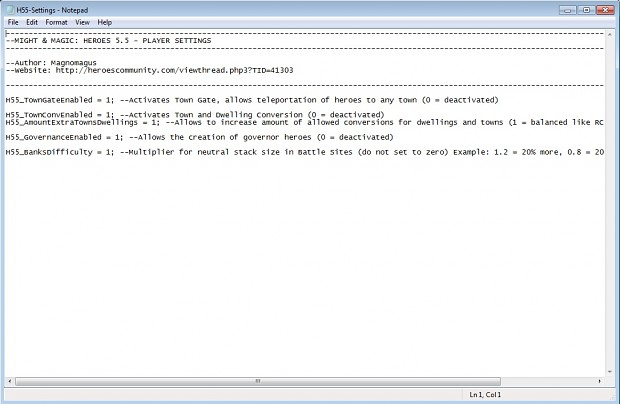 After modifying the file, use file -> save, then close and 7Zip will ask if the file should be updated, click yes.
If you delete the file MMH55-settings.pak from your data folder, the game will revert to 'classic' gameplay: means town conversion and governance will be off, but town gate will be on.