That's right, for the 6th time in a row we are now in the TOP 100 of the annual ModDB Mod of the Year Awards thanks to your votes and support. As usual, getting into the TOP 100 means that we are up for the 2nd round of voting to rise up in the ranks even higher, which is why we ask you to vote for Mental Omega once MOre! As you know we spend our free time to develop this mod further and all we ask for is your further support in this annual competition, for which we are eternally thankful. Follow this link and click the 'Vote' button to the left of our logo.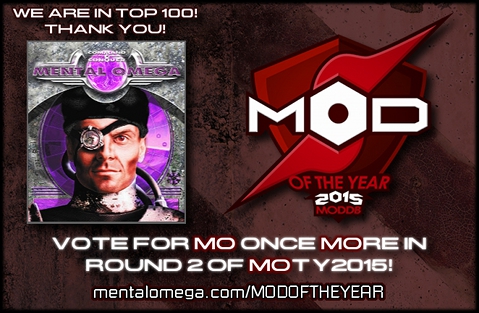 To show you our gratitude, we are going to show you some brand new stuff we've been working on. Time for a Mental Omega News Bulletin, in the very classic format.

Mobile Construction Vehicle
Last Bastion's Mastodon
Teratorn
Last Bastion's Sweeper
Haihead's Irritator
The MCV needs no introduction, right? The Mastodon is Last Bastion's T3 "monster tank", equipped with cutting-edge technology to the maximum, its main purpose is to destroy enemy armored vehicles at great ranges and on a large scale. Its plasma railgun has an area of effect and deals lots of damage, however before the attack can happen, the weapon needs to charge up.

The Teratorn is a Tier 1 anti-aircraft vehicle which locks on to enemy aircraft before firing a powerful missile, stronger than most Tier 1 anti-aircraft vehicles, however easier to outmaneuver, especially by faster aircraft. It has no means of attacking ground units.

The Sweeper is a unit unique to the Last Bastion. It is a hover drone vehicle enhanced with the windspin engine which allows it to acquire large speed boosts when near a Spinblade, a special structure deployed via a support power anywhere on the battlefield. The Spinblade can boost many of Side 4's vehicles as well as some infantry units, so strategic deployment of this structure is necessary. When Sweeper is deployed, it becomes cloaked and ready to fire a volley of anti-unit missiles at an unsuspecting enemy. It does not reveal its position when firing, but a careful enemy should have no problems locating it if they notice the source of the missile barrage.

The Irritator is Haihead's special unit designed to throw enemy forces into disarray with an experimental ray mounted on its back. When deployed, the Irritator changes its weapon mode and prepares to fire a flare which will make enemy units easier to target and take more damage.
Soviet Iron Dragon
Soviet Grumble
The Iron Dragon returns as a new stolen tech unit which the Soviets can acquire after infiltrating one of Side 4's special technology structures. Its weapon has been enhanced and so the unstable particle field will now heavily damage all units which cross it while it lasts. With an Iron Dragon in their arsenal, the Soviets will find it easier to eliminate the heavy ground units of Side 4.

The Grumble is an advanced anti-aircraft vehicle with a very long range, which becomes active after deploying its launchers on the ground. This unit cannot fire on the move, however when deployed it will essentially create an impassable barricade for most light aircraft and will have no difficulties taking down the heavier ones as well.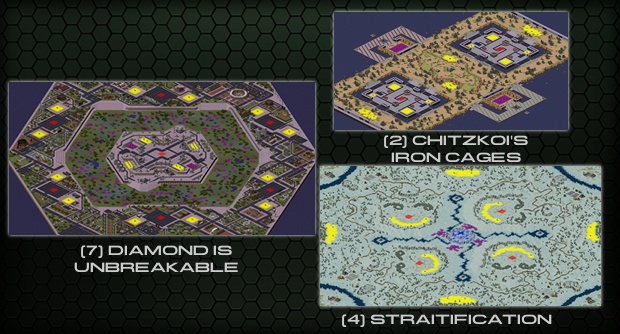 Stay tuned for more updates and thanks for your support thus far!