Alas, season one of Map Labs has come to a close with Test Tube #5. With the past competitions asking mappers to create advanced maps, we thought we'd scale this one back to just dev textures.
---

Orange and gray squares and blocky geometry may not be the most impressive thing to look at, but it's an essential step in creating the remarkable levels you see throughout Source games. But what if there was an entire theme about just that step? What's what we decided to end Season One of Map Labs with; Blockout! Mappers had three- err, four days to create the most impressive blocky geometry map they could. This competition received 13 entries and 3 bonus entries, totaling 16 brand new Half-Life maps with a whole lot of orange!
Third place was taken by Skorly, with "City of Confusion". This map is visually stunning, starting with one of the most impressive vistas we've seen in Map Labs to date. And it's made of like, three textures. With a surprising amount of detail squeezed out of the brushwork, this map sends players into a strange city infested with combine to save someone dear to them.
"twisted_gravitea_" by Jakob // Tea steals second place with its twisted gravitea. I mean gravity. Using some clever mapping, this level sends players on a stroll across the floors, walls, ceilings, and in-betweens of this abstract, Portal-like course. What it may lack in depth, it makes up for in creativity and ingenuity.
First place goes to "Desolation" by iiboharz and Jackathan. This map has everything. Great visuals, fun combat, some light platforming, easter egg dolls that catch everything on fire, tight level design. It's all-around a great map and absolutely deserves winning.
As always, here's a score sheet so you can see how every map in the competition was scored. If you'd like to read or share reviews of entries, join our Discord community! We have a dedicated channel for it.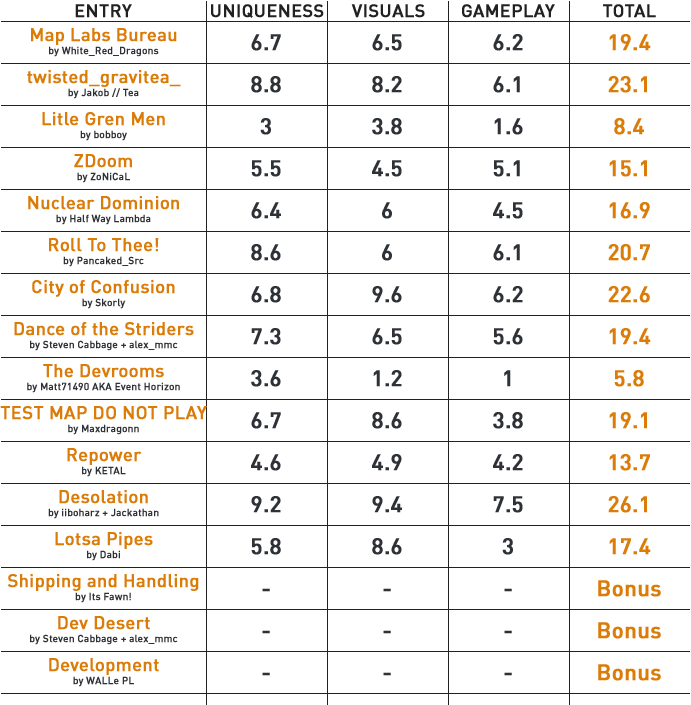 ---
We've made it! 10 competitions in a single year, with some off-season competitions for some extra flavor. The team is taking September off, and we've canceled the previously-scheduled Wrap-Up to give everyone some time to cool down before we come back for Season Two on the 4th of October - where the sixth Map Lab competition will be judged by Tyler McVicker from Valve News Network!
Thank you to everyone who joined in on Season One, whether you were an entrant, player, PCGamer journalist, streamer, YouTuber, or just someone in our Discord who seemingly never plays any of the competitions but is just as excited as everyone else. You've all made this a great first year, and we can't wait to deliver another.
There's something else! Moving forward, assuming everything goes over smoothly, we will no longer be releasing competitions on ModDB. There aren't any issues with ModDB, this place is great! But we're hoping to launch the Steam version of Map Labs very soon, with all of Season One with it and with Season Two being added in over time.
As always, if you're interested in joining Map Labs make sure to follow us on Twitter and join us on Discord. People who enter get a special role that turns their name green! Thanks for reading, hopefully our next article will be to announce the Steam version!


Chris Marshall
Co-Founder of Map Labs