Hello, and welcome back! Over the course of most of March and a little bit of April, we ran a new mapping competition. This one, in partnership with RunThinkShootLive, required entrants to create a map with four distinct segments. These segments (Run, Think, Shoot, and Live) all had their own requirements and optional challenges for the entrants to explore. Let's see the results:
---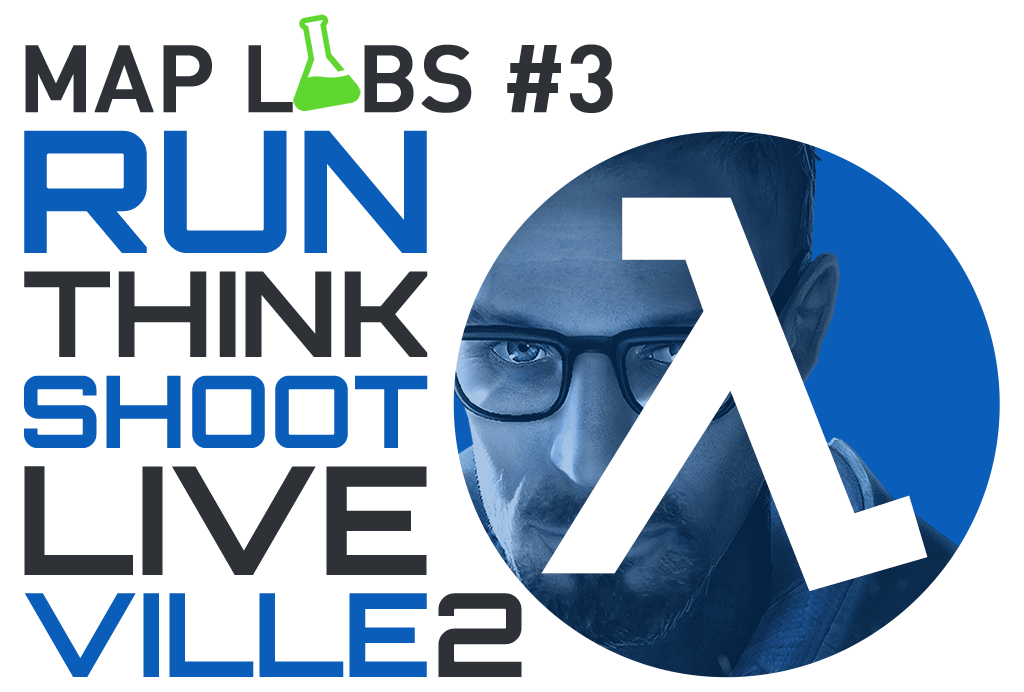 Starting on the 11th of March, and running all the way until the 8th of April, we held our first partnered competition. This was also our longest and biggest main Map Lab challenge to date, with 12 main entries and 2 bonus entries - being one map short of tying with our One Room Test Tube challenge.
In third place was "Schwarzchild Radius" by Matt71490 AKA Event Horizon and Salamancer. This map is set in deep space aboard a mysterious ship that you, our hero, are there to steal. The mystery of the ship's vacancy unfolds as you solve puzzles and run through the maze-like corridors to reach the ending.
The second place entry is Niker107's "Continuum Shift". This map, heavily influenced by one of the most iconic levels from Titanfall 2, saw players escaping a crumbling City 17 as they jump back and forth between time with the press of a button.
Finally, in first place, is "Backcut" by ThatsRidonkulous and 1upD. This map was rife with personality, with an overbearing post-apocalyptic wasteland base full of weird traps and scenarios for the player to solve. Each segment memorably approaches the themes, usually with sawblades, and has players fighting against rabid neon-painted combine soldiers.
The full score sheet for RunThinkShootLiveVille 2:
We're incredibly blown away by the quality of this competition, and I'm personally fine with saying it's my most favorite one yet. If you'd like to join in on Map Labs, be sure to follow us on Twitter and join our Discord server!
Additionally, we'd like to extend a warm thanks to Don over at RunThinkShootLive for partnering with us on this competition. You can view RTSLV2 over there using this link, and follow them here.
Thanks for reading, we hope to see more amazing maps in future competitions!
Chris Marshall
Co-Founder of Map Labs